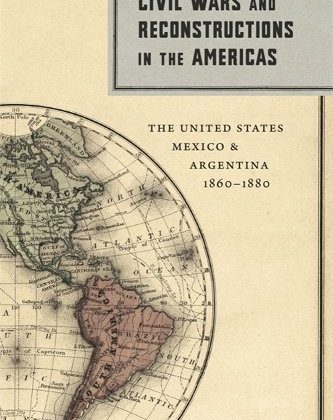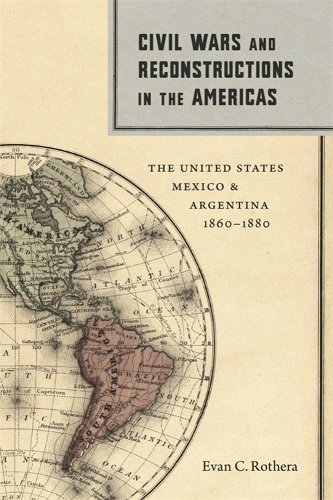 Evan C. Rothera is Assistant Professor of History at the University of Arkansas, Fort Smith. This interview is based on his new book, Civil Wars and Reconstructions in the Americas: The United States, Mexico, and Argentina, 1860–1880 (LSU Press, 2022).
JF: What led you to write Civil Wars and Reconstructions in the Americas?
ER: As an undergraduate at Gettysburg College, I double-majored in History and Spanish and minored in Civil War Era Studies. One of the requirements of the Spanish major was to study abroad for one semester and I spent the Fall 2008 semester in Mendoza, Argentina. While I was completing a set of readings for an Argentine Social History class, I came across a brief reference to Domingo F. Sarmiento's biography of Abraham Lincoln. I was intrigued and discovered that this biography appeared less than a year after Lincoln's assassination. Sarmiento sought to create a usable Lincoln for Latin Americans, which I found fascinating. As I continued my research, I came to see that Sarmiento was part of a broad group of reformers and that his time in the U.S., specifically during the early years of Reconstruction, had an important impact on his ideas about education.
After I graduated from Gettysburg and began my PhD program at Penn State, I initially envisioned researching and writing a comparative study that built on my previous research about Sarmiento and examined civil wars and reconstructions in the United States and Argentina. However, Bill Blair suggested I include Mexico in my project. This turned out to be very good advice! Civil Wars and Reconstructions in the Americas examines the three nations, their violent conflicts (the War of the Reform and the French Intervention in Mexico, the final stages of the Wars of Unification in Argentina, and the U.S. Civil War), and the periods of reconstruction that followed each of these conflicts.
Despite the staggering number of books that have been written about the U.S. Civil War, scholars have not paid much attention to the international dimensions of the conflict and even less attention to the international dimensions of Reconstruction. Thus, Civil Wars and Reconstructions in the Americas explores an important, if largely neglected topic, and utilizes both transnational and comparative methodologies to reveal a truly American (hemispheric) history.
JF: In 2 sentences, what is the argument of Civil Wars and Reconstructions in the Americas?
ER: I may need three sentences! Civil Wars and Reconstructions in the Americas argues that the period the book covers (1860–1880) was a Pan-American moment that featured extensive cooperation among the people of the U.S., Mexico, and Argentina and that people understood their world in hemispheric terms and privileged cooperation over conflict. It contends that the violent conflicts examined in the book were part of a much larger struggle that pitted democracy and republicanism against monarchy, aristocracy, oligarchy, conservatism, and other forms of reaction. Finally, it argues that placing the violent conflicts alongside each other reveals a common search for order in the three nations and how each nation faced similar problems of violence and disorder.
JF: Why do we need to read Civil Wars and Reconstructions in the Americas?
ER: For several reasons! People are often all too ready to cast the relationships between the U.S. and the nations of Latin America in negative terms. Scholarly accounts often, although not exclusively, foreground conflict. People assume that anti-Latin Americanism was the dominant sentiment in the U.S. and anti-U.S. sentiment was the dominant feeling throughout Latin America. Civil Wars and Reconstructions in the Americas reveals a very different picture, namely, heretofore obscured histories of Pan-American cooperation, in which people in all three nations privileged cooperation over conflict. This point is particularly important today, when U.S. relationships with many Latin American nation are strained, to remember that antagonism and conflict are not the only ways that countries in the Americas can relate to and engage with each other.
In addition, it is important to read this book because people often act as though U.S. history stops at the borders of the nation. Such is not the case! Many people during the period covered by this book had a very sophisticated understanding of the international nature of their world. They knew that what happened in the rest of the world was connected with what occurred in the U.S. Moreover, there has always been a tendency to cast U.S. history as exceptional, but the book reveals that U.S. experiences were not particularly exceptional and that U.S. history does not exist in a vacuum, points that people today would do well to understand.
Finally, democracy and republicanism can be fragile and are often under siege. People at the time understood that these forms of government have to be safeguarded and defended from legions of reactionaries. They often fought in different wars in order to do just that. This is a point that should resonate today when many people have become complacent about democracy's strength and resiliency. Recent events demonstrate that we cannot afford to be lackadaisical. This is a relevant point for people throughout the Americas as well as the rest of the world.
JF: Why and when did you become an American historian?
ER: I attribute that to my family! We would often tour historical sites during our vacations and, when I spent time with my aunt and uncle during the summers, we would always go to Gettysburg at least once. I grew up hearing stories about how my grandfather, who died before I was born, was deeply interested in history and could make the past come alive. I cannot point to a specific moment when I became interested in the U.S. Civil War, but, when I sent in my college applications, I was reasonably certain I wanted to study history.
A freshman seminar I took at Gettysburg College, entitled Life Writing, confirmed my decision to be a historian. One of our paper assignments was to write about Gettysburg College during a specific year. I found this to be the most enjoyable of all the assignments in the class and it reinforced for me that I enjoyed researching and writing and that I wanted to be a historian. I attribute my successes at Gettysburg and Penn State, not to mention the milestones I have achieved since I left PSU, to good undergraduate and graduate mentorship and the unwavering support of my family.
JF: What is your next project?
ER: I have several ideas about the subject of my next project but have not yet determined the topic. Part of me is holding off on deciding for a bit so that I can enjoy the feeling of having completed the book without starting to think about what comes next!
JF: Thanks, Evan!