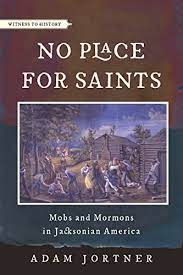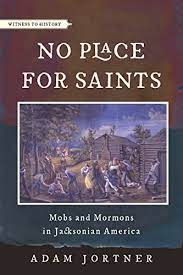 Adam Jortner is Goodwin-Philpott Eminent Professor of Religion in the Department of History at Auburn University. This interview is based on his new book, No Place for Saints: Mobs and Mormons in Jacksonian America (Johns Hopkins University Press, 2022).
JF: What led you to write No Place for Saints?
AJ: Mostly I wanted to tell a great story about religion and magic and violence.
The first days of the Mormon church sound like very much like our own twenty-first century—churches splitting apart, claims of divine revelation, new technologies encouraging misinformation, anti-democratic panic, fearmongering, stories of the end times. America is full of prophets and new revelations and theories of ancient Israelites reborn in the USA. We've lost sight of how different American Christianity really was back then—a loud cacophony of different voices. Or as Joseph Smith said, American religion was "stir and division amongst the people, some crying, 'Lo, here!' and others, 'Lo, there!'…priest contending against priest, and convert against convert."
I think twenty-first century Americans don't really see that conflict and confusion in the past. We think it's all Puritans worshipping in orderly pews. Or perhaps as American Christianity has coalesced in the popular mind into an evangelical subculture arrayed against a secular state, Smith's cry of "Lo here" and "Lo there" has become alien to the modern experience. The dominance of evangelicals means our Christianity is only "Lo here." The frenetic inter-church competition, backed by supernatural proofs, was common to American ancestors but not to us. This is the Lost Age of American Religion—a Christianity that looked more like Mormonism than it does like modern Presbyterianism.
That religious world came to blows. Mormonism exploded across America in 1830, and America exploded right back. By 1834, the new religion had been mocked, harassed, and finally expelled from its new settlements in Missouri—for no other reason than the Mormon claimed to speak with angels.
So I wanted to know: What was this religion? Why did it generate such anger? What do these debates from the heyday of Jacksonian democracy say about our own struggles with religious liberty in America today?
JF: In two sentences, what is the argument of No Place for Saints?
AJ: Latter-day Saints embodied early American Christianity; in the 1830s, they reflected the religious landscape as much as they challenged it.
Religious freedom is not a natural byproduct of democracy; it has to be protected and encouraged.
JF: Why do we need to read No Place for Saints?
AJ: Well, we seem to be having some trouble with mobs and religion and democracy.
Thinking about the rise of Mormonism and their forced expulsion from Missouri is really important right at this moment. Some folks seem to be assessing America's political crisis based by planning for is likely to happen and not what can happen. But Jackson County 1833 is what can happen—citizens forcibly removed over differences in religion. So I think it's a good idea to see how this happened—in America, under the Constitution—so we know how religious discrimination goes from cruel jokes to armed militia to paramilitary action while the powers that be look on. Hopefully the book will remind us about the fragility of rights and encourage folks to stand fast for religious freedom.
And if that's too grim, then read No Place because early American religion is fun! So much of our historical conversation about American religion tends to be dolorous and heavy. But I think what we really see in early American religion is a whole smorgasbord of different approaches, traditions, liturgies, experiments, a lot of which did not survive to the present day. Their religion and their struggles over it were not previews of evangelicalism against secularism, and once we know that, then early American Christianity becomes a wonderful treasure trove of ideas and artifacts and examples. There's sacred treasure hunts and holy astrology and visionary dreams and angels in thunderstorms. Early American religion looked a lot more like Mormonism that we've assumed. So No Place for Saints is both about how the past is different, and how we can shape our democracy in the future.
JF: Why and when did you become a historian?
AJ: I was working nights at a theater—opening the house, taking tickets, cleaning up the bathrooms afterward, that sort of thing. I had an hour commute each way and I would listen to history lectures from The Great Courses; they really did keep me alert for the 2 am drive home. One day I parked at work and realized that I was more excited to hear the rest of the lecture on the ride home than I was about anything I would do in the intervening eight hours. So I said, this is what I should probably be doing with my life.
Many thanks to the Lower Merion Library System for having those lectures available to borrow on cassette.
JF: What is your next project?
AJ: I'm writing a history of Jews in the American Revolution which will hopefully be out next year. The Jewish patriots all ended up in Philadelphia by the middle of the war, because the British had conquered every other American city with a synagogue. So the patriot Jews formed their own congregation and probably become the first truly national religion. Then they organize to press for full religious freedom based on their participation and service in the war. By and large they got it—which makes the claim that the Founders intended a Christian nation problematic, since Jews almost immediately become citizens in the new nation. It's a story of church and state, and of how the revolution created rights, and of how to make a meal kosher in 1783.
JF: Thanks, Adam!