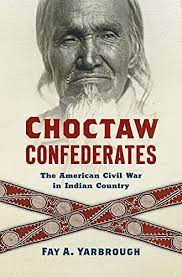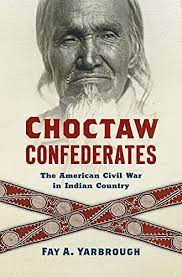 Fay Yarbrough is Professor of American History at Rice University. This interview is based on her new book, Choctaw Confederates: The American Civil War in Indian Country (University of North Carolina Press, 2021).
JF: What led you to write Choctaw Confederates?
FY: Choctaw Confederates is not the book I intended to write. I was doing research on a project on the Beams family whose history reads like a Lifetime movie—it includes Euro-Choctaw family members attempting to re-enslave their part African half-siblings in the antebellum Choctaw Nation. I met a descendant of the Beams family, Mrs. Mildred Brown, at the Oklahoma Historical Society and envisioned a project on memory. I wanted to write about how descendants of both branches of this family remembered or forgot this family history. While searching for more information on the Beams family in the archives, I found Choctaw legislative documents from the era that revealed that Choctaw lawmakers spent a great deal of time talking about their commitment to the Confederate States of America. Choctaw legal authorities even passed a measure demanding that all whites living in the Choctaw Nation swear allegiance to the Confederate cause. They then deemed any criticism of the Confederacy or of the Confederate army to be a form of treason against the Choctaw Nation and punishable by death. Lawmakers raised an infantry force, and then later a cavalry, to fight with the Confederate forces. I wondered what accounted for this level of commitment to the Confederate cause among the Choctaws, a population that had been forced to move to Indian Territory a few decades before by those very same southerners now fighting to secede from the United States? Grappling with this question led me to write Choctaw Confederates.
JF: In 2 sentences, what is the argument of Choctaw Confederates?
FY: I only need one: I argue that the Choctaw Nation allied with the Confederacy during the American Civil War because of a desire to protect Native sovereignty and Choctaw identity and a commitment to practicing the institution of slavery.
JF: Why do we need to read Choctaw Confederates?
FY: Choctaw Confederates examines slavery, emancipation, the Civil War era, and Reconstruction from the less familiar vantage point of the Choctaw Nation and Indian Territory. There are stacks and stacks of books produced about the American Civil War, but few do so from the perspective of Indian Territory or with Native voices at the center. In doing so, I ask readers to redefine what we mean by "southern"; shift our perspective to see beyond the traditional binary of the Union and the Confederacy; and interrogate what we think we know about the historical relationship between Native populations and slavery. And the questions raised as a consequence of this choice to ally with the South continue to reverberate today in terms of Native sovereignty and the place of the descendants of Choctaw freedpeople in Choctaw society.
JF: Why and when did you become an American historian?
FY: I suppose I became an American historian when I was an undergraduate at Rice University.  I found my majors by marking all of the classes in the course catalog (which was paper way back then!) that I wanted to take before I graduated.  I marked the most classes in history followed by political science, which led to my double majoring in those subjects.  Within history, I gravitated towards classes that covered American topics such as slavery and abolition or women in the American south or the civil rights era.  I think those topics appealed to me because I had not had much exposure to them in high school, and I am an African American woman.  Suddenly my history and the history of people who looked like me was front and center in a way that I had never seen before.  I also benefitted from wonderful history professors who were gifted teachers.  How could I not want to be a historian when my history classes were full of smart people talking about interesting ideas?
I focus on the nineteenth century because, as I joke with my students, it is the century when so much happens!  Slavery as an institution was in full flower, Native people were increasingly dispossessed of land as settler colonists marched west, there was a civil war, then came the jubilee of emancipation and the harsh realities of Jim Crow segregation.  And the consequences of the events of the nineteenth century continue to play out today.  I firmly believe that we can't understand the problems we face as a nation today without reckoning with this history.
JF: What is your next project?
FY: I'm going international and comparative! I'm working with a colleague, Michael Maas, who is a historian of imperial Rome and Late Antiquity, to put together a conference called "Naming the Natives: Indigenous Peoples as Seen by their Rulers in the Early American Empire and the Roman Empire." We've invited 25 scholars from the US and abroad to meet at Rice in the spring of 2022 to compare the conceptual and hands-on apparatus of American and Roman rulers for dealing with their indigenous subjects. We're interested in questions of identity, inclusion and exclusion, and how the groups, both the indigenous peoples and the authorities, changed each other and resisted change. We're hoping to publish a volume from the work presented at the conference. It's been exciting to learn about such a different field and discover interesting points of tangency despite our geographical and chronological differences. Writing history can be a solitary task, so I've also enjoyed the collaborative aspect of this project as well.
JF: Thanks, Fay!