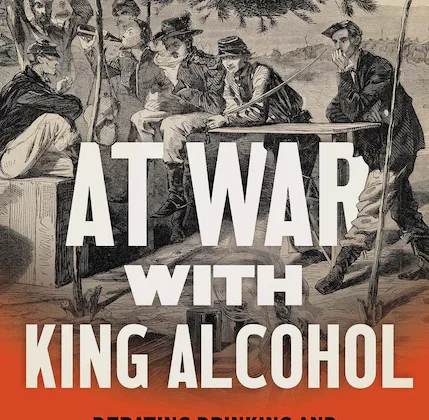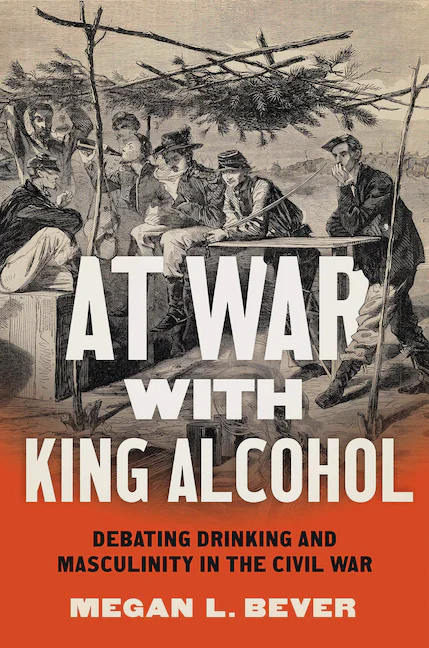 Megan Bever is Associate Professor of History and Chair of the Social Sciences Department at Missouri Southern State University. This interview is based on her new book, At War with King Alcohol: Debating Drinking and Masculinity in the Civil War (University of North Carolina Press, 2022).
JF: What led you to write At War with King Alcohol?
MB: The book project grew out of my dissertation that I wrote to earn a PhD in History at the University of Alabama. When I started graduate school, I was quite interested in the Civil War and its aftermath, but the more I read, I became equally interested in the social anxieties that accompanied market changes – and I found myself fascinated by reformers. Perhaps it has something to do with the fact that I grew up American Baptist, so questions of whether or not drinking was OK floated around my children.
Anyway, I spoke to my advisor, George Rable, about my interests. I really thought they were diverging, and I was going to need to choose between the war and reform, but he helped me to settle on this topic of liquor in the war that enabled me to blend both interests.
The research project grew from there. It quickly expanded far beyond reformers during the war – as I read soldiers' accounts, I became really interested in the ways that men understood their own drinking and how it compared to civilians' concerns. I became really interested in state-level solutions to controlling drinking, as well. For the book project, I expanded my research to pull in more federal records, primarily. And, I explored more questions about supply and policies.
JF: In 2 sentences, what is the argument of At War with King Alcohol?
MB: I argue that Civil War armies used liquor pretty widely (when they had it), and these official uses led soldiers to develop their own ideas of when and how much they could drink and still be good soldiers. These debates over drinking spread beyond the armies, and civilians ended up discussing whether or not drinkers, distillers, and traffickers could be good Americans – in the end, the consensus was that people who exploited liquor were bad Americans.
JF: Why do we need to read At War with King Alcohol?​​​
MB: I think that Americans have a really complicated relationship with liquor (and, really, with food in general). It's bound up in our citizenship and our personhood – in one way or another, we constantly ask ourselves what we can consume and still be a good person. And, I think as well that Christian Americans have a really fraught relationship with food and drink, and if we're taught from a young age (as evangelicals, at least, often are) that our bodies are temples and we sin by violating them (including by drinking), we end up with a lot of emotional baggage related to food and drink (and sex – but that's a different topic). So, I think many of these same anxieties and questions play out among Civil War soldiers – although in their cases, the stakes are higher because they're quite worried about dying and/or hurting their country with sloppy actions. But, I think reading about the soldiers' struggles in a different time and place perhaps helps us to understand the complicated nature of our own cultural attitudes toward liquor.
Another interesting point I learned while researching and writing this study was the extent to which liquor and medicine were related. I mean, in the most obvious way, I knew that alcohol and medicine went hand-in-hand. But, what I found really fascinating were the ways that soldiers would couch their own drinking in terms of its medicinal effects. So many times a soldier or officer will be accused of being drunk and will counter with, "well, I was sick" – something to that effect. So, drinking was OK if you were treating illness (broadly defined). I think even in 2022 we are much more comfortable with medicinal substances. Lots of states only legalize pot medicinally, and a person can get those prescription cards pretty easily. So, it's bad if teenagers use pot (especially non-white youths). But, if adults need a medicinal bit of chocolate pot bark – well, that's fine. It's for their health. I find these connections fascinating.
JF: Why and when did you become an Am​erican historian?
MB: I probably became a historian when I was in elementary school. I was fascinated by the Civil War. I read Little Women obsessively. I watched a lot of Dr. Quinn, Medicine Woman. My imagination spent a lot of time in the 1860s (or the 1990s popular memory of it). My family also traveled to a lot of historical sites. I loved it. So I don't really have memories of a time before I was interested in history.
By the time I started my undergraduate degree, I was also fascinated by languages and linguistics, but studying history always seemed to win out. Purdue University's history department was (and is) really dynamic. I soaked it up. I especially enjoyed my French history and Middle Eastern history classes. But by the time I was a senior, my love of the 1860s, the Civil War, and the South were winning out.
I worked in two museums in Crawfordsville, Indiana. I loved those jobs – leading tours, building exhibits, caring for the collections. So, I knew I wanted to keep studying history. Professors at Purdue really nurtured my research and writing skills. They encouraged my graduate school applications.
The rest involves a lot of serendipity. The University of Alabama was a great place to earn a PhD in Southern History. My advisor was wonderful. And, I happened to graduate in a year where there were lots of jobs in my field (so many people aren't so lucky). Ironically, I ended up at a state university about 100 miles away from my hometown in Kansas.
So, I don't really know if I became an American historian in 1992 when I first visited Gettysburg or in 2014 when I started working at MSSU – or somewhere along the way.
JF: What is your next project?
MB: I'm still working on some tangents involving my liquor research. I'm currently working a lot with Missouri records because there are some puzzles I want to untangle that I didn't have space to work through to my satisfaction in the book manuscript.
And, beyond that, I'm dipping my toes into a longer project that involves state and local historical sites in Missouri. Working and living in the state for about a decade, I've really grown to love it. It's absolutely beautiful, and it has this wonderful network of farm roads that I like exploring. So, I've picked a project that will allow me to travel around the state on backroads visiting sites and doing research.
JF: Thanks, Megan!