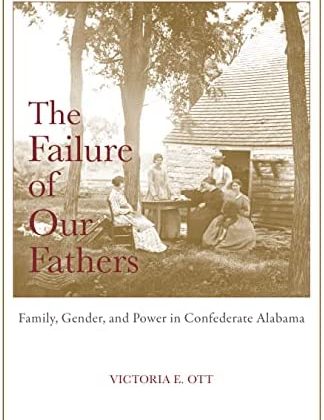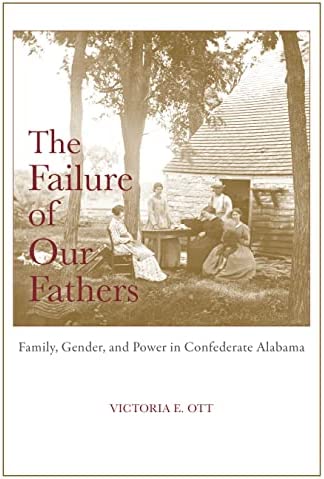 Victoria E. Ott is James A. Wood Professor of American History and the coordinator of Gender and Women's Studies at Birmingham-Southern College. This interview is based on her new book, The Failure of Our Fathers: Family, Gender, and Power in Confederate Alabama (University of Alabama Press, 2023).
JF: What led you to write The Failure of Our Fathers?
VO: I sort of fell into this project. I initially started researching court records in early nineteenth-century Alabama merely out of curiosity about what those sources might tell us. As I spent time in the archive perusing criminal and divorce cases, I began to see some patterns emerging. In particular, the overwhelming number of those who were involved in those cases were poor whites and small landowning farmers—whom I refer to collectively as "common whites." Their presence in the court system began to appear as a form of empowerment for this typically marginalized group of whites in the Old South. The means by which they claimed power was rooted in gendered symbols, language, and traditions. Protecting masculine honor and feminine propriety were the most prominent motivations for going to court, whether to seek a divorce or face criminal charges. My research started to expand chronologically the further I got into the sources, bringing me to wonder about their place in the Civil War. As I continued to delve deeper into their lives, I started to ask two important questions. First, why would a group with little to no investment in slavery support the Confederacy? Second, in becoming a part of the Confederacy did this group gain or lose power especially amid the turmoil of the Civil War? I was also motivated to investigate their story because so much has been written about the South's elite white minority. In fact, my last book Confederate Daughters focused on young women from that demographic. I felt it was important to help balance the historiography about the Civil War in Alabama with more discussion about the common white experience using the lens of gender and family.
JF: In 2 sentences, what is the argument of The Failure of Our Fathers?
VO: For common whites, going to war meant protecting their families and they envisioned the Confederacy as a larger family and the state as a paternal figure that promised to protect its loyal dependents throughout the conflict. Yet the construct of a familial structure that once created a sense of loyalty now gave them cause to protest wartime conditions and challenge the elite power structure, ultimately redefining Alabama's social structure and increasing class distinctions after the war.
JF: Why do we need to read The Failure of Our Fathers?
VO: I think people should read this book because it is a story of the underdog pushing back against the powerful elite status quo. It brings to light how Alabama's leaders and the wealthy whom they favored called on common whites to bear more of the burden of fighting a war to defend slavery. However, rather than become pawns of those in power, they emerged as active participants in guiding their own fate. They had found a way to fit within the antebellum era's paternalistic social order, eventually identifying with and supporting the Confederate mission to leave the Union and create an independent, slaveholding state. But as their families faced continued separations, threats of death, and the potential for starvation, devotion to the Confederacy lost priority. From the intersection of class and gender emerged varying forms of public protests to pressure that forced the state to take notice of their dire circumstances. If you are interested in the long history of class relations in Alabama and, more broadly, the South, you should read this book. Readers will walk away with a better understanding of the historical roots of how/why political leaders demand sacrifices from the poor to benefit the wealthy.
JF: Why and when did you become an American historian?
VO: I came to the historical profession for two reasons. First, I had some great influencers in my life. My father, Thomas O. Ott III, is a scholar and retired professor of history. I had the chance to take some classes with him at his former university. His storytelling abilities had me mesmerized. He made the past come to life while teaching me to think critically about major events in history. Another important person was Shirley Leckie who taught Old South at the University of Central Florida where I received my B.A. and M.A. in history. We spent a good deal of time in that class discussing the significance of women in shaping the past, something that was rarely discussed in my other courses. For the first time I realized how central everyday ordinary women, not just notable figures, were in shaping our nation's history. From there, I decided that I wanted to concentrate on gender and women's history in the South. My mentor/advisor, the late Stephen V. Ash, from the University of Tennessee, was just an all-around important influence in my professional life. He brought me to look further into the importance of gender analysis when looking into the Civil War. Steve had a great deal of passion to teach about the past, which has informed my own career in the classroom. My second reason for becoming an American historian came from a desire to lead a life of purpose. I genuinely believe that a critical understanding the past can help us to create a better future. I embarked on my career hoping that my work into women's and gender history would inspire people to make a difference in the world. More specifically, learning about the struggles and advances women have made in the past makes us better equipped in our own quest for human justice in the present.
JF: What is your next project?
VO: I have a two-tiered research agenda. My first plan takes me out of my chronological comfort zone and into the twentieth century. I am in the preliminary stage of doing a long history of reproductive rights in the Deep South, focusing on the anti-choice movement. A good friend of mine with first-hand experience in countering that movement served as the inspiration. My more long-term research is a deep dive into the generation of southern women born immediately after the Civil War. I am interested in how those who did not experience the war felt the effects of events that divided the nation and disrupted hundreds of thousands of lives. How did being raised in a post-war world shape their sense of self, especially involving issues of race, class, and gender? How did they understand this new landscape moving into the late 1800s? My initial idea is to look at particular individuals, compiling a collection of case studies representing a variety of experiences.
JF: Thanks, Victoria!