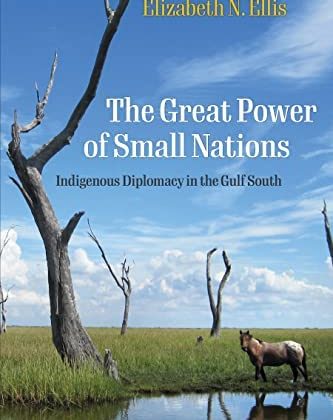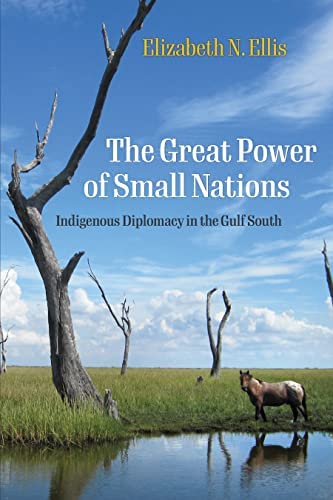 Elizabeth Ellis is Assistant Professor of History at Princeton University. This interview is based on her new book, The Great Power of Small Nations: Indigenous Diplomacy in the Gulf South (University of Pennsylvania Press, 2022).
JF: What led you to write The Great Power of Small Nations?
EE: This project emerged from my collaborations with the Pointe-au-Chien Indian Tribe between 2006 and 2010. In that era, I was living in New Orleans, and this tribal nation, which is a Native American community composed of some of the descendants of the small nations that I discuss in my book, was applying to the federal government for recognition. What this means is that they were seeking a formal nation-to-nation relationship with the United States Government. Because the Pointe-au-Chien's ancestors evaded removal and did not sign treaties with the United States, their people did not historically have relationships with the United States. So, today, they do not have the same rights or protections for their people or lands as someone like myself, who is a tribal citizen of a federally recognized tribe, does. Therefore, they were applying for recognition from the Bureau of Indian Affairs (which is housed within the Department of the Interior) in order to secure these rights. To be considered for formal recognition, they had to submit documents that demonstrated their history and culture as Native peoples. That's where I came in. I am Peoria, not Pointe-au-Chien, but I have long been committed to supporting the rights of Native peoples, and in this case I could help by doing archival research. My task was to read colonial documents that would help us understand the early history of the region and the many different Indigenous peoples who lived in the lands that are now Louisiana and Mississippi. The incredible stories of Native power, Indigenous innovation, and the survival of Native American nations were unlike anything I had heard of. This book examines these early histories of Native nations and explains how Native Americans fundamentally influenced colonial empires fundamentally shaped the the Gulf South.
JF: In 2 sentences, what is the argument of The Great Power of Small Nations?
EE: Power on the Margins is a history of the small Indigenous nations of the Lower Mississippi Valley in the eighteenth century. My book argues that these small nations' immigration policies and alliance networks enabled them to exercise powerful influences and survive the onslaught of colonization in the Gulf South.
JF: Why do we need to read The Great Power of Small Nations?
EE: We often imagine that Native Americans were overpowered by colonists and that European arrival led to the inevitable decline of Native power and the demise of tribal nations. In this book, I tell a very different story. In the Gulf South, Native Americans limited the expansion of the French empire, shaped Spanish and British imperial policies, and avoided American efforts to forcibly remove or incorporate their people. I think we frequently think of the southeast as a region where all the Native people were removed, and this is simply not the case. My work helps explain how Native nations endured and managed to stay in their homelands through centuries of colonization. The erasure of this history has really significant consequences both for how we understand the history of the the Gulf Coast and for the many Native nations who remain in the South today.
JF: Why and when did you become an Am​erican historian?
EE: I became a historian because as a young Native kid, I never saw my people or our stories represented in our history books. In my high school classes, Native peoples appeared briefly in stories about Thanksgiving or the settlement of Jamestown in Virginia, and then they vanished from the American narrative. These stories of Native decline and disappearance were at odds with the ways that my own community and the other vibrant tribal nations in Oklahoma talk about our own pasts and presents. This led me to want to become an educator and to share Native stories and perspectives with a broader public.
JF: What is your next project?
EE: Right now I'm working closely with my tribe, the Peoria Tribe of Indians of Oklahoma, and with our sister nation, the Miami Tribe, on a collaborative project on Native art and power in the the seventeenth and eighteenth century. This project is focused on the traditional art of hide painting—literally recording images and messages in paint on bison or deer hides. At that time, my nation was known as the Illinois Confederacy. We lived in what is now Illinois and forged alliances with the French and with our Miami allies, and these connections made us powerful. We communicated this power and our histories in part through the medium of hide painting. We're working to both tell this history and to use this project to help both of our nations reclaim our early stories and revive our languages and artist traditions in the modern era.
JF: Thanks, Elizabeth!