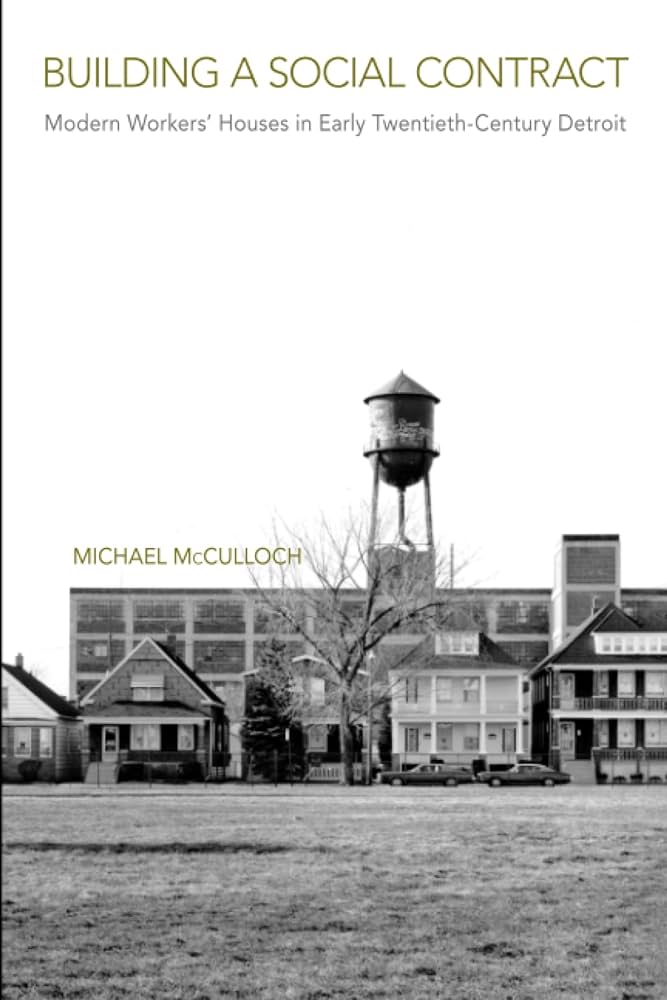 Michael McCulloch is Associate Professor of Architecture and Master of Architecture Program Chair at Kendall College of Art and Design of Ferris State University. This interview is based on his new book, Building a Social Contract: Modern Workers' Houses in Early-Twentieth Century Detroit (Temple University Press, 2023).
JF: What led you to write Building a Social Contract?
MM: As an architecture student in late-90's Detroit, I was both fascinated by and unsure what to make of the city's ubiquitous, closely-spaced workers' houses and concrete factories. My courses emphasized the most innovative modernist and contemporary designs from around the world, while the common buildings close at hand remained inscrutable. Why did Detroit take the physical shape that it did, and why were so many of its buildings vacant? I took these rather naïve early questions seriously, and studying the Motor City's history over the past decade I've discovered important stories about the meaning of houses and work in modern America that I want to share with others.
JF: In 2 sentences, what is the argument of Building a Social Contract?
MM: Detroit, the quintessential U.S. industrial city, made more than automobiles in the early twentieth-century. It was a leading center of cultural change in which workers—largely immigrants and migrants—gained access to new and better houses like never before, and learned to demand more for their work, prefiguring the transformative labor struggles of the New Deal era.
JF: Why do we need to read Building a Social Contract?
MM: The social and economic challenges of twenty-first-century America are complex, and demand responses grounded in historical perspective and human stories. How might we respond to increasing inequality, acute urban housing shortages and persistent racial discrimination? To consider such questions is to reflect on our present-day social contract—on the way that power is negotiated. Detroit's history has much to offer on that topic. Building a Social Contract, through stories of the Motor City's early twentieth-century houses, shows that higher wages alone cannot resolve social inequities, and that only working-class political power can secure affordable housing.
JF: Why and when did you become an American historian?
MM: I've been working as an architectural design educator and a historian for ten years, and this hybrid practice has allowed me to think about buildings and cities in a unique way. My historical studies have trained me to always consider the social context and the "why," not just the "how," of architecture and building. At the same time, immersed in design discourse, I seek to understand sometimes-abstract social concepts through the lens of historical protagonists' intimate, lived experiences in spaces such as houses and city streets.
JF: What is your next project?
MM: I remain deeply interested in the Great Lakes region's industrial history, and have begun to examine nineteenth-century colonialism and resource extraction—particularly lumbering—in Michigan's upper peninsula. Though distant in time and place from Detroit's Model-T era boom, nineteenth-century rural modernization made large-scale urban industries possible, and by extension, helped to set the stage for today's global environmental crisis.
JF: Thanks, Michael!