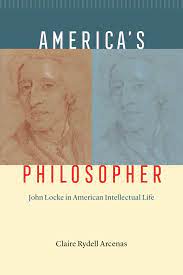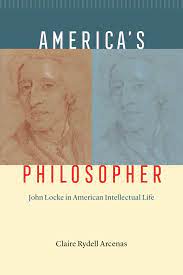 Claire Arcenas is Associate Professor of History at the University of Montana. This interview is based on her new book, America's Philosopher: John Locke in American Intellectual Life (University of Chicago Press, 2022).
JF: What led you to write America's Philosopher?
CA: One day, as a graduate student at Stanford, I found myself knee-deep in National Union Catalogs (a kind of old-school WorldCat) at the Hoover Institution Library. I had gone in search of nineteenth-century editions of John Locke's Second Treatise of Government. To my surprise, however, I discovered that no American press had published Locke's Second Treatise between 1773 and 1917. This was shocking to me because (like most readers of this blog, I suspect) I had learned that the Second Treatise had always been Locke's most important work—that it was, in fact, one of the founding texts of the American Political Tradition. And this discovery suggested to me that the story of Locke in America was more complicated, and perhaps more interesting, than I had realized. So, I decided to start asking questions about who Locke was for earlier generations of Americans. This book is a product of my decade-long investigation.
JF: In 2 sentences, what is the argument of America's Philosopher?
CA: Locke has always been vitally important to Americans, but his importance has changed dramatically over the past three centuries. While Americans today think of Locke as a political philosopher and the founding father of American liberalism (or sometimes libertarianism), eighteenth- and nineteenth-century Americans recognized Locke first and foremost for his epistemology (especially his Essay Concerning Human Understanding), and they revered him as a model and exemplar from whom they could learn how to engage in everyday activities that ranged from cultivating friendships to reading the Bible.
JF: Why do we need to read America's Philosopher?
CA: To learn why eighteenth-century mothers gave their children ice baths! (Hint: because John Locke told them to.) More seriously, I hope America's Philosopher shows the value of being curious about even—or, perhaps, especially—those parts of American history we often take for granted (e.g., the timelessness of Locke's influence). I also hope the expansive chronological approach I took to writing America's Philosopher can serve as an invitation for other historians to do something similar. Without, so to speak, the 30,000-foot view across three centuries of history, I would never have been able to see how profoundly Locke's role in American intellectual life changed over time.
JF: Why and when did you become an American historian?
CA: I became an American historian my junior year of college. Until then, I had been a classicist, interested in studying ancient philosophy and politics. But once I started reading thinkers such as Ralph Waldo Emerson, I realized that I was interested more in what Americans such as Emerson thought about the ancient world than I was in the ancient world itself.
JF: What is your next project?
CA: I have a few projects in the works at the moment. One is a short book on past crises in the humanities and what we can learn from them today. Another examines how founding documents like the Declaration of Independence and US Constitution have been taught (or not) in American schools across time. And finally, I have a project underway about Harriet Taylor and John Stuart Mill in American intellectual life.
JF: Thanks, Claire!