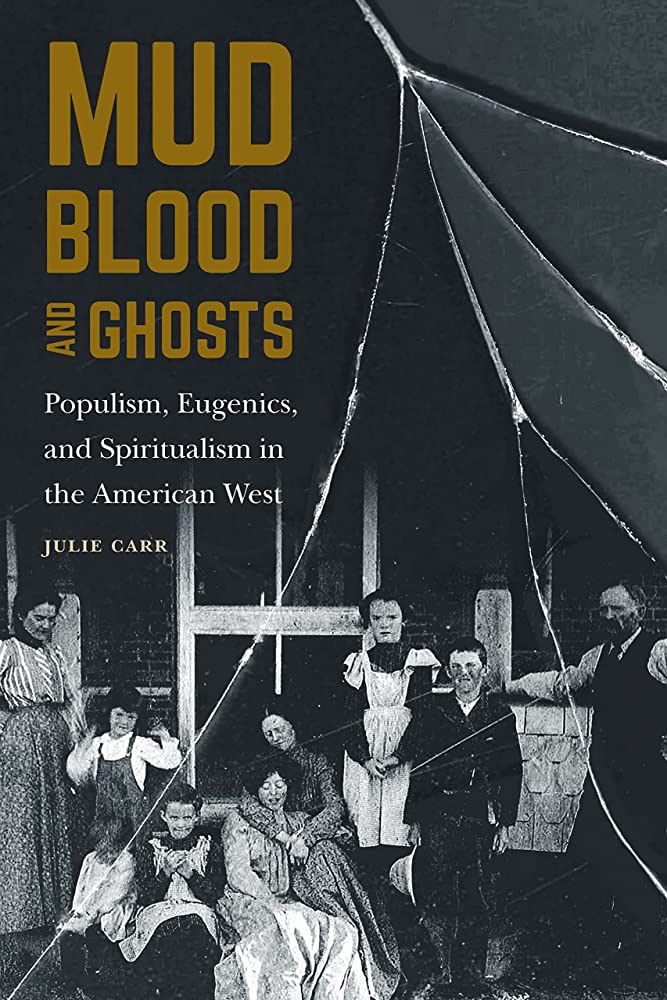 Julie Carr is Professor of English and Chair of Women and Gender Studies at the University of Colorado Boulder. This interview is based on her new book, Mud, Blood, and Ghosts: Populism, Eugenics, and Spiritualism in the American West (University of Nebraska Press, 2023).
JF: What led you to write Mud, Blood, and Ghosts?
JC: In the summer of 2016, as the GOP named Trump as their candidate, the label "populist" was all over the press. I knew that my great-grandfather, Omer Madison Kem, had been a founding member of the Populist Party in the 1890s, representing Nebraska's 3rd district as a Populist in Congress. I knew that those 1890s Populists had been poor farmers from the Plains states and the South who were demanding political representation and protections for working people, farmers, and the poor. They had vehement arguments against the vast inequality of the Gilded Age, and plans for how to address it. I wanted to understand what had happened to American Populism from the 1890s to now.
That was also the summer of Standing Rock, the largest pan-Indigenous movement in U.S. history. 360 Native nations rallied behind the Water Protectors through online campaigns, street marches, and donations of material goods. I had great respect for that movement and felt that it made a demand on me (on all of us). I knew that my family had been settlers in Nebraska and I wanted to understand that history in much more detail. And so I began to study the archive.
JF: In 2 sentences, what is the argument of Mud, Blood, and Ghosts?
JC: Populism arose out of a condition in which settler-farmers were deeply insecure in their relation to the land, which was nonetheless the foundation of their identity (and survival). After the collapse of Populism, some settler-homesteading Populists sought to relocate the source of their legitimacy from where they lived and what they did to who they thought they were, that is, from the land to the blood, thereby attaching themselves to a dangerous ideology of white supremacy, which in the early twentieth century found legal expression through eugenics, Jim-Crow laws, and increased nativism.
JF: Why do we need to read Mud, Blood, and Ghosts?
JC: We cannot understand the crises in our country—the attacks on reproductive rights and on LGBTQ+ people, the ongoing anti-immigrant fervor, the anti-Black racism, the attempts to control and limit public education, the Western water crisis, and the continued displacement of Native people from their lands (to name some of the topics I cover)—without studying our history. My book starts with my family, but spirals outward from there, helping readers to see how our individual and family histories overlap with and are enfolded within the stories and lives of so many.
One of the things I hope readers will take away is a sense of the possibilities within history. Nothing that happens is inevitable; it all comes down to individual actors, individual decisions. There is a version of Populism that carries a passionate concern for justice and equity, for "the love of the whole people for each other," which might, if followed like a current, carry us toward a widening ocean of inclusion. There are people throughout the book who held on to this fundamental faith in the value of all people and who fought for equity and justice at great risk to themselves. I hope readers can feel emboldened by these narratives while recognizing that at all moments we have decisions to make that might have great impact on others.
JF: Why and when did you become an American historian?
JC: I am not a trained historian! I am a poet and a literary scholar. This book was a real stretch for me, and luckily, I got a huge amount of help from many historians and archivists who helped guide my research.
I turned to history out of a feeling of necessity. I needed to understand how we'd arrived in our moment of increased division and violence. I needed to understand my own family's story in relations to where we are now (at least this side of it, there are, of course, other sides and other stories). Our individual passions, our privileges, and our traumas have roots. How can we cultivate the world we want to see without understanding these roots?
JF: What is your next project?
JC: Towards the end of Mud, Blood, and Ghosts I reflect on how American eugenics—which my great-grandfather passionately advocated—deeply influenced Nazi laws and ideology. Because I am Jewish on my mother's side and members of her family had been murdered by the eugenic cause called Nazism, I mention in the book how I carry, in a sense, both sides of that story in my blood. And yet, I know nothing about these people who had been murdered other than knowing roughly when (1942), where (western Ukraine), and how (bullets in the nape) they were killed. I am not digging into that side of the family, but I am writing about the shadow of World War II, how it is still so present in our lives, especially right now as the trauma of the Hiroshima and Nagasaki bombings comes back to haunt us as the existential threat hovering over Putin's invasion of Ukraine.
JF: Thanks, Julie!