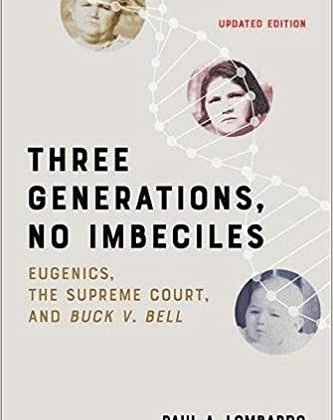 Paul A. Lombardo is a Regents' Professor and Bobby Lee Cook Professor of Law at Georgia State University. This interview is based on his book, Three Generations, No Imbeciles: Eugenics, the Supreme Court and Buck v. Bell (Johns Hopkins University Press, updated edition, 2022).
JF: What led you to write Three Generation, No Imbeciles?
PL: I finished a dissertation for my PhD in 1982 —a biography of the lawyer who had orchestrated the Buck v. Bell case– and wrote numerous articles that discussed the legal history of eugenics over the next twenty- five years. But I kept coming back to Carrie Buck's story as new material on the case surfaced. I was the last person to interview Carrie Buck, and the only person not in her immediate circle who attended her funeral. Then I found her school report card, the honor roll record of her daughter Vivian and the notes of hospital meetings when her sterilization was planned. When I found the only surviving pictures of the "three generations" of Bucks in the 1990s, and letters from her lawyer that convinced me even further that the case had been a sham, I started working on an outline for a complete volume. By 2002, after successful advocacy in favor of legislative denunciations of the old sterilization laws in Virginia, California, and several other states, I began assembling everything I had and secured a book contract. In that same year I finally got access to the records stored at the institution that had been the Virginia Colony for Epileptics and Feebleminded—including Carrie Buck's admission records and many other materials that helped me fill out the behind-the-scenes background of the case in fuller detail. By then I had lectured and taught about the Buck case for decades, and I knew it was a story that deserved a bigger audience, so in 2008 I was pleased to publish the first fully documented account of the case and its aftermath.
JF: In 2 sentences, what is the argument of Three Generation, No Imbeciles?
PL: The thesis of Three Generations, No Imbeciles is that the case of Buck v. Bell, decided in the US Supreme Court in 1927, was a sham. Its result was based on false facts and bogus eugenic science, and it paved the way for hundreds of thousands of sterilization operations in the U.S. and around the world.
JF: Why do we need to read Three Generation, No Imbeciles?
PL: Most people can go completely through high school and even college without encountering an accurate history of eugenics. As I say in the book, "The recent triumphs in genetic science announced alongside revelations and recriminations about eugenics—and happening alongside ongoing challenges to reproductive rights—suggest that we still have much to learn about Buck v. Bell. This book is the starting point in our lesson." Most people find this account of the Buck case shocking, and the injustice that it documents generates strong moral indignation in many. It also touches issues about disability, gender, race, and class that were relevant to debates in our country both when I finished the book's first edition and today.
JF: Why and when did you become an American historian?
PL: I never planned to become an "American historian," and even now, colleagues usually refer to me as a "medical historian" or a "legal historian." My intention when I started my PhD was to study how European universities began to form in the medieval period and develop on through the Renaissance. I stumbled on the Buck case when I was looking for a seminar paper topic in an "unrelated" graduate course in bioethics. To finish that paper and the longer study that almost inevitably followed it, I had to focus on America from about 1890 to 1930. So, when I returned to academic life after practicing law for several years, it was pretty clear to me that whatever historical scholarship I did was going to be focused on the place and during the period I knew best.
JF: What is your next project?
PL: I have an article coming out in a month or so that describes the impact of eugenic ideology on passing the Prohibition amendment to the US Constitution in 1920. I suspect many people will be surprised to learn that some of the stronger supporters of eugenic arguments in favor of Prohibition were the Women's Christian Temperance Union and William Jennings Bryan (he said so himself, in print). I am also thinking about a longer project examining the rise of eugenics in the US (1904-1920) the debate for/against birth control among eugenists, and how most leaders of eugenics in that period were staunchly opposed to abortion.
JF: Thanks, Paul!