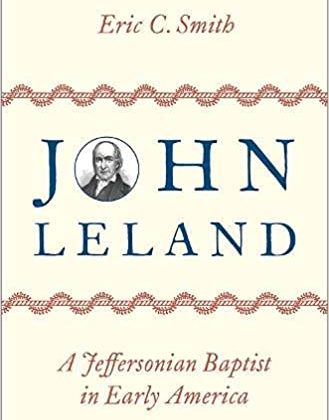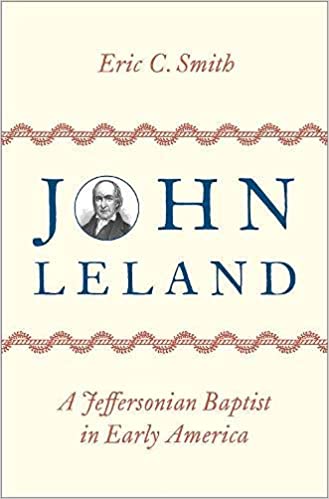 Eric Smith is Senior Pastor of Sharon Baptist Church and Adjunct Professor of Historical Theology at the Southern Baptist Theological Seminary. This interview is based on his new book, John Leland: A Jeffersonian Baptist in Early America (Oxford University Press, 2021).
JF: What led you to write John Leland?
ES: As a historian of American Baptists, it struck me that Leland, widely recognized as one of the most influential religious figures of early America, had never been the subject of a full academic biography. His colorful writing style and the bigger-than-life stories surrounding his career—most notably his delivery of a 1,200-pound cheese to Thomas Jefferson's White House, and the deal he purportedly cut with James Madison to push for a Bill of Rights in the U. S. Constitution—persuaded me that he could keep my interest over a long research project. But the deeper I dug, the more impressed I became by all the intersections of his life with the large themes of early American religious and cultural history. These included the rise of popular religion, the fight for separation of church and state, the interplay of religion and politics, and issues of race and slavery. I became convinced that Leland's story could be a useful window into the transformation of American society between the late colonial era to the antebellum period.
JF: In 2 sentences, what is the argument of John Leland?
ES: The eccentric Baptist itinerant preacher and political activist John Leland was among the most influential and colorful religious figures on the early American landscape. His story provides a prism into the sweeping transformation of American culture from the 1760s to the 1840s.
JF: Why do we need to read John Leland?
ES: John Leland is a fascinating figure for anyone interested in early American religion, culture, and politics. As an itinerant revivalist, Leland demonstrated an uncanny ability to connect with a popular audience, and contributed to the rise of a "democratized" Christianity in America. A tireless activist for the rights of conscience, Leland also waged a decades-long war for disestablishment, first in Virginia and then in New England. Leland advocated for full religious freedom for all–not merely Baptists and Protestants–and reportedly negotiated a deal with James Madison to include a Bill of Rights in the Constitution. Leland developed a reputation for being "mad for politics" in early America, delivering political orations, publishing tracts, and mobilizing New England's Baptists on behalf of the Jeffersonian Republicans. He crowned his political activity by famously delivering a 1,200-pound cheese to Thomas Jefferson's White House. Leland also stood among eighteenth-century Virginia's most powerful anti-slavery advocates, and convinced one wealthy planter named Robert Carter to emancipate over 400 of his slaves. Though among the most popular Baptists in America, Leland's fierce individualism and personal eccentricity often placed him at odds with other Baptist leaders. He refused ordination, abstained from the Lord's Supper, and violently opposed the rise of Baptist denominationalism. Leland's long and eventful life provides a unique window into the remarkable transformations that swept American society from 1760 to 1840.
JF: Tell us about the kinds of sources that you used to write this biography.
ES: Leland published extensively in his lifetime, ranging from sermons to political tracts to newspaper articles to poetry and hymns. Much of this written corpus has been preserved in the Writings of the Late Elder John Leland, published in 1845. These documents formed the core of my research. Leland was a gifted popular communicator, known for his blunt speech and earthy humor, and he never failed to keep me engaged.
Leland is also unique in having lived an especially long life–he could remember when George III was crowned King of England, and lived to see Willian Henry Harrison sworn in as the ninth President of the United States! Since Leland remained actively engaged in public life for over sixty of these years, I had to familiarize myself with a broad swath of background materials in order to place him in the changing religious, social, and political contexts of his career. I learned so much!
JF: What is your next project?
Thanks for asking! I am currently at work on a critical biography of the nineteenth century Southern Baptist leader John A. Broadus.
JF: Thanks, Eric!