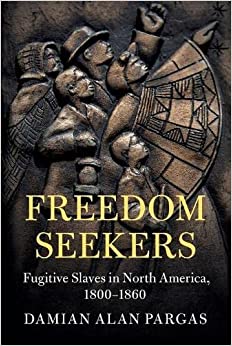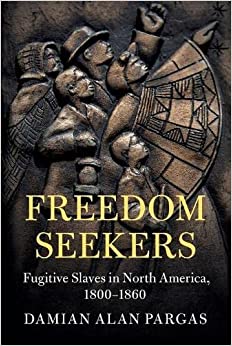 Damian Pargas is Professor of the History and Culture of North America at Leiden University. This interview is based on his new book, Freedom Seekers: Fugitive Slaves in North America, 1800–1860 (Cambridge University Press, 2021).
JF: What led you to write Freedom Seekers?
DP: I got the idea for this book years ago while I was researching my last book, Slavery and Forced Migration in the Antebellum South (Cambridge UP, 2014). That book was about how enslaved people in the antebellum South were constantly being forced to move—sometimes across state lines, sometimes locally, sometimes to from the countryside to towns and cities—and how they experienced forced migration. One thing that I kept stumbling upon was that enslaved people confronted with a forced move often ran away to prevent it (or to return home after they had been taken away). That is no surprise in and of itself, but what I found striking was that they seemed to run in every direction. We are accustomed to thinking that most runaways ran north, following the north star along the infamous Underground Railroad to free soil in the northern US. In fact, enslaved people ran all over the place, including within the southern states and to all kinds of destinations in the circum-Caribbean. The sheer diversity of the destinations led me to really want to delve deeper into the experiences of freedom seekers. Where did they flee to and why did they choose certain destinations over others? Why did some runaways from Virginia run to Canada, while others ran to Pennsylvania, and still others ran to Richmond? What did the landscape of freedom look like to people trapped in bondage?
JF: In 2 sentences, what is the argument of Freedom Seekers?
DP: This book argues that southern enslaved people fled to—and navigated—three distinct "spaces of freedom" in North America during the antebellum period, and that they had specific and deliberate reasons to prefer certain destinations over others. Some ran to spaces of "informal freedom", places within the South where they disguised their identities and tried to pass as free blacks; others ran to spaces of "semi-formal freedom", northern free-soil states where slavery was abolished but asylum for runaways was not guaranteed; and still others fled beyond the borders of the US to spaces of "formal freedom" where their freedom from slavery was legally guaranteed.
JF: Why do we need to read Freedom Seekers?
DP: This book is important in order to reroute the geography of slavery and freedom in North America in the antebellum period. It takes a continental approach to the "fugitive slave" issue, rather than a national or regional approach. It is also the only book to explain why enslaved people sought freedom all over the place, not just in the northern US.
JF: Why and when did you become an American historian?
DP: I've always been fascinated by the history of slavery and in particular in North America. I actually studied social history (rather than American history) at Leiden University, but within that subfield I specialized in themes like slavery, racism, (forced) migration, segregation, etc. When I was researching my MA thesis back in 2003, which was on the family life of the enslaved in the antebellum South, I knew I was hooked and I decided to pursue a PhD, also at Leiden University, where I wrote a dissertation on the same topic, later published as The Quarters and the Fields (University Press of Florida, 2010). The rest is history. I've continued to research and teach African-American history and the history of global slavery in general since then.
JF: What is your next project?
DP: I'm really interested in the experiences of free African Americans in the period between the American Revolution and the US Civil War. It's striking how different their legal status and experiences were across space and times in different parts of the country. I'd like to do some kind of comparative study of free African American communities in three different places—maybe Massachusetts, Ohio, and South Carolina. These were places where questions of freedom and rights for free African Americans differed markedly. I think the experiences of free African Americans at a local level (rather than only a national level) can tell us a lot about how Americans in different places understood fundamental revolutionary themes like freedom and equality. This project is still in the brainstorming phase, but I'd like to do something with this theme in the next few years.
JF: Thanks, Damian!