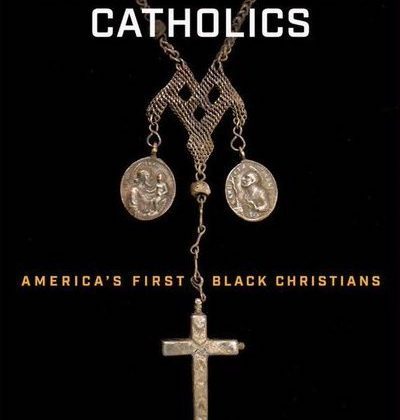 Jeroen Dewulf is Queen Beatrix Professor in the Department of German & Dutch Studies at the University of California, Berkeley. This interview is based on his new book, Afro-Atlantic Catholics: America's First Black Christians (University of Notre Dame Press, 2022).
JF: What led you to write Afro-Atlantic Catholics?
JD: This book grew out of my previous study on the early Dutch history of New York, then called New Amsterdam. While writing The Pinkster King and the King of Kongo, I had become intrigued by the fact that the earliest enslaved Africans to arrive in seventeenth-century Manhattan all identified themselves with Catholic Iberian baptismal names such as Maria, Isabel, Manuel, or Fernando. I discovered that virtually all these people originated from parts of Africa with a historically strong Portuguese influence and that many of them had come to adopt Afro-Portuguese identity markers, such as language, culture, and religion. I later learned that the same characteristics applied to enslaved communities in other parts of the country, most notably in Louisiana and South Carolina. This convinced me that some of the main centers of African American identity formation in North America share a history to which Africans originating from regions influenced by Portuguese Catholic culture contributed substantially. I decided to study the history of these "Afro-Atlantic Catholics," how their singular Catholic identity was formed in Africa and further developed in the Americas, how they expressed their faith, and what remains of their legacy.
JF: In 2 sentences, what is the argument of Afro-Atlantic Catholics?
JD: The development of Black Christianity in North America has traditionally been told from an Anglo-Saxon perspective, with a focus on Protestant missionaries. While recent research has rightly emphasized the importance of indigenous African religious influences in this process, Afro-Atlantic Catholics adds a third element to the discussion: the influence of those Africans who already identified as Catholics before their arrival in America.
JF: Why do we need to read Afro-Atlantic Catholics?
JD: The traditional Anglo-Saxon narrative has led to a distorted understanding of the meaning of the Christian faith to African Americans and failed to answer questions of crucial importance: Why did Black people embrace the religion of the very same people who were responsible for the enslavement of their ancestors? If, as some have argued, Christianity was thrust upon these people by those who bore responsibility for an African cultural and religious genocide, how then are we to understand that so many of their descendants have come to embrace this faith in such a passionate way? Afro-Atlantic Catholics provides a new answer to these questions by emphasizing the fact that that Christianity is also an African religion and that it was perceived as such by many enslaved people. The book provides historical evidence that unequivocally demonstrates that enslaved communities all over the Americas included substantial numbers of Afro-Atlantic Catholics, who were as proud of their Christian identity as of their African origins. Their legacy, it shows, is of crucial importance to understanding the further evolution of Black Christianity in the Americas because these earliest generations built the foundations for future Black religious, social, and political activity.
JF: Why and when did you become an American historian?
JD: I started my scholarly career in the field of literary and linguistic studies. Although I have increasingly shifted to history in the past years, I have kept a keen interest in the close reading of written sources in multiple languages. This background helped me to understand the importance of interdisciplinarity and multilingualism in the analysis of historical documents. Afro-Atlantic Catholics is a reflection of this; it combines the analysis of historical sources with data from anthropological and linguistic studies, while enriching our knowledge of the development of Christianity in Africa and the Americas with a vast number of translated materials from languages other than English.
JF: What is your next project?
JD: I am currently working on Haiti, where Catholic elements in popular culture tended to be interpreted exclusively in connection to the forced conversion of the enslaved population under French rule. My goal is to demonstrate that our understanding of Haitian popular culture and religion can increase considerably if we change perspectives and take into consideration that a significant number of enslaved Africans were already familiar with Iberian Catholic practices prior to their arrival in the Caribbean.
JF: Thanks, Jeroen!