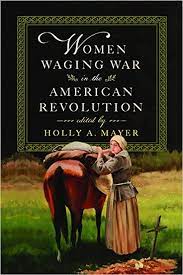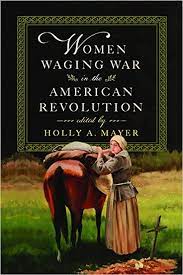 Holly A. Mayer is Professor Emerita of History at Duquesne University. This interview is based on her new book, Women Waging War in the American Revolution (University of Virginia Press, 2022).
JF: What led you to write Women Waging War in the American Revolution?
HM: Conference director Joe Dooley of the National Society of the Sons of the American Revolution asked if I'd direct a colloquium about women during the War for Independence and then compile the essays for a volume on women's challenges and contributions. That conference proposal enticed both me and the invited presenters. As academic and public historians we were excited about engaging with others in person and print to explore women's agency in the Revolution.
JF: In two sentences, what is the argument of Women Waging War in the American Revolution?
HM: How about three? The Revolution's war was not a woman's war but many women's wars as they contended with tremendously diverse and complex challenges from the onset through immediate aftermath of the military campaigns. The war imposed extra obligations on most women, offered freedom or liberties to some, but did not ensure independence for all. Both those challenges and results reveal Revolutionary America's distinctions and intersections not only of gender, but also of place, rank or class, and ethnicity, and suggest some of their effects on both the nature and recounting of the War for Independence.
JF: Why do we need to read Women Waging War in the American Revolution?
HM: One reason may be to recognize just how much the words and deeds of war targeted women. Another related reason is to realize how women's actions in the War for Independence and its aftermath showed that most were not and could not be protected within a private social sphere; nor were they so delicate or unfit, mentally and physically, that they needed to be. They were not removed from the war but in it. The essays present a war of many layers and spaces, including domestic ones beyond camps and battlefields. In examining the war's invasion of domestic places and women's actions within military spaces, the essay authors posit how a situation, time, place, and person may explain how and why women during the Revolution's conflicts acted similarly and differently, individually and as groups. They present the war as diverse women's wars that, as investigated through varying methodologies over time, have affected how historians have categorized them in their analyses.
JF: Why and when did you become an American historian?
HM: I trace my interest in American history and in particular the American Revolution all the long way back to middle school, but my particular "way of improvement," if you will, began in college with an introduction to J. Hector St. John de Crèvecoeur and his question "What then is the American, this new man?" Crèvecoeur's answer reflected the context and constraints of the revolutionary era, but the question and revised versions of it may be asked of every generation both for contemporary and historical applications and understanding. I have to some degree or another wrestled with that question throughout my continuing studies.
JF: What is your next project?
HM: As a recent retiree from academic teaching but not from history, I'm mulling a number of other possible research and volunteer adventures. In the meantime, while revising an essay about some Continental Army veterans for an anthology on the frontier during the Revolution, I hope to get back to editing a soldier's journal.
JF: Thanks, Holly!