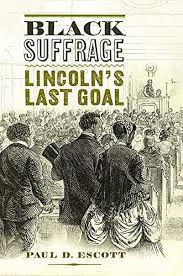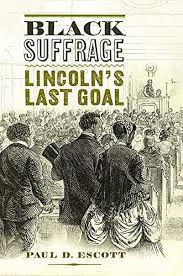 Paul Escott is Reynolds Professor of History Emeritus at Wake Forest University. This interview is based on his new book, Black Suffrage: Lincoln's Last Goal (University of Virginia Press, 2022).
JF: What led you to write Black Suffrage?
PE: My two previous books were Lincoln's Dilemma and "The Worst Passions of Human Nature": White Supremacy in the Civil War North. In these books I investigated issues of emancipation, equality, racism, and white supremacy during the Civil War, but the endpoint of those studies was Lincoln's assassination. It made sense to see what happened with these issues during the rest of 1865, especially since Lincoln's views had slowly evolved until he voiced support for voting rights, at least for some Black men, just before he died.
JF: In two sentences, what is the argument of Black Suffrage?
PE: I show that Black and white abolitionists, major northern publications (including some important pro-Democratic newspapers), and energetic Black leaders meeting in conventions and dozens of assemblies north and south mounted a strong campaign for Black suffrage. Republican leaders and voters moved broadly toward support, but racism, vicious Democratic opposition, Andrew Johnson, and the failure of some Republican leaders to get on board doomed Black suffrage in 1865.
JF: Why do we need to read Black Suffrage?
PE: Americans know too little about the Civil War and Reconstruction, and it is unfortunately true that most citizens have little appreciation for the depth and ubiquity of racist, white supremacist attitudes in the mid-nineteenth century and afterwards. Worse, some consider it disloyal or unpatriotic to talk about these historical realities. I agree with Abraham Lincoln, who said that the founders enunciated our country's ideals and set a standard "which should be familiar to all, and revered by all; constantly looked to, constantly labored for, and even though never perfectly attained, constantly approximated, and thereby constantly spreading and deepening it influence, and augmenting the happiness and value of life to all people and all colors everywhere." But we cannot make good progress toward those ideals if we remain unaware of the character of the problem we have to overcome.
JF: Why and when did you become an American historian?
PE: I was a college student during the last half of the 1960s, when the Civil Rights Movement claimed the nation's attention and when it was obvious that the history of slavery and racism had enormous consequences for life in the present. I decided to study US history, and I became a historian under the invaluable guidance of Professors Robert F. Durden, Raymond Gavins, and others.
JF: What is your next project?
PE: I enjoyed teaching for 44 years, and I will be publishing a book for college classrooms and for interested readers in the general public that I call Makers of the Civil War Political Tradition. It consists of analytical profiles of ten major figures who addressed slavery, racism, and inequality: Henry Clay, John C. Calhoun, Harriet Beecher Stowe, Frederick Douglass, Stephen Douglas, Jefferson Davis, Abraham Lincoln, Horace Greeley, Albion Tourgee, and Elizabeth Cady Stanton. The University of Virginia Press plans to publish this book in 2023.
JF: Thanks, Paul!