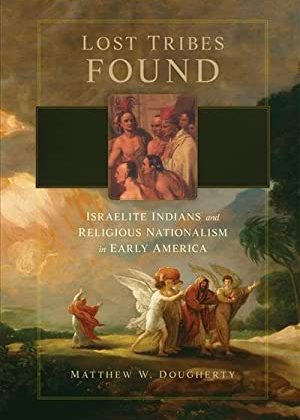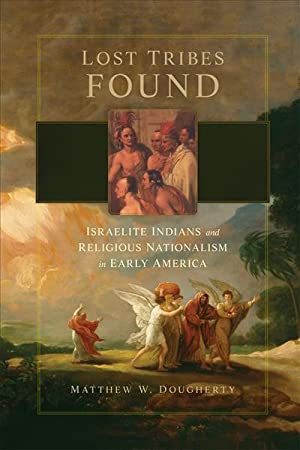 Matthew Dougherty is Assistant Professor of History at Emmanuel College of Victoria University in the University of Toronto. This interview is based on his book, Lost Tribes Found: Israelite Indians and Religious Nationalism in Early America (University of Oklahoma Press, 2021).
JF: What led you to write Lost Tribes Found?
MD: I first encountered what scholars call the "Jewish Indian theory" – that is, the idea that Indigenous peoples of the Americas are somehow or other related to ancient Israelites – during my master's program when I read the work of some of the earliest Franciscan and Dominican missionaries in what is now Mexico. The first thing that caught my eye was just that it was a weird idea. As I started to read more about how Spanish and English colonists deployed the concept in the sixteenth and seventeenth centuries, however, I noticed that the same narratives were used to argue for quite different political results. Sometimes people would say "the Indians are Israelites" to argue that missions to Indigenous people were necessary and that colonial governments should treat them well because, after all, they might be part of God's chosen nation. At other times, people would say "the Indians are Israelites" to argue that they would never be able to become Christians or full members of Christian societies, so colonial governments should monitor and control them even more.
For me at the beginning of my doctoral studies, this presented a puzzle for the options I'd been given for thinking about how religious beliefs, practices, and narratives shape historical action. Neither a simple Marxian position that the social conditions create beliefs or a simple Weberian position that beliefs shape social conditions captured what was happening very well. As my ideas about the interrelationship of religious and political ways of relating to the world got more complex during my doctoral work, I kept returning to those stories about Israelites in the Americas as a test case for the theories I was learning. Something about the idea – again, maybe just how odd it seemed – stuck with me.
I came to write Lost Tribes Found because I got interested in how this idea that flourished in the sixteenth and seventeenth centuries became important again in the early United States. Many scholars had noted that the idea of a genealogical connection between Israelites and Indigenous people was "in the air" in the early republic, but they generally looked at it in only one or two contexts. There had been some work on what I prefer to call "Israelite Indian stories" in early Mormon communities, some work on them in Indigenous Christian communities, and some work on them in Jewish communities, but nothing that really looked holistically across those sources and asked how they might be influencing one another or refracting similar themes in early American life. That comparative work was the genesis of Lost Tribes Found. Its central argument emerged from asking why all these narratives appealed to such different people, who often had divergent political aims. Why, in other words, was it "in the air?"
JF: In two sentences, what is the argument of Lost Tribes Found?
MD: The book argues that telling stories about imagined "Israelite Indians" allowed both settler and Indigenous thinkers in the early United States to express and discipline their feelings about the extension of American empire. It shows how these stories helped those who told them to understand the territorial expansion of the United States, to envision its transformation, and to animate competing claims to sovereignty.
JF: Why do we need to read Lost Tribes Found?
MD: Our U.S. history textbooks teach a very simple narrative about religious nationalism in the United States which focuses solely on how White Protestants embraced the idea that God chose them to rule the continent. This book complicates that narrative. It shows, first, that White Protestants were not the only ones using narratives about Israel to think through the world around them and stake claims for their political projects. Second, it shows that nationalism and religion meet on complex emotional terrain, and that we risk misunderstanding their interrelationship – maybe dangerously – when we talk about "Manifest Destiny," "chosen-ness" or other themes in American religious nationalism without grounding them in their historical contexts.
JF: Why and when did you become an American historian?
MD: I came to this later than I imagine many of my colleagues did. I was good at history in high school, but I mostly avoided it in college because it had been presented to me as this one unified story that was already settled and agreed upon. That story rang false with the life I was experiencing, but I didn't have the tools to say exactly how it rang false, so I ignored it. Then I went to divinity school because I wanted to wrestle with big questions about religion and ethics. I got sidetracked by history in my first semester in a course about the history of missions that was taught by David Hempton. I'm still sidetracked.
What grabbed me in that course and the others I took in my master's program was the power of seeing the past from different perspectives. I was reading histories centering women, Indigenous people, Black people, queer people, and members of minority religious groups, and I found that they didn't just expand the unified story I'd learned but fundamentally challenged its premises. The sense that the past was still alive in that way, and that how we tell it really matters, is what drew me in.
As I learned to use historical methods, I came to love how it combined this hard-nosed and rationalist approach to documentary evidence with, at its best, a humble acknowledgement of the limitations of our ability to really understand or inhabit the lives of those who have gone before us. I think this is especially true for histories about religion, because religious groups depend on the emotional lives of their members in ways that not all kinds of history do, and those emotional lives are difficult to access in the archive.
That is why all my classes now include units on how to interpret historical sources and build historical arguments. It takes time away from material I could be covering, but I think it's important to dwell with those practices of history that drew me in. I want students not just to know how to write their papers well or to know the difference between primary and secondary sources, but also to form a sense of how the past matters to them, and why the study of it might be worthwhile and beautiful.
JF: What is your next project?
MD: My next project follows up on the connections between religion, emotion, and territorial claims I drew in Lost Tribes Found, but shifts its focus to thinking about environmental more than political history. It examines how settler and Indigenous peoples living in the Great Lakes region of the US-Canada borderlands have expressed and regulated their feelings about the natural world in ways that we might name "religious." My preliminary work on this project has examined evangelical support for agricultural improvement in early nineteenth-century Ontario, American settlers' narratives about Indigenous earthworks after the Indian Removal Act of 1830, and twentieth-century white supremacists' beliefs in the salvific power of the land. I'm also very fortunate to be part of a group research project funded by the Social Sciences and Humanities Research Council of Canada which brings together Indigenous and settler scholars and stakeholders to think about public memory around the earthworks of North America. I'm hopeful that further aspects of my project on the Great Lakes can grow out of that work.
JF: Thanks, Matthew!