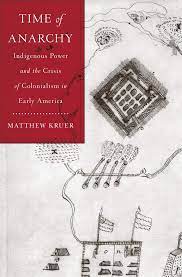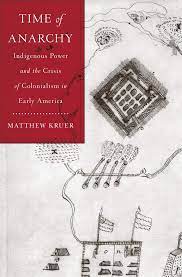 Matthew Kruer is Assistant Professor of Early North American History at the University of Chicago. This interview is based on his new book, Time of Anarchy: Indigenous Power and the Crisis of Colonialism in Early America (Harvard University Press, 2022).
JF: What led you to write Time of Anarchy?
MK: In my first year of graduate school I read one of the great classics in American historiography: Edmund Morgan's American Slavery, American Freedom, which includes a lengthy account of Bacon's Rebellion in Virginia (1676-1677). The book blew me away with its masterful narrative and searing analysis of the genesis of racial slavery in America. It is still one of my favorite books. However, I noticed a curious mystery: according to Morgan, Bacon's Rebellion began with a series of raids by warriors of the Susquehannock nation against colonists in northern Virginia. Morgan never mentions the Susquehannocks before this moment, 250 pages into the book, and he never mentions them afterward. In his narrative they feel like a spectral force that come out of nowhere and disappear right after they set this event in motion. As Morgan himself once observed, many research projects begin with just this sort of historiographical encounter, when young historians say to themselves "hm, this is weird…." I decided to center my research on the Susquehannock people, and try to explain how they came to exercise such extraordinary power over a transformative event in early American history.
JF: In 2 sentences, what is the argument of Time of Anarchy?
MK: Indigenous peoples in early America organized their political societies through flexible networks of relation that crossed colonial borders and spanned tremendous geographic distances. These networks allowed even small nations, such as the Susquehannock nation of what is currently Pennsylvania, to mobilize surprising degrees of power to survive the assaults of settler colonialism, provoke crises in the fragile political orders of English colonies, pursue creative strategies for resurgence, and ultimately to transform the shape of eastern North America for Natives and settlers alike.
JF: Why do we need to read Time of Anarchy?
MK: The most fundamental point of this book is to prompt us to think more deeply about Indigenous influences on American history on a grand scale. The nation at the center of the book, the Susquehannock nation, is demographically miniscule compared to the English colonies. Yet Susquehannocks set in motion a series of events, and continued to be decisive actors in those events, that led multiple colonies toward crisis and reconfigured relations among Indigenous nations from the Great Lakes to the Deep South. I hope that readers come away with a new narrative about early America that places Indigenous peoples—and Indigenous power—at the heart of the story.
JF: Why and when did you become an American historian?
MK: When I was fourteen and read Isaac Asimov's Foundation trilogy. A sci-fi riff on Edward Gibbon's Decline and Fall of the Roman Empire, the premise of these novels is that a mathematician named Hari Seldon invents the discipline of psychohistory, a way of predicting the future using statistical models of human behavior. Of course, any responsible historian would—quite rightly—reject the idea of history as an objective science, and it is an idea that I emphatically do not endorse. But that's not the aspect of the novels that grabbed me. It was their setting in the 345th century, twelve thousand years after quadrillions of people established a galaxy-spanning empire, so far in the future that the planet of human origin was the subject of academic debate. Compared to that, early America of the 17th century is practically yesterday! The sheer scale of time took my breath away, and invited me to imagine human societies and cultures unimaginably different from my own. When I started to learn about methods of studying social and political change that historians use today, I found that the possibilities for understanding the past were no less breathtaking.
JF: What is your next project?
MK: My next project focuses on small Indigenous nations that were formally incorporated into the British empire in the seventeenth and eighteenth centuries. Usually after conquest or coercion, the leaders of these nations were forced to make strategic decisions about how to deal with the realities of colonial rule, but also strived to shape the political system that they could not entirely escape. I'm particularly interested in the ways that Indigenous leaders articulated and enacted sovereignty: asserting forms of political constitution consonant with Indigenous histories, epistemologies, and values, while making those articulations legible to colonists steeped in European political theory. My working hypothesis is that Native struggles for sovereignty from within the British empire are far more important than historians have realized, not only because those struggles deserve study in their own right but also because settler ideas about sovereignty, constitutionalism, and even federalism may best be understood as a constantly evolving discourse of counter-sovereignty.
In a completely different register, I'm also working on a side project about representations of Indigeneity in early modern science fiction.
JF: Thanks, Matthew!