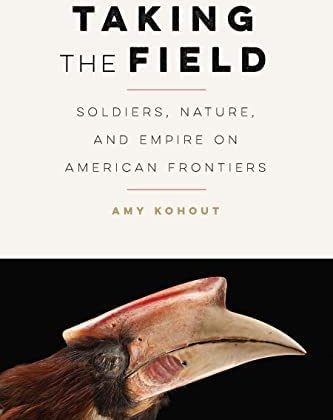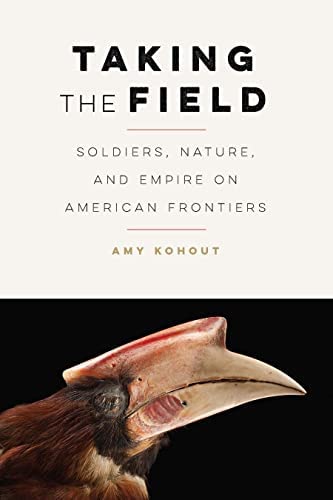 Amy Kohout is Associate Professor of History at Colorado College. This interview is based on her new book, Taking the Field: Soldiers, Nature, and Empire on American Frontiers (University of Nebraska Press, 2023).
JF: What led you to write Taking the Field?
AK: I'm a cultural and environmental historian, and I began grad school with a deep interest in understanding American ideas about the natural world. Like with anything, there are probably multiple ways I could narrate the story of this project (and actually, that's something I'm really interested in – beginnings/endings, and how where we start shapes the story we tell), but I guess one of the throughlines here is that I started wondering what folks who were not gentleman travelers/cultural elites (who are key sources in some of the foundational work in early US environmental history) thought about the landscapes of the US West, and a project I thought would be a one-off research paper led me to wonder specifically about US soldiers. (That project was an essay about representations of nature at the 1904 St. Louis World's Fair; digging into that led me to a massive 47-acre Philippine Exposition inside a fair that was focused on celebrating the Louisiana Purchase.) So I was thinking about what a cultural history project focused on less elite people might look like, and at the same time, I was doing this work on nature at the 1904 St. Louis World's Fair, where fairgoers could literally walk from exhibits focused on the US West over to a replica of the Bridge of Spain into an exhibit focused on the Philippines, and I started thinking about who or what linked these places. This question led me to US soldiers – specifically, to soldiers who might have served in campaigns against Native nations in what is currently the US West and in the Philippine-American War. And locating some of those men, and looking through their papers helped me identify a key research question for this project: how did these soldiers make sense of the landscapes of their service? And more specifically, what can soldiers help us to understand about the relationships between nature and empire in the late nineteenth and early twentieth centuries? This book is my attempt at answering these questions.
JF: In 2 sentences, what is the argument of Taking the Field?
AK: I think there are a couple of arguments I'm making here. The first one is methodological, and it's that we might see new things if we follow our sources when they take us across the borders of more traditional fields of study. Following soldiers from the US West to the Philippines and back again opens up opportunities for thinking about the connections these men made between the landscapes of their service. And second, by taking these soldiers seriously and thinking through their work and their words, I think we see how completely tangled together notions of nature and ideas about empire were for them, and this matters because these soldiers wrote home about what they were seeing and doing, and helped to shape broader American ideas about both nature and empire. I think centering these soldiers helps us to understand the shape and reach and texture of US empire in lots of directions, but especially in relation to the practice of natural history and to the formation of museum collections.
JF: Why do we need to read Taking the Field?
AK: Well, my dad just read it and he said he learned a lot! But I think this book is for folks who are interested in thinking about how things we tend to examine on their own might all be tangled together. So if you're interested in ideas about the natural world, in soldiers, in the history of natural history, in museum studies, in the study of US empire, or in the history of the US West or the Philippines, this book might be for you. There is still a lot of work to do when it comes to understanding US empire, and I hope this book is part of a broader conversation I think a lot of folks are having around reckoning with the work of empire on both sides of the Pacific.
JF: Why and when did you become an American historian?
AK: Believe it or not, I showed up to college thinking I was going to study chemistry and become a medical doctor, but also that I should try a lot of things in order to become a well-rounded student. And I found that I wanted to stay in on Friday nights to do the reading for my humanities courses, and that I really didn't love doing my chemistry problem sets. I took a seminar in my sophomore year on the idea of wilderness in American culture and started thinking about questions I'm still thinking about today. And that work led me to write a senior essay on ideas about natural beauty at Niagara Falls. I led backpacking trips in college, and interned for an environmental nonprofit for a summer, and worked as a trail cook in the US Southwest the summer after I graduated. I knew I might want to go back to school someday, but after college I wanted to focus on environmental work, to get a sense of what some of the things I'd been studying were like in practice. So I worked as an environmental organizer, and then in international development, and then as the assistant director of a wilderness expedition foundation. And I noticed that I was always looking for more context for the situations I was navigating in these jobs; I wanted to know so much more about how we'd arrived at where we were, which helped me realize that I wanted to be a historian. In lots of ways the things I'd been doing involved different kinds of teaching and learning, but I wanted to get back into the classroom. I applied to graduate school, which I began in the fall of 2008; I earned a PhD in US history from Cornell in 2015. I was a visiting assistant professor in the Environmental Studies program at Davidson in 2015-2016, and I began my current job in the History department at Colorado College in 2016.
JF: What is your next project?
AK: Honestly, I'm not really sure! Working on this project brought me to the history of natural history, collecting, and display, and I don't think I'm done thinking about this stuff. (One of those soldiers who served in the US West and the Philippines happened to also be an ornithologist who collected more than 9000 birds for the Smithsonian, which is how I found myself sitting in a small library in the National Museum of History's Division of Birds, where I examined field books and bird specimens as part of the research for this project!) I've long thought that the next project might focus more on the cultural history of natural history collecting – beyond my first book's focus on soldiers, broadening to include more than birds. I'm at such an early stage that I don't quite know who this book is about yet; I've only just begun searching for who those people might be. And I'm trying to notice a lot about this feeling of uncertainty, because I haven't been here at the beginning of a new project for a long time. I regularly teach our senior capstone (in fact, I'm writing this to you from Chicago because I'm here with a group of senior History majors researching their thesis projects at the Newberry Library this month!), and I think how it feels to not really know what shape a project is going to take is important for me to hold onto as I work to support these students as they research, draft, and revise these projects!
JF: Thanks, Amy!