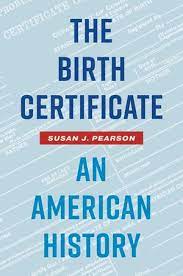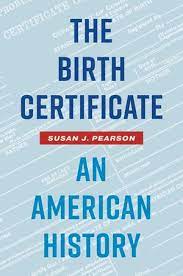 Susan J. Pearson is Associate Professor of History at Northwestern University. This interview is based on her new book, The Birth Certificate: An American History (The University of North Carolina Press, 2021).
JF: What led you to write The Birth Certificate?
SP: I first started thinking about the history of birth registration in 1997, my first year as a graduate student. I was starting work on my master's thesis, which was about child health contests in the United States during the Progressive Era. As part of that research, I was looking at some publications from the U.S. Children's Bureau and I came across a pamphlet that they issued in 1914, Birth Registration: An Aid in Protecting the Lives and Rights of Children. Though I was busy on another project, I was completely captivated by the idea that something that was so commonplace – the fact that we have birth certificates – was so recently not something that could be taken for granted. I was very influenced at the time by the work of the French philosopher Michel Foucault who had the idea that one way power operated in society was by producing the categories that we used to think about the world, and I could certainly see that birth certificates were important to that work. At that time, I did a little poking around to see if any historians had written about the history of birth registration in the U.S. All I could find were a couple of articles published by demographers in the 1950s, so I tucked this topic away in my mind as something that I wanted to learn more about later on down the road. In the meantime, I finished my master's thesis and went on to write my PhD dissertation, which became my first book, The Rights of the Defenseless: Protecting Animals and Children in Gilded Age America. When I was done with that, I returned to birth certificates in the hopes that I could make their history my next book project.
JF: In 2 sentences, what is the argument of The Birth Certificate?
SP: The Birth Certificate traces the history of how birth registration became universal in the United States and how birth certificates became identification documents. I argue that birth certificates are not transparent windows onto the truth about people, but that they are social and political documents whose use and contents change over time according to the needs and demands of the present moment.
JF: Why do we need to read The Birth Certificate?
SP: You need to read this book to understand how documents help create identity and control access to rights and entitlements. This is important not only in its own right, but also because the politics of the present continue to place documents at the center of citizenship, whether we think about "undocumented" aliens, voter identification laws, or efforts to restrict trans people's access to bathrooms, sporting events, driver's licenses and so on. Understanding how a piece of paper, the birth certificate, became the foundational identity document and how it has shaped access to the rights and privileges of citizenship puts these contemporary skirmishes in a long line of struggles over how to tell who people "really" are.
JF: Why and when did you become an American historian?
SP: I became an American historian by going to graduate school in history. As an undergraduate, I was a Women's Studies major. This led me to history because one of the things that I thought a lot about was the social construction of gender. For my senior thesis, I wanted to answer the question of when women in the U.S. started to shave their legs and that led me to historical research, which I loved. The project also showed me that history could be a way to unsettle the present by uncovering the contingency of the past.
JF: What is your next project?
SP: I'm hoping to put together a conference and an edited collection on the history of identity documentation in the United States. One thing I found in doing this research is that there has been a lot more scholarship on these issues by historians working on other parts of the world and comparatively little that focuses on the U.S. Beyond that, I'm mulling a couple of options for another book project but I'm not ready to publicly commit!
JF: Thanks, Susan!