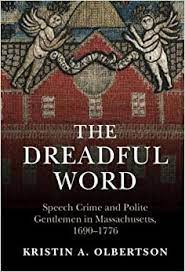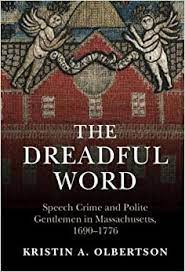 Kristin A. Olbertson is Associate Professor of History and Pre-Law Program Coordinator at Alma College. This interview is based on her new book, The Dreadful Word: Speech Crime and Polite Gentlemen in Massachusetts, 1690–1776 (Cambridge University Press, 2022).
JF: What led you to write The Dreadful Word?
KO: The troublemakers, rulebreakers, rude and noisy talkers are inherently interesting to me. The fact that their speech was actually criminalized, and actively prosecuted and punished, was a huge surprise when I got into the archives. Why British colonists made so much effort to sanction such language, and the significance of these sanctions, became a fascinating puzzle that I had to figure out.
JF: In 2 sentences, what is the argument of The Dreadful Word?
KO: In the eighteenth century, Massachusetts lawmakers and courts imported the rules of politeness from conduct and courtesy manuals into the criminal law, prosecuting and punishing speech deemed rude or vulgar. By publicly identifying language and speakers as impolite, the law worked to reinforce social and political hierarchies premised upon gentility and associated with the British empire.
JF: Why do we need to read The Dreadful Word?
KO: It analyzes sources that allow us to hear the voices of the non-elite, which are difficult to find in the 18th century. Moreover, it shows how British colonists were wrestling with questions we are familiar with today: what kind of speech should be permitted? What's the relationship between speech and violence? How can we ascertain credibility and truth? What should be the role of the law in regulating speech? And who should get to decide these matters?
JF: Why and when did you become an American historian?
KO: I fell in love with history in a first-year seminar on Chaucer's England as an undergraduate. In college, I mostly studied medieval history, but also took many courses in American and African history. By the time I started my PhD, I was in law school, and my historical interests had shifted primarily to American history.
JF: What is your next project?
KO: I have begun research on a monograph, tentatively titled Credible Women, analyzing women's speech in legal contexts in 18th-century New England. I'm interested in what types of legal issues women spoke about and how their credibility was assessed, and what changes can be observed over time.
JF: Thanks, Kristin!