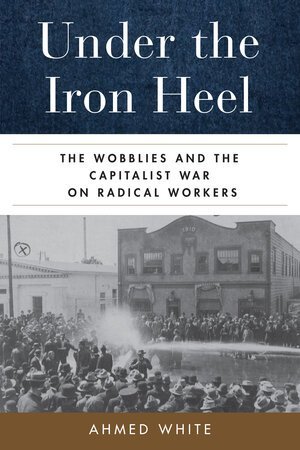 Ahmed White is Nicholas Rosenbaum Professor of Law at the University of Colorado Boulder Law School. This interview is based on his new book, Under the Iron Heel: The Wobblies and the Capitalist War on Radical Workers (University of California Press, 2022).
JF: What led you to write Under the Iron Heel?
AW: I was drawn to the story I tell in this book by a longstanding interest, not only in the history of the IWW and the broader course of labor repression in America, but also in the modern state and its legal system, and in their predatory and essentially corrupt character in class society. And it offered a good occasion to engage with the works of Jack London, a great influence on me whose writings give the book its title and occupy an important place in the narrative.
JF: In 2 sentences, what is the argument of Under the Iron Heel?
AW: The book documents the devastating campaign of repression that washed over the IWW in the early twentieth century. In unfolding this story, it not only uncovers the principal factor in the union's destruction, and likewise highlights disturbing and often-ignored truths about the true nature of twentieth century progressivism and the modern state and its legal system, but also goes a great distance in validating the IWW's own, grim vision of law and politics in class society.
JF: Why do we need to read Under the Iron Heel?​​​
AW: This book should appeal to everyone who wants to know more about the inspiring but tragic history of radicalism in America and to all who are curious to see what the modern state and its legal system are capable of doing when the interests and values of powerful people are truly threatened.
JF: Why and when did you become an Am​erican historian?
AW: I am a law professor. I began conducting serious historical research about twelve years ago when I decided, first, that such research was the only way to effectively answer crucial questions about law and the legal system, and, second, that this kind of work was immeasurably more rewarding than traditional legal scholarship anyway.
JF: What is your next project?
AW: I've been researching the Midwest farm revolt of the early 1930s with the idea of exploring the influence this dramatic but little-remembered episode had on the course of the New Deal while also tracing its connections to the crisis that prevails in rural America today.
JF: Thanks, Ahmed!