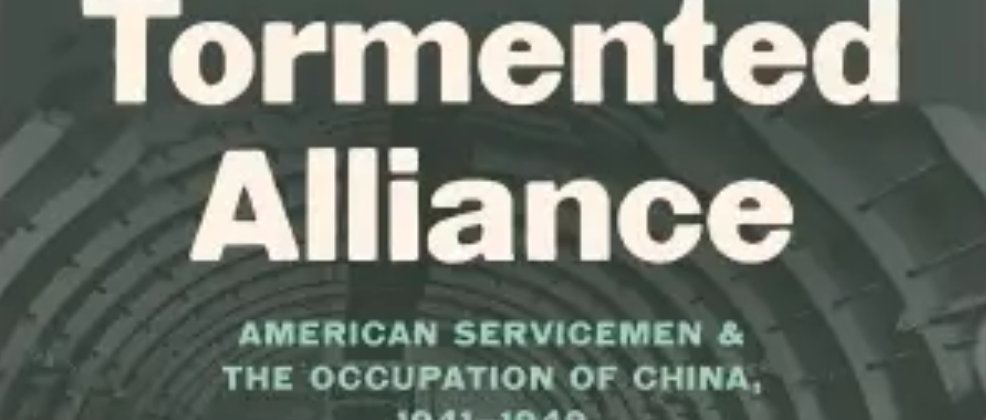 Zach Fredman is Assistant Professor of History at Duke Kunshan University. This interview is based on his new book, The Tormented Alliance: American Servicemen and the Occupation of China, 1941–1949 (University of North Carolina Press, 2022).
JF: What led you to write The Tormented Alliance?
ZF: My book examines the U.S. military presence in China during World War II and the Chinese Civil War. When I began the project, I hoped to do for wartime China what scholars had already done for the U.S. military presence in other allied and occupied countries during the 1940s: to account for what happened during and after World War II from both top-down and bottom-up perspectives while drawing extensively from non-U.S. sources. Because Chinese archives were closed to scholars for so long and because the history of China's war against Japan became caught up in Cold War wrangling over the politically charged question of Who lost China? recent studies of wartime U.S.-China relations had remained focused on revising our understanding of high-level military and diplomatic relations, rarely incorporating the methodological innovations of the cultural and transnational turns. I set out to correct this lack of transnational and grassroots attentiveness.
As I completed my research, I found parallels between the U.S. military presence in China and wartime deployments in other allied countries and American liberty ports, but even more similarities in comparison to the U.S. occupations of Normandy, Germany, and Japan. The sources I discovered also demanded that I expand my methodological horizons beyond the 1940s. Scholarship on prewar American empire in the Caribbean and the Philippines, as well as the postwar military base empire, helped me grapple with what I uncovered. So while as a Ph.D. dissertation, this project focused on the U.S.-China story, The Tormented Alliance situates U.S. military intervention in China within a broader story about the mid-twentieth century transformation of the American empire.
JF: In 2 sentences, what is the argument of The Tormented Alliance?
ZF: I argue that by becoming entangled in larger struggles over race, gender, and nation, the U.S. military in China transformed itself into a widely loathed occupation force that undermined Chiang Kai-shek's Nationalist government and helped Mao Zedong's Communists seize power. The U.S. military presence in China also set troubling patterns that have followed U.S. forces across Asia ever since.
JF: Why do we need to read The Tormented Alliance?
JF: This book offers new insights into the history of U.S.-China relations, showing that the rise and fall of the Sino-U.S. alliance turned upon the actions of a much larger cast of characters than other scholars have recognized. Previous studies on the topic have focused mostly on the contentious relationship between Chiang Kai-shek and General Joseph Stilwell, who served as commander of U.S. forces in China. But more than 120,000 American soldiers, sailors, and marines were deployed to China during the 1940s, making this military presence the largest sustained engagement between Americans and Chinese that has ever taken place in China. The wartime China story is not just a story about two leaders. The Americans who served in China came into contact with an eclectic array of Chinese, including fellow soldiers, intellectuals, college students, business owners, rickshaw pullers, police officers, farmers, prostitutes, smugglers, beggars, and thieves. Using Chinese and English-language sources to examine these interactions helps me to show how U.S. military intervention in China ultimately helped bring about the opposite of its declared aims: in 1949 China came under the control of a power hostile toward the United States.
The U.S. alliance with China also established many enduring patterns. For example, wartime China was the first place where the U.S. military carried out large-scale training programs for foreign security forces. U.S. military advisors in China—and at a U.S. Army training facility for Chinese forces in India—relied on thousands of local interpreters to train and equip hundreds of thousands of Chinese soldiers. These training programs became important tools of U.S. statecraft down to the wars in Iraq and Afghanistan. Meanwhile, the frustrations U.S. forces encountered in China contributed to widespread contempt for the local population, creating a culture in which the killing and maiming of non-combats flourished. This in turn fueled simmering anti-American resentment, which the Chinese Communists were able to harness while also building up military forces that proved more capable than their American-trained-and-equipped adversaries. Later military interventions in South Vietnam and Afghanistan followed a similar pattern.
JF: Why and when did you become an American historian?
ZF: I was only interested in two career options when I graduated college: becoming a history professor or a diplomat. Luckily one worked out. Before graduate school, I spent six years working overseas, mostly in China, where I developed an interest in U.S.-China relations and did lots of amazing travel across East and Southeast Asia. I entered Boston University's Ph.D. program in 2009, planning to pursue both the academic track and the State Department option. I eventually passed the tests for the Foreign Service, but my connections to mainland China prevented me from getting approval to serve there, or in Hong Kong or Taiwan. Joining the Foreign Service without being able to use my Chinese language skills or my background as a scholar of U.S.-China relations didn't seem like the best path.
By this time, I was almost done with my Ph.D., my wife and I had a new baby at home, and I had applied unsuccessfully for more than 100 academic jobs. Less than two months before I defended my dissertation, I got a postdoc offer from Nanyang Technological University and jumped at the opportunity. My family spent a terrific year in Singapore. I landed another postdoc after that, this time back in the United States. Ten months later we moved across the Pacific again so I could join the founding faculty cohort at Duke Kunshan University (DKU), Duke University's newly established joint venture campus in China.
Working at DKU has been great, despite all the challenges related to the pandemic and tensions in U.S.-China relations. I get to teach both Chinese and American history courses while being part of a team that had built up a new university from scratch.
JF: What is your next project?
ZF: I am now working on a project that builds on my background in U.S.-China relations and broadens it to focus on American engagement with the U.S.-allied western Pacific region during the Cold War. I'm doing this by writing the history of the U.S. military's Vietnam War rest and recreation (R&R) program. More than three million American, Australian, Filipino, New Zealander, and Thai soldiers participated in this R&R scheme. For Americans, each soldier serving a one-year tour in South Vietnam was entitled to a five-or-six-night overseas excursion to one of the following R&R sites: Taipei, Hong Kong, Tokyo, Manila, Singapore, Penang, Kuala Lumpur, Bangkok, Sydney, or Honolulu. So far, I've visited archives in Australia, Taiwan, and the United States. I hope to get to Hong Kong, Southeast Asia, and then back to the U.S. for more research next year.
JF: Thanks, Zach!