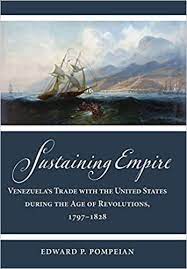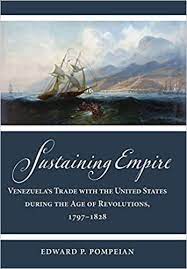 Edward Pompeian is Assistant Professor of History at the University of Tampa. This interview is based on his new book, Sustaining Empire: Venezuela's Trade with the United States during the Age of Revolutions, 1797–1828 (Johns Hopkins University Press, 2022).
JF: What led you to write Sustaining Empire?
EP: I became interested in Atlantic and translocal history while a graduate student at the College of William and Mary. My graduate coursework offered me a broad training in the comparative history of colonialism and imperialism in the Americas. While working as an editorial apprentice at the William and Mary Quarterly in 2005 and 2006, I had a front row seat to the debates over the transimperial and transnational turn and was closely reading cutting edge scholarship that was in that vein of inquiry.
At the same time, my interest in colonial North America—dominated by Anglo-American history—was waning and I found myself drawn to Latin America and the imperial tumults and struggles for freedom in the Age of Revolutions. Meanwhile, Inter-American history was having a comeback some nearly one hundred years after it originated with the professionalization of our discipline at the beginning of the twentieth century. If I was going to study the Americas in the Age of Revolutions, I had to shift my focus to Spanish America's connections with the early United States. As I explored the existing scholarship going all the way back to the early twentieth century, I noticed that Argentina, Chile, Brazil, Mexico, and Cuba had all been studied but that Venezuela was completely absent. The Spanish Caribbean colonies of Cuba and Venezuela were home to enslaved and mixed race populations for whom the revolutionary ideas of liberty were not just radical but emancipatory. Those regions' tropical staple agriculture made them especially vulnerable to wartime commercial disruptions while white colonial elites were increasingly fearful that their mixed-race and slaveholding societies were susceptible to slave rebellion, foreign invasion, and republican revolution following the Haitian Revolution. It was inexplicable to me that Venezuela would be ignored (one exception was a US dissertation that was translated and published in Caracas in the 1970s)—especially because it was home to the famous Simón Bolívar, Latin America's second independent republic after Haiti, and Iberian America's longest struggle for independence. I wanted to know this place's history and why it was overlooked for more than eighty years by Pan-American historians and Inter-American scholars.
I suspected this was a major historiographical oversight. So I first began my research by examining the commercial news published in the early newspapers of the United States.
It's a now widely accepted that colonial British North American and early US merchants gained access to foreign markets by shipping cheap and fresh wheat flour milled in the mid-Atlantic states to feed urban populations throughout the Atlantic World in the late eighteenth century. In the Caribbean, Pennsylvania, Maryland, and Virginia wheat and flour literally fed or provided sustenance to colonial populations whose urban residents demanded white bread as a food of prime necessity and a marker of social status. This grain trade gained a new importance during the Age of Revolutions, especially during the two-decades of war and tumult that accompanied Europe's French Revolutionary and Napoleonic Wars. While those conflicts severed the Spanish Empire's commercial networks, North American merchants' grain trade became a useful mechanism to maintain Spain's Atlantic commerce—or, for some colonial Spanish Americans, a justification (or pretext) to open their colonies to freer forms of trade.
The newspapers quickly revealed that the commercial activity between the United States and Venezuela was of truly crucial importance to US trade with Iberian America in the period—second only to Cuba in scale and volume before 1820. That's when I realized Venezuela had indeed been very mistakenly disregarded.
JF: In 2 sentences, what is the argument of Sustaining Empire?
EP: The argument of my book is found in the title's double meaning: US merchants and traders conducted a neutral trade that supplied the Spanish Caribbean, and Venezuela in particular, with prime necessities while simultaneously preserving the tenuous loyalty of its white, slave-holding colonial elite and the integrity of Spanish rule during a time of commercial deprivation and depredation, slave rebellion, and republican revolution.
JF: Why do we need to read Sustaining Empire?
EP: The main reason to read this book is to appreciate the role that trading with the United States played in conserving rather than undermining European colonialism and imperialism in the Americas. Perhaps that is counterintuitive because it runs contrary to the myth of free trade liberalism as an ideology. Rather than undermine Spanish imperialism, trading with the United States in late-colonial Venezuela preserved colonial rule and spared the region from the intertwined vulnerabilities of slave rebellion, foreign invasion, and republican revolution.
JF: Why and when did you become an American historian?
EP: I had gone to William and Mary to study colonial British North America but then realized I had grown more curious about colonial Latin America and wanted to explore connections between people and places in the Americas that transcended borders and boundaries. So much scholarship shows that the Atlantic World was an integrated place, where commerce, information, war, racial slavery, and decolonization invariably tied its inhabitants together despite their otherwise deeply local identities and experiences. Instead of being an American historian (of colonial North America), I decided to shift my doctoral study and preparation southward across the Caribbean and became a historian of colonial Latin America instead. I never lost my earlier grounding in Atlantic and transimperial history, however.
JF: What is your next project?
EP: I have three projects in mind but do not know which to start (or finish) first! One is a short transnational history of Francisco de Miranda's 1806 Leander Expedition.
The second is a microhistory of a Philadelphia merchant named William Davis Robinson who appears repeatedly in my book. As Sustaining Empire reveals, Robinson was a self-described "merchant revolutionist" but he started his career with tobacco and slave trading monopolies sanctioned by the Spanish Crown between 1799 and 1806. At his death in 1824, Robinson was not just selling arms and war material to the Colombian government as an arms contractor. He was also the author of a handful of writings published in US newspapers, literary, and scientific magazines; a Spanish translation of the US Constitution; and, four books including two on the Spanish American revolutions; one about a Jewish emigration and settlement scheme in the Upper Mississippi or Missouri territory published in London; and a short travelogue describing the city of Bogotá and Tecuendama Falls in Colombia. He was also a jailbird who had been imprisoned for three years in Mexico, Honduras, Cuba, and Spain, where he finally escaped (while on parole) from being sent to the penal colony at Ceuta in North Africa.
The last and major project is an extensive study of human displacement caused by the Spanish American revolutions, focusing on the Atlantic migrations of emigres and refugees from Venezuela and New Granada who were seeking security, shelter, and freedom from revolution, civil war, and enslavement in the Caribbean and United States between 1810 and 1825.
JF: Thanks, Edward!