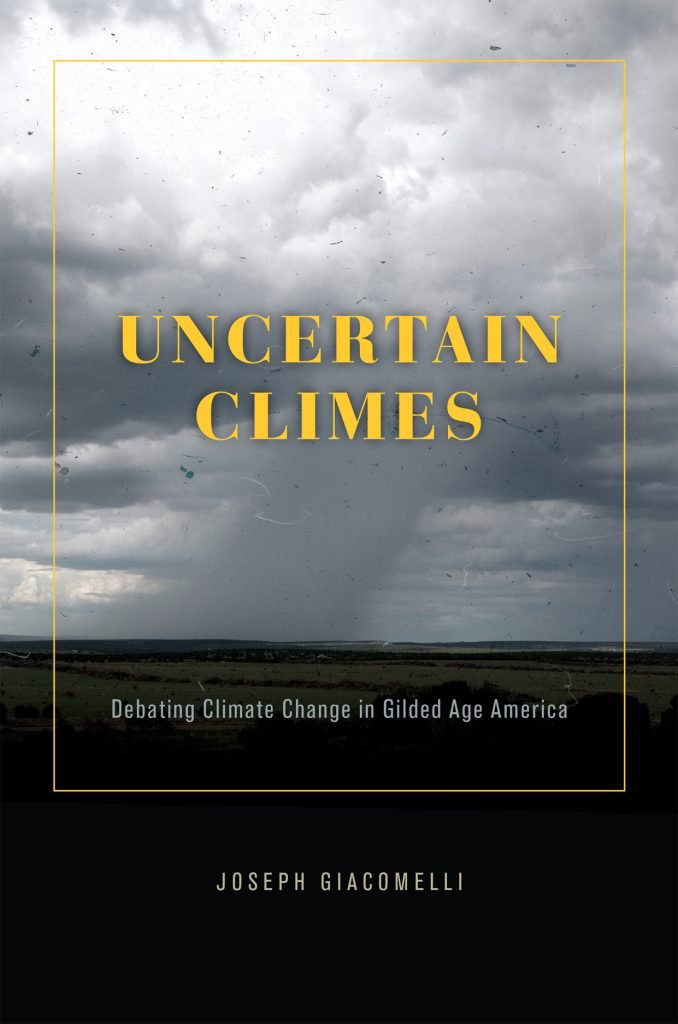 Joseph Giacomelli is Assistant Professor of Environmental History at Duke Kunshan University. This interview is based on his new book, Uncertain Climes: Debating Climate Change in Gilded Age America (University of Chicago Press, 2023).
JF: What led you to write Uncertain Climes?
JG: Like many people interested in the environmental history of the late nineteenth century, I had often heard of the notion that "rain follows the plow." Endorsed by small-town boosters and robber barons alike, this belief seemed to represent the most extreme form of Gilded-Age expansionist hubris. Many accounts of late nineteenth-century climate theory juxtaposed this overconfident strain of environmental thought with the beliefs of figures such as John Wesley Powell, who advocated for a more measured and careful approach to settlement and national development.
But as I began to read primary sources from the 1870s and 1880s, I quickly realized that the oft-repeated story pitting unscrupulous climate boosters against principled scientists did not fully encompass the complex history of Gilded-Age climate science.
Firstly, debates about human induced climate change reached far beyond the writings of surveyors and boosters. Settlers, forestry advocates, polymaths, and many others offered their interpretations about whether society could alter climate through agriculture, deforestation, reservoir construction, and other means.
Secondly, I was struck by the contentious character of these seemingly arcane climate debates. By connecting their climatic theses to railroads, ranching, Native American dispossession, and industrialization, Gilded-Age authors engaged in a tense struggle over the future of American capitalism and expansionism. Even Boosters and expansionists sometimes worried about climatic degradation caused by development, especially in the East.
Lastly, I was fascinated by the uncertainty evident in Gilded-Age climate treatises. Many authors acknowledged the mysterious character of vast "natural" forces even as they confidently proclaimed that society could (or could not) alter climatic conditions.
The complexity of Gilded-Age climate debates defied simple explanations, but it inspired me to delve further into the research and writing process.
JF: In 2 sentences, what is the argument of Uncertain Climes?
JG: Gilded-Age debates about human-induced climatic changes both shaped and were shaped by broader political struggles over the nation's future. Uncertain Climes highlights the complex relationship between scientific uncertainty and cultural doubts over the tenability of Gilded Age capitalism and expansionism.
JF: Why do we need to read Uncertain Climes?
JG: The parallels and resonances between Gilded Age and present-day climate struggles are, in my view, quite striking. On the one hand, it's important to acknowledge the differences between contemporary and late nineteenth-century climatic politics. Whereas we are now primarily concerned with emissions, most Gilded-Age authors focused on how landscape changes might influence climate. Also, present-day climate science is obviously different from its Gilded-Age precursor. On the other hand, however, contemporary struggles over climate still hinge upon the future of capitalism and development. Whether they aimed to bolster, reform, or attack the forces of capitalism and expansionism, many Gilded-Age Americans deftly incorporated uncertainty into popular climatic discourse. Their multifaceted relationship with uncertainty holds a mirror to our own struggle to translate scientific complexity into political action.
JF: Why and when did you become an American historian?
JG: I've enjoyed reading history books for as long as I can remember. I grew up in Northern Italy and when I moved to the US around age 11, I harbored a deeply held notion about the US as a sort of "nature's nation," a seemingly "wilder" place than the "Old World." As I spent time in the US, I became more and more fascinated as I learned that the US also has a long history of landscape change through human influence.
In terms of formal education, I actually didn't take any US history classes during my undergraduate days at Middlebury College in Vermont, but I was lucky to take several US-focused historical geography and cultural geography courses with Prof. Anne Knowles. I wasn't yet aware of environmental history, but Prof. Knowles's classes inspired me by showing that history could be about far more than just great leaders and famous battles.
JF: What is your next project?
JG: I hope to continue exploring climate history, but I've been shifting closer to the present and more toward comparative and transnational questions. I teach at Duke Kunshan University, which is located in Jiangsu Province in China. Since moving to China, I've learned a lot from my students and from my colleagues who specialize in Chinese history. I've started a new project comparing weather modification practices in China and the US, from approximately the mid 1900s to the present. Together with some co-researchers, I hope to examine how and why these two nation-states have taken sometimes convergent and sometimes divergent approaches to weather control and climate engineering.
JF: Thanks, Joseph!