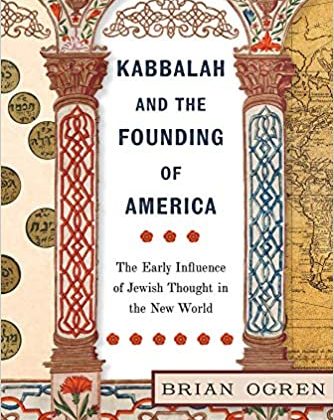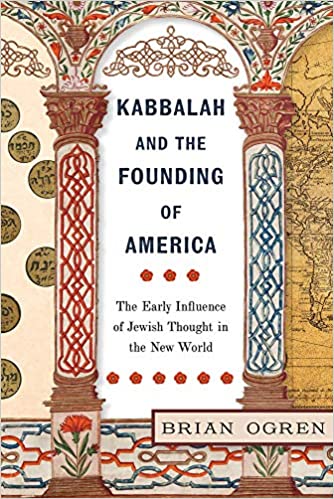 Brian Ogren is Associate Professor of Judaic Studies at Rice University. This interview is based on his new book, Kabbalah and the Founding of America: The Early Influence of Jewish Thought in the New World (New York University Press, 2021).
JF: What led you to write Kabbalah and the Founding of America?
BO: My area of study is Jewish Thought and much of my focus has been on the transmission and transformation of kabbalistic lore in the early modern period. I had learned about one important kabbalistic rabbi who had made his way from Amsterdam to Recife in Brazil in 1642, and several years ago, presumably because I am a North American born and raised, I came to start thinking, "I wonder if there were any kabbalistic influences on early North American thought." I began to explore and discover.
The first character I encountered was Judah Monis, who was a Jew presumably originally from Livorno who converted to Congregational Christianity in 1722 under the auspices of Increase Mather and Benjamin Colman. He then went on to become the first full-time Hebrew instructor at Harvard and the first person to publish a Hebrew grammar in North America. What was interesting to me were the discourses that he published subsequent to his baptism, which are full of kabbalistic language, and a lengthy Hebrew kabbalistic manuscript penned partly in his hand and now housed at Harvard.
From there I began to explore various angles, and the story just began to unfold and write itself. I looked forward at the later influence of Monis's baptismal discourses on Congregational minister and seventh president of Yale, Ezra Stiles. This influential figure would go on to deeply study Hebrew and Kabbalah, even with living Jewish adepts, and he would later publicly call for an infusion of kabbalah into the colleges of America. I looked backward at Increase Mather's own views of Jews and of American messianism, which were fundamentally tied up with Sabbateanism. Looking at Increase led me to explore the works of his son Cotton, who at one point addressed Sabbateanism and whose enormous biblical commentary is indeed infused with kabbalistic thought.
At one point in my searches I stumbled across a kabbalistic manuscript in English at the American Antiquarian Society in Worcester, which had originally been catalogued among the Mather Family papers. Some investigative work revealed it to be authored, in my opinion, by none other than the early Scottish Quaker George Keith, who had made his way to North America and who had entered into a kabbalistically based polemic with none other than Cotton Mather.
At some point in my explorations, the kabbalistic story really told itself. It gave me a sense that the narrative of the religious founding of North America is quite rich and complex, and it presented itself as a completely unexplored aspect of that complexity. It also allowed me to hash out and scrutinize some of the roots of some "traditional" American ideas, such as American exceptionalism and religious pluralism.
JF: In 2 sentences, what is the argument of Kabbalah and the Founding of America?
BO: Kabbalah and the Founding of America offers a new history of Jewish-Christian intellectual exchange in pre-Revolutionary America, and it illuminates how Kabbalah helped to shape early American religious sensibilities. Key religious figures utilized ideas from Kabbalah to develop their ideas during a crucial time of national myth building, laying precedents for developing notions of American exceptionalism.
JF: Why do we need to read Kabbalah and the Founding of America?
BO: The book offers an important, previously unexplored element to our understanding of American Intellectual History. It helps to fill in a more multifaceted picture that included Jews and Jewish thought, and also complex questions of mingled and contested identities. It also presents us with a new avenue of understanding Jewish Intellectual History that takes us beyond the canon of Jewish thought and shows Jewish thought's impact in formerly unstudied texts and contexts.
JF: Why and when did you become an American historian?
BO: I'm an intellectual historian of Jewish Thought. This is my first book on a specifically American subject, so I guess one could say that I became an American historian (to the extent that I did so) with the writing of this book.
JF: What is your next project?
BO: I am working on two major projects, of very different kinds. One deals with cinematic representations of Kabbalah and asks what happens when kabbalistic lore is adapted to the silver screen. The other is looking at early modern concepts of love, specifically as related to commentaries on the Song of Songs.
JF: Thanks, Brian!