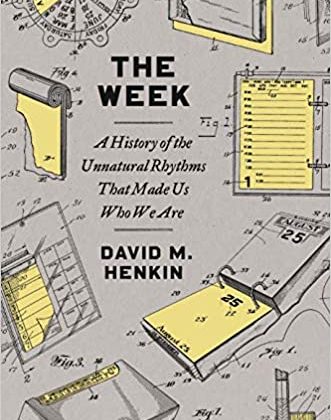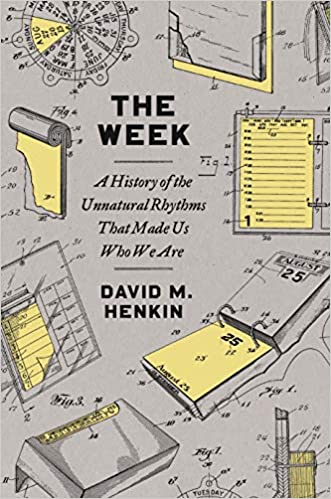 David Henkin is Professor of History at UC Berkeley. This interview is based on his new book, The Week: A History of the Unnatural Rhythms That Made Us Who We Are (Yale University Press, 2021).
JF: What led you to write The Week?
DH: I'd give three answers, in reverse order of proximity:
a. I grew up in an Orthodox Jewish home, where the weekly calendar loomed large as the organizing timekeeping cycle of our lives. But I always wondered what this calendar meant to the majority of the world who did not observe our family's practices.
b. As a historian, I've always been drawn to unspectacular technologies that have been around for centuries or millennia but nonetheless played a formative role in modern experience — especially in terms of unspoken assumptions about our connections to other people. These unspectacular technologies did not benefit from new inventions or technical breakthroughs, but instead were applied in new ways to new social conditions. My first two books were about how the ancient technology of writing was out to new uses in large, impersonal cities and in a transient, expansive nation during the decades leading up to the U.S. Civil War. This book makes a similar argument about the ancient technology of weekly timekeeping.
c. In my many years of studying what we sometimes call everyday life (in nineteenth-century America), I began to notice the frequency with which weely cycles organized that life in new ways during the middle of the nineteenth century. As I pursued this hunch, I decided that some of the changes that interested me began a little earlier, but the hunch provided the seed for the book's central argument. Looking back at these three answers now, maybe the second is the best explanation for why I wrote The Week, but all three were contributing factors.
JF: In 2 sentences, what is the argument of The Week?
DH: Although the weekly cycle has been observed in many societies for many centuries, it acquired special prominence in the lives of ordinary Amercians during the first half of the nineteenth century, when one's place in the weekly cycle attained the significance it continues to enjoy in the modern world as an anchor of our experience of time. What changed was not primarily about labor or religion, but rather the increasing importance of the week for scheduling and coordinating recurring activities among strangers.
JF: Why do we need to read The Week?
DH: Students and scholars of U.S. history might want to know how important the week became to the lives and the mental time maps of the people they study. Social historians care deeply about the everyday rhythms of ordinary people, but my book shows how those rhythms actually differed from day to day throughout the weekly cycle. But for more general readers, I think the book might have greater interest. The week is a completely artificial and conventional calendar unit, and yet it holds such a powerful grip on our consciousness that discovering that we have mistaken our place in the weekly cycle is a startling symptom of temporal disorientation. During the pandemic shutdown, we spoke about "Blursday" and the confusion of weekly rhythms to express a larger sense of unmooring from our habits, rituals, and comfortable sense of the flow of time. How did this come to be? I'm hoping the book sheds some light on that mystery.
JF: Why and when did you become an American historian?
DH: I studied both history and philosophy as an undergraduate, and when I decided to pursue further education (after several years of being out of academic life) I chose a Ph.D. program in U.S. history (this was in the early 90s) because it seemed at the time to have room for all kinds of inquiries — about ideas, objects, images, ecologies, economic relations, sexual identity, etc. and did not commit me to one particular field of inquiry. But I also think I had long been fascinated by the United States (I grew up on a small but populous island off the East Coast, and began looking inquisitively westward from a young age), and especially by the period before any of my ancestors (or people like them) arrived in this country.
JF: What is your next project?
DH: I am currently researching a book about the history of voting in the United States and am finishing a more meditative book on the inner life of a baseball fan. I am also happily celebrating the imminent release of the second edition of a survey of U.S. History (Becoming America, co-authored with my amazing colleague Rebecca McLennan), which is the hardest thing I've ever done in my professional life.
JF: Thanks, David!