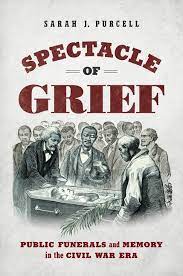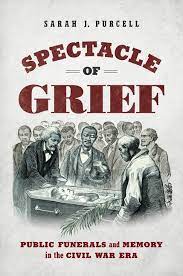 Sarah Purcell is L.F. Parker Professor of History at Grinnell College. This interview is based on her new book, Spectacle of Grief: Public Funerals and Memory in the Civil War Era (University of North Carolina Press, 2022).
JF: What led you to write Spectacle of Grief?
SP: Many people are familiar with large funerals for Abraham Lincoln, Ulysses S. Grant, or even Jefferson Davis, but few have noticed that there were other very large and significant funerals that affected politics and culture during and after the Civil War. I wanted to look closely at how one unexpected, but important, form of cultural expression—the large public funeral—allowed Americans to express their ideas about the U.S. Civil War in ceremonies, print culture, material culture, politics, religion, and monument projects. I also wanted to bring insight from my work on military memory in the period of the early American republic to bear on the second half of the nineteenth century and Civil War memory to tell a larger story about the creation of American national identities.
JF: In 2 sentences, what is the argument of Spectacle of Grief?
SP: Large public funerals and mourning rituals for major figures from the Civil War era shaped public memories of the war and allowed a diverse set of people to contribute to changing American national identities. Public mourning for military heroes, reformers, and politicians distilled political and social anxieties as the country coped with the aftermath of mass death and casualties.
JF: Why do we need to read Spectacle of Grief?
SP: In our own time when COVID-19 has killed almost one million Americans and when we are experiencing extreme political polarization, it is important to understand how collective mourning and grief can materially affect American political culture and society. History has a lot to teach us about how many political, racial, and social issues today got encoded as part of the national fabric in the nineteenth century.
JF: Why and when did you become an American historian?
SP: I have always loved American history, and when I graduated from college in 1992 I went to graduate school at Brown University. Since graduating with my PhD in 1997, I have been a professional historian and college faculty member ever since. I think history provides us a critical way of looking at the world: not to see how the past was some idyllic, golden example for the present, but to understand how people in the United States have always struggled with one another for power and to put forward their own visions for society. To me, American history is defined by contests, and understanding that has deep consequences for today.
JF: What is your next project?
SP: I am starting a new project looking at the Bunker Hill Monument in Charlestown, MA, throughout its history from 1825 until today. I'm looking at how battles over the monument and what it should stand for reveal how monuments, in general, constantly shift their meanings—even when they are designed as permanent repositories of stable public memory. I'm hoping the project will contribute to ongoing public and scholarly conversations about the utility of monuments, the memory of the American Revolution, race, gender, civic identities, and commemoration.
JF: Thanks, Sarah!