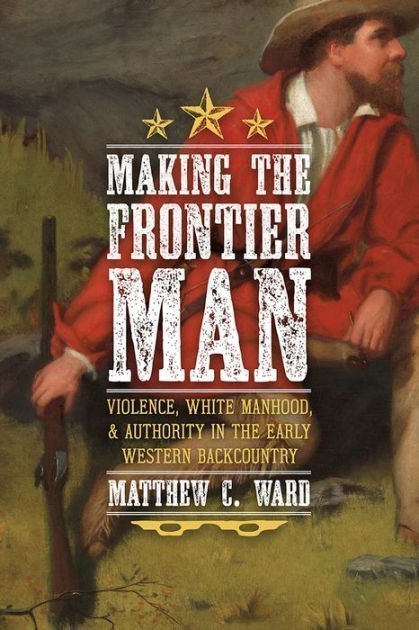 Matthew Ward is Senior Lecturer in American History at the University of Dundee. This interview is based on his new book, Making the Frontier Man: Violence, White Manhood, and Authority in the Early Western Backcountry (University of Pittsburgh Press, 2023).
JF: What led you to write Making the Frontier Man?
MW: After I finished my first book, Breaking the Backcountry, many people kept asking me about the Scots-Irish and violence in the early West. I'd worked a little in court records before and felt they were a very underused source, so I decided to work on a project using court records to examine ethnicity and violence. Unfortunately, it didn't really work. There's not much evidence in the court records that the Scots-Irish were more violent than anyone else, and it tended to be wealthier rather than poorer people who were indicted for violence. However, one utterly striking thing was that, over a period of 50 years, women disappeared from the courts. This got me thinking a lot about the roles of gender and violence in the West, and the book came out of that.
JF: In 2 sentences, what is the argument of Making the Frontier Man?
MW: In the second half of the eighteenth century, men living on the frontier found their concept of what it meant to be a man threatened by their failure to protect their families, to acquire or hold on to land, and gain personal independence. With powerful and rich men dominating society and using the courts to deprive poor men of their land and rights, and with a constant risk of Native American raids threatening their families and farms, ordinary men had to resort to violence to establish worth and personal identity.
JF: Why do we need to read Making the Frontier Man?
MW: It analyses the myth of the early frontier and portrays the experiences of ordinary men and their families in the first West during a period of tumultuous change and conflict when the ability of men to protect their homes and families was under constant threat. By exploring the responses of men to these threats, the book looks at the origins of many issues that feed into current constructions of "toxic masculinity" and helps to explain some of the origins of modern gun culture.
JF: Why and when did you become an American historian?
MW: I've always had an interest in history from when I was very young. My interest in American history was sparked when I was very young, for a Christmas present in 1975, some family friends who had moved to the USA bought me a subscription to Junior National Geographic Magazine. 1976, of course, was the bicentennial so it was full of American History which was all totally new to me. We never studied any American History at all at school—and that's the reason today a lot of my students get interested in American History. They see the images in films and on tv but it isn't taught at school. From that time American history was one of my interests. It really crystalized when I got the opportunity to go to graduate school in the US, and the rest, so to speak, is history!
JF: What is your next project?
MW: My next project is looking at the impact of epidemic disease amongst the Native people of the Ohio Valley in the eighteenth and early nineteenth century. A lot of people have heard of Jeffrey Amherst and his instructions to send smallpox blankets among the Indians. I want to look at different ways in which disease became weaponised. I'm also working on a bigger 'retirement project' which is a history of what I call the Forty Years' War, the struggle for control of the Ohio Valley from 1754 to 1794.
JF: Thanks, Matthew!