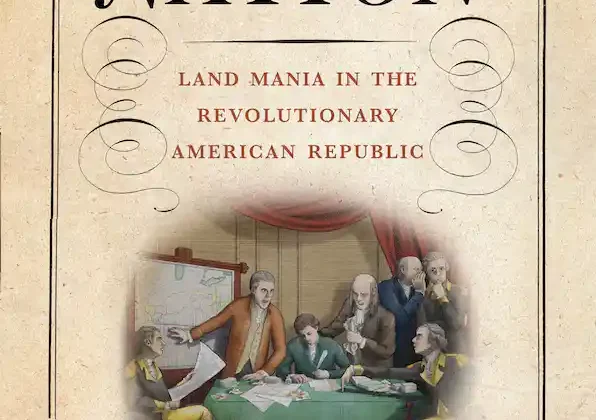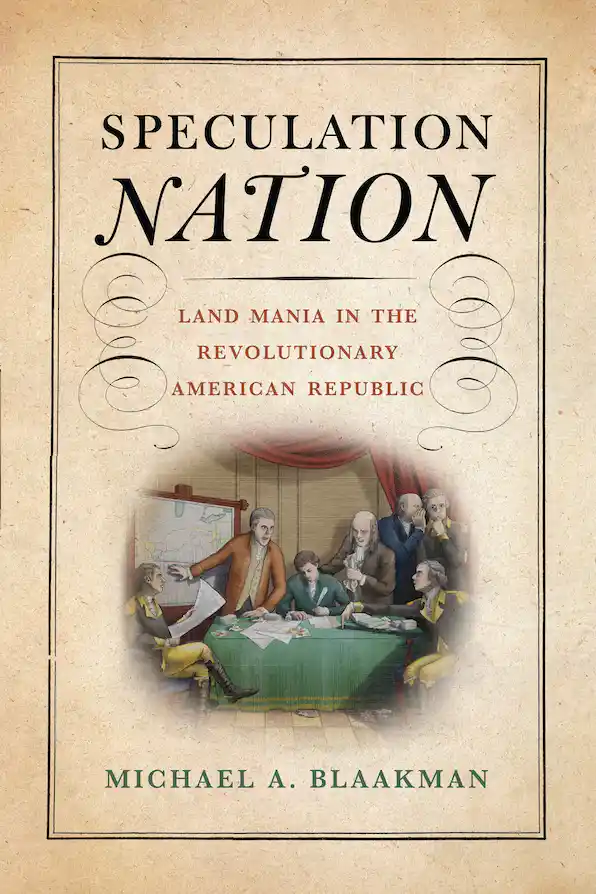 Michael A. Blaakman is Assistant Professor of History at Princeton University. This interview is based on his new book, Speculation Nation: Land Mania in the Revolutionary American Republic (University of Pennsylvania Press, 2023).
JF: What led you to write Speculation Nation?
MB: This book began as my dissertation, and when I started graduate school in 2010 my plan was to study revolutionary-era political culture. I had zero desire to touch business history, the history of property, or anything similar with a ten-foot pole. But we were living in the wake of the 2008 recession. The new history of capitalism was emerging as a historiographical turn. I was rapt by new books like Stephen Mihm's A Nation of Counterfeiters and Seth Rockman's Scraping By. And there were several members of my grad-school cohort who were asking compelling questions about political economy and labor history and the history of capital, and who talked about these themes in really inspiring ways around the seminar table and at the pub. So I started to grow interested.
Then, in a course on the history of frontiers and borderlands, I set out to write my first grad-school research paper. It was about a 19th-century woman who spent decades suing just about everyone she met in a lifelong effort to recover a lost landed inheritance in central New York. The property had been sold out from under her as a young girl, during what contemporaries and historians alike have described as a "mania" for land speculation that swept the new republic in the 1780s and 1790s. While writing the paper, I started reading everything I could find that touched on this era of land speculation. I learned a ton from this scholarship. But I was always left with unanswered questions because all of it was written through a local, regional, or biographical lens. I figured there had to be a book out there that explained, on a national level, why land became a speculative mania after the Revolutionary War and what the early national land business was all about — and I started to get very grumpy with myself that I couldn't find it!
On one of these frustrating, fruitless visits to the library stacks, it finally dawned on me that I could just try to write the kind of thing I was looking for. Ultimately the project enabled me to bring together these new questions about capitalism and political economy, borderlands histories that I was also becoming interested in, and the revolutionary political history I had originally gone to grad school to study.
JF: In two sentences, what is the argument of Speculation Nation?
MB: Speculation Nation argues that patriot leaders staked the success of the American Revolution on the seizure and public sale of Native American land — and that despite initial plans to dole out expropriated territory in small tracts to ordinary farmers, the quest to make land sales a pillar of statecraft in fact sparked widespread speculation on an unprecedented scale. Through the visionary schemes and corrupt machinations that ensued, wealthy lawyers, merchants, planters, and politicians spawned a distinctive and enduring form of settler colonialism: a financialized frontier, which transformed vast swaths of contested land into abstract commodities and rooted the United States' "empire of liberty" in speculative capitalism.
JF: Why do we need to read Speculation Nation?
MB: A lot of early American historians have had the experience of encountering sources related to land speculation (the dreaded "Land Papers" box in an archival collection) and finding them inscrutable or downright dull. And in all honesty, they often are, at least on the surface. That's because many of these documents — deeds, plats, contracts, warrants, letters hawking land-company shares, other such stuff rendered in legalese — aimed to reify land claims that were in fact highly contested, to make an ongoing process of dispossession seem already complete, and to wrap risky land ventures and high-stakes transactions in a veneer of confidence and security. In other words, many of the sources themselves try to make the land business boring. One of my greatest hopes for this book is that other scholars will find it useful in getting oriented to early national land speculation: that it will help illuminate the drama that lies beneath the "Land Papers" and how those documents connect to broader histories of dispossession, finance, and revolutionary statebuilding.
On an interpretive level, I think American historians have made great strides over the last few decades in expanding our understanding of slavery's place in American economic development and its relationship to the American Revolution. I see myself as part of an emerging cohort of historians who are working to demonstrate that territorial dispossession and Native resistance, too, have been central to the making of American capitalism. Speculation Nation's unique contribution to this effort is to show what role the American Revolution played in forging that bond — to frame the revolutionary era as a watershed moment when longstanding processes of settler colonialism fused in new ways with speculative finance. Along the way, I try to say something new about settler colonialism itself, and about the ubiquitous notion of "land hunger."
Finally, I tried to write a book that could be accessible and interesting to non-academic readers. For this audience, I think Speculation Nation's most important contribution is to show how early national land mania — with its torrent of land warrants and its proliferation of financial instruments rooted in racialized expectations of future Native disappearance — led more and more Americans to think about land as not just a place or a physical resource but an abstract financial commodity whose value (they believed) could only increase. In the 21st century, for many Americans, their own home is one of their most important financial assets, and they depend on its appreciation over time as a crucial way to build wealth. In this regard, we're living in a world that founding-era land speculators helped to create.
JF: Why and when did you become an American historian?
MB: I knew I wanted to study early American history when I began college. But it was classes and experiences with amazing historians at William & Mary that helped me decide I wanted to become a historian myself. Carol Sheriff's courses on the early republic and the Civil War era taught me the thrills of disagreeing with a book and crafting a historical argument out of evidence. Camille Wells, an architectural historian, took me under her wing and out into the field as a research assistant, measuring 18th-century buildings and digging into dusty county archives. One summer we spent a few days hopping around courthouse towns in the Northern Neck of Virginia, looking for probate inventories that could shed light on the material lives of middling 18th-century planters. I was hooked! Once I admitted to myself that I wanted to seek a career in history, it seemed right on another level. I have a terrible memory — a total sieve. So it felt especially meaningful to join a profession whose purpose is to help society remember.
JF: What is your next project?
MB: My next project, tentatively titled The Simcoes and the Enemies of the American Revolution, traces the lives of an 18th-century British power couple whose travels in North America and around the Atlantic world were driven by a vehement contempt for republicanism and the new United States. Weaving the Simcoes' story with those of the people they encountered in a world remade by revolutionary tumult — people who opposed the Revolution for wildly different reasons — the book will investigate a decades-long effort to unite the patriots' diverse enemies in common counterrevolutionary cause.
JF: Thanks, Michael!