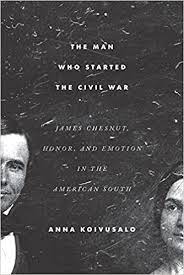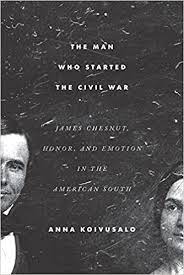 Anna Koivusalo is a postdoctoral researcher in the Department of Philosophy, History and Art Studies at the University of Helsinki. This interview is based on her new book, The Man Who Started the Civil War: James Chesnut, Honor, and Emotion in the American South (University of South Carolina Press, 2022).
JF: What led you to write The Man Who Started the Civil War?
AK: During my undergraduate studies, I had been intrigued by Mary Boykin Chesnut's famous Civil War diary. I found it curious that her husband, James Chesnut, was mostly disregarded in studies on southern history despite his central role in it, perhaps because of his rather moderate politics. As a historian of emotions, I was however more interested in the emotional practices and experiences he and other southerners underwent at the time of the Civil War than his politics. The more I looked into it, it seemed that there was something that was guiding these emotional processes. That was the concept of southern honor, which had a fundamental effect on both nineteenth-century society and individuals. Using Chesnut's life as a case study, I wanted to examine honor through the lens of emotion, something that historians have previously overlooked.
JF: In 2 sentences, what is the argument of The Man Who Started the Civil War?
AK: The first comprehensive biography of James Chesnut Jr. (1815–1885), a South Carolina statesman and US senator, The Man Who Started the Civil War illustrates how honor and emotional expression in the white elite culture transformed from the antebellum period through the Civil War to Reconstruction. Challenging the traditional view of honor as a code, the book sheds light on honor's vital but fickle role as a source for summoning, channeling, and expressing appropriate emotions in the nineteenth-century South.
JF: Why do we need to read The Man Who Started the Civil War?
AK: The Man Who Started the Civil War can be read simply as a biography of James Chesnut, in whose life honorable emotion played such a major part that it culminated into Chesnut withdrawing, as the first southern senator, from the U.S. Senate on the eve of secession and ordering the Confederate attack on Fort Sumter in April 1861. My book also approaches southern society on a more general level, showing how white southerners had to interpret the standards of honorable behavior for themselves and constantly redefine their notion of honor to coincide with other people's notions to navigate in society and attain goals. The Man Who Started the Civil War will offer new theoretical approaches on both emotion and honor, along with a captivating life story of a man whose public self was so restrained by southern honor that his personal self was almost crushed under its weight.
JF: Why and when did you become an American historian?
AK: Like many other historians, I have loved history since my early childhood, so it's difficult to remember exactly how this began! But I believe that American history has always fascinated me because of its richness and contradictory nature. Professionally, I began specializing in it during my undergraduate studies. Since then, I have had an opportunity to stay in the US as a Fulbright scholar twice, both for my PhD project (which later became this book) and my current project. These research visits have been incredibly beneficial as American history is rather a marginal field in my native Finland, which has occasionally been challenging. But I think that looking at American history "from the outside" has been fruitful as well, as it may help me understand it from a novel angle. I believe that American history is full of incredible stories that are waiting to be told and retold in a way that allows us to understand not only the lives of people long gone but also ourselves in a more universal way.
JF: What is your next project?
AK: As a historian of emotions, I am very interested to delve more deeply into the emotional landscape of the nineteenth-century South. My current project explores the anxiety of white religious slaveowners. I regard anxiety as an emotional and sensory experience that is situational and connected with one's society and culture. Asking how southerners conceptualized anxiety through the interaction of language, culture, society, body, and mind, I aim to draw broader conclusions on the historical constitution of our sense of self and society. My project also contributes to understanding the politics of power by examining the anxiety of slaveowners and the crucial role religion played in their emotional practices and experiences.
JF: Thanks, Anna!