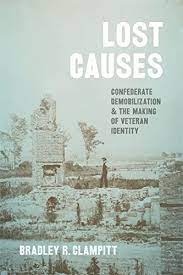 Brad R. Clampitt is Professor of History at East Central University. This interview is based on his new book, Lost Causes: Confederate Demobilization and the Making of Veteran Identity (LSU Press, 2022).
JF: What led you to write Lost Causes?
BC: The project began with a question that has intrigued me for years—how did Confederate soldiers make it home at the end of the war? That inevitably led to deeper queries, such as soldiers' mindset upon surrender, the development of a demobilization system, the logistics of travel and role of southern civilians, the chaos and lawlessness into which the men traveled, and ultimately, what happened upon homecoming, to include efforts toward financial recovery, resistance to "northern rule," and attempts to redefine relationships with freedpeople.
JF: In 2 sentences, what is the argument of Lost Causes?
BC: Demobilization played a fundamental role in the preservation of Rebel identity, long after the demise of the Confederate States of America. Indeed, the demobilization experience, immediately upon war's end, helped to establish the ideological underpinnings of the Lost Cause.
JF: Why do we need to read Lost Causes?
BC: It is important to understand that the mentality of Confederate veterans, unapologetic and proudly Rebel, remained at the end of the conflict and strengthened immediately upon the various surrenders. This was not merely the result of the advent of veterans' organizations, nor were these men simply posturing for posterity, with the benefit of years of hindsight. The demobilization experience, including brutal, life-changing emotional responses, played a fundamental role in determining the identity of southern men.
JF: Why and when did you become an American historian?
BC: My interest in American history began in childhood. I often made the short walk to the small public library in my hometown. The books on the American Revolution and early republic drew my initial interest. The elderly librarian eventually let me sit behind the desk with her because we were often the only people there. Afterward, I had excellent teachers growing up, including a man named Kevin Lynch, who is my friend to this day. After my college graduation I taught high school for a couple of years before moving on to graduate school. There, I had two excellent mentors—Richard Lowe and Randolph B. Campbell—the men who taught me how to be a historian and two people I will always admire. With each book I publish, part of the goal is to make those two proud. We should never lose sight of the importance of teachers and mentors.
JF: What is your next project?
BC: I am considering multiple ideas at the moment. For several years now, I have pondered the "power of place" in our understanding of history. This started with field trips with my Civil War students to the Shiloh battlefield. Several of them mentioned how seeing the places that they had read about affected their perceptions. I think there is a book project in there somewhere. I have also been looking into a massacre of black Union troops that occurred here in Indian Territory during the Civil War. Very little has been written on that event. Beyond those specific issues, at some point I would like to explore the possibility of writing for a wider, more general audience.
JF: Thanks, Brad!