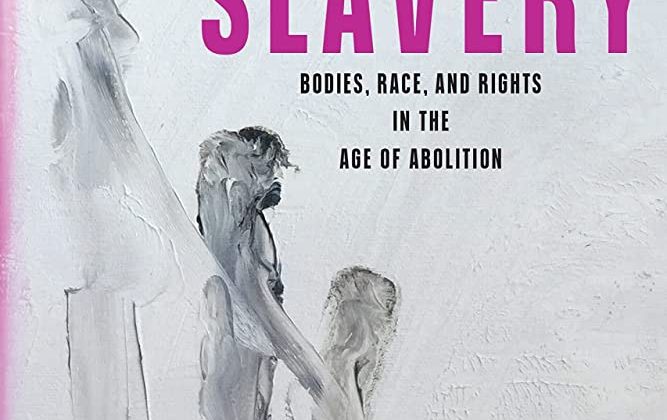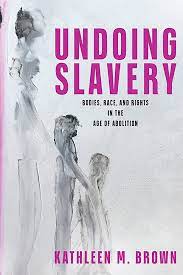 Kathleen M. Brown is David Boies Professor of History at the University of Pennsylvania. This interview is based on her new book, Undoing Slavery: Bodies, Race, and Rights in the Age of Abolition (University of Pennsylvania Press, 2023).
JF: What led you to write Undoing Slavery?
KB: I was struck by the fact that abolitionists argued for an end to slavery based on beliefs in the equality of people's physical bodies, even as defenders of slavery were insisting on the bodily differences distinguishing African-descended people and white people.
JF: In 2 sentences, what is the argument of Undoing Slavery?
KB: Abolitionists advanced an argument to end slavery based on the notion that all human beings shared "one blood," a principle that supported their claim that all enslaved people should have a right to embodied self sovereignty, the determination of one's own bodily movements, intimacies, and labor. But arguments for universal bodily equality could not displace commonplace understandings of ancestry as a matter of "blood," which ultimately allowed racist scientific ideas to prevail.
JF: Why do we need to read Undoing Slavery?
KB: At this moment, in the aftermath of Black Lives Matter and the overturning of Roe v. Wade, concepts of citizenship as a matter of embodied self-sovereignty have new meaning for our understandings of the past and of the historic conditions of inequality and injustice.
JF: Why and when did you become an Am​erican historian?
KB: As a young high school teacher in the early 1980s, I was interested in the neglected history of women. I learned about a new program in women's history at the University of Wisconsin and, well, the rest is history!
JF: What is your next project?
KB: I have two different but connected ideas: the first concerns a small company in the nineteenth-century that became a global manufacturer of machines to weigh agricultural produce.
The other is a more general history of the role of white women's reproduction in settler colonialism in North America and Australia.
JF: Thanks, Kathleen!