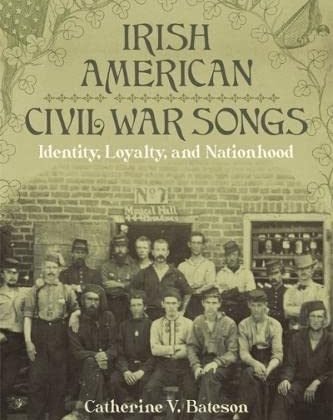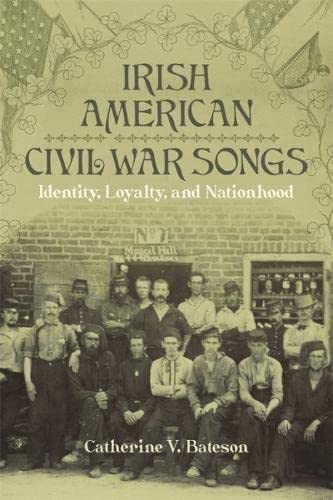 Catherine V. Bateson is Associate Lecturer of American History and American Studies Chief Examiner at the University of Kent. This interview is based on her new book, Irish American Civil War Songs: Identity, Loyalty, and Nationhood (LSU Press, 2022).
JF: What led you to write Irish American Civil War Songs?
CB: Irish American Civil War Songs: Identity, Loyalty, and Nationhood started off as my doctoral study at the University of Edinburgh (2014-2018) where my thesis research focused on the sentiments and culture of Irish wartime songs and music written by and about the Irish American experience of the conflict in the 1860s. I first came across a collection of Irish-related wartime songsheets while working on another, earlier, postgraduate project which led me down the rabbit hole of finding a couple of hundred of Irish-related lyrics and songs about the experience of those who fought in both Union and Confederate ranks. There is so much to unpack in these lyrics – they discuss wartime experiences of the front-line regiments and brigades, and home-front families left behind in the diaspora's main American enclaves and back across the Atlantic on the island of Ireland. They also share many common sentiments with other wartime songs, while retaining a sense of ethnic Irish cultural heritage. I always wanted to turn my doctoral project into a monograph and bring together Civil War historical, musicological, ethnic, and cultural studies to explore these sources' main themes in an expanded manner. While several of the songs I discuss have had modern recording renditions by folk singers and bands, the book goes back to the original songsheets, songsters, and music score books to trace the lyrical messages and development of Irish cultural output in the war. It also discusses the ways in which some Irish music itself had become American in the antebellum period, and that these songs and tunes went beyond the traditional diaspora enclaves of Boston and New York; they have a history that spread far across the war-torn country. I am very grateful to LSU Press for championing this project to fruition over the past few years, for letting me share these song stories, and telling the histories of those who wrote, sung and appeared in them to a wide academic and public history audience.
JF: In 2 sentences, what is the argument of Irish American Civil War Songs?
CB: A significant number of Irish-born and descended Union and Confederate servicemen participated in the American Civil War, and their experiences appear in numerous cultural song productions that reveal sentiments about the conflict, opinions about the enemy, and views about their American homeland and Irish nationalist thoughts – articulations which need to be considered alongside studies of the mid-nineteenth century Irish American diaspora. The book shows how deeply American many of these songs were both in terms of their lyrical focus and in their wider contribution to the conflict's musical milieu, and how inter-linked Irish music was to 1860s American culture.
JF: Why do we need to read Irish American Civil War Songs?
CB: The story of Irish Americans in the Civil War almost always ends up with key events like the New York City Draft Riots in July 1863, but there is far more to the Irish experience of the conflict than that (and there's even some songs that are critical of Irish actions in the riots which I talk about in the book). So the work is for those interested in learning more about Irish American wartime experiences on the front-line, and how the culture and legacy of core Irish units like the Union Army's Irish Brigade and New York 69th State Militia seeped into numerous lyrical examples that would have been heard across the camps and parlours of 1860s America. Civil War song and music studies are always fascinating – I'm honoured to join such a rich field of scholarship – because these are the closest we can get to the cultural sentiments of the day (some songs are produced so fast I often compare to them to being the lyrical tweets of their day!) If you were compiling a Billboard Hot 100 of the conflict, then Irish songs would definitely feature close to the top, so this book explains their context, their messages, and broadens understanding about how the Irish American diaspora saw its wartime contribution (particularly in the case of die-hard Union loyalty examples sung by and about Irish Brigade soldiers).
JF: Why and when did you become an American historian?
CB: I have two origin stories I guess – unofficially, when I was about 8 years old, my parents bought me a children's history book on Abraham Lincoln and the Civil War while we were on a vacation in Washington D.C., and there are photos of me reading this book by the Washington Monument instead of paying attention to the scenery! I was fascinated by Lincoln and by the idea of a divided American nation – and that curiosity has never dimmed even though I didn't study US history academically until the first year of my undergraduate degree. I come from a line of passionate historians, teachers and writers, and America has always featured on our family bookshelves and vacations, so I suppose it was only a matter of time before I became an American historian properly. Officially, I became an American historian during the first lecture of an undergraduate modern US history survey course taught by Professor Adam Smith at UCL – the immediate passion for the subject supplanted all other topics of history (sorry medieval history!) Even though I look at the Irish wartime experience in my book, it comes from the American side of the Atlantic first and foremost – I am just constantly fascinated by the country's past and present. Travelling widely there, and living in Philadelphia for a year, has embedded this feeling even more – like the songs I study, there is a strong streak of the red, white and blue in me. I can't quite explain it, but there's something about the stories of America – its people, cultures, societies, politics and histories across all topics – that I just love learning about, teaching to my students, speaking to people about, and writing about!
JF: What is your next project?
CB: I've been working on this book for so long, I don't have one main next project yet but I am starting to formulate a new study idea about the cultural and social messages of the Civil War's twenty-fifth anniversary in the 1880s and 1890s (a project that picks up where the conclusion of my current book ends but also goes beyond the Irish American veteran experience – and also beyond songs, though lyrics will definitely feature!) My main attention right now is focused on finishing up a couple of edited collection chapters that are being published over the course of the next year. One relates to the place and concept of battlefield retreat in Irish American Civil War songs about the First Battle of Bull Run (July 1861), and the other is about how Irish American Union and Confederate enemy encounters were discussed in wartime and postbellum accounts, memoirs and fictional stories. And songs of course – there will always be room for song lyrics in every project I do, as truly believe these are sentiments that need greater scholarship attention on them to help us understand historical aspects and contemporary thoughts.
JF: Thanks, Catherine!