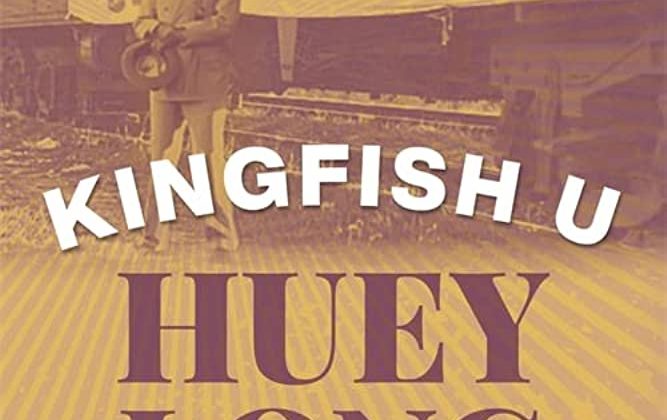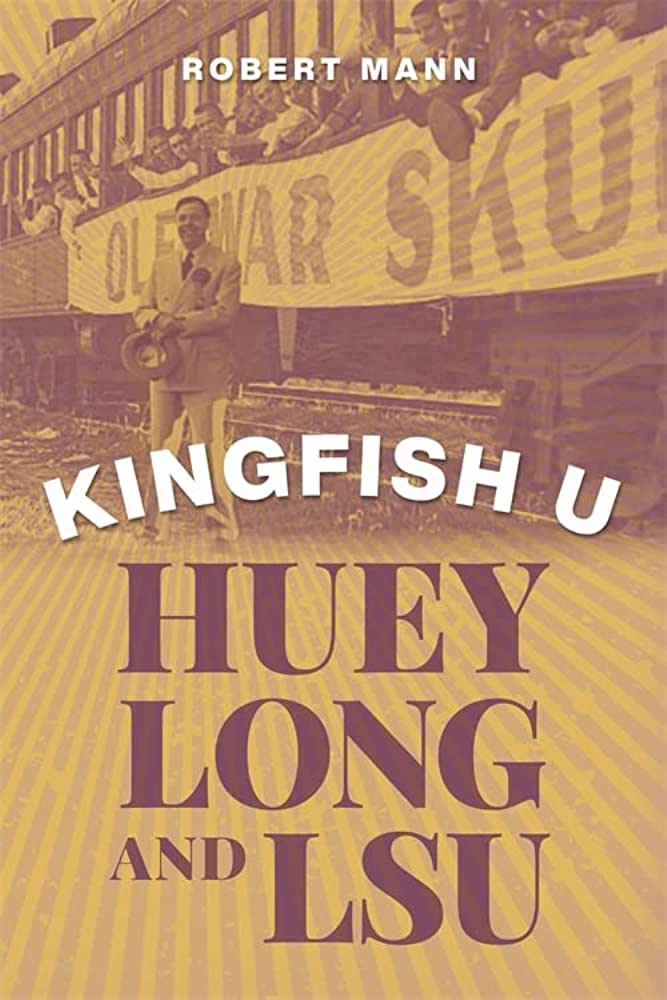 Robert Mann holds the Manship Endowed Chair in Journalism at Louisiana State University's Manship School of Mass Communication. This interview is based on his new book, Kingfish U: Huey Long and LSU (LSU Press, 2023).
JF: What led you to write Kingfish U?
RM: This book began with a phone call in spring 2020. My friend Dan Borné, the voice of LSU's Tiger Stadium, asked me if I knew how Huey Long selected LSU's drum majors. I recalled something about this from reading T. Harry Williams's Pulitzer Prize-winning biography of Long over 30 years earlier. So, I opened Williams's book, Huey Long, and re-read the 34-page chapter on Long and LSU. What Williams described about Long's involvement with the football team and the band was more outrageous than what I remembered. My first thought was that someone should write a book that elaborated on the story that Williams and others have told, in part. My second thought was that it must be me. Soon, I was neck deep in Long-LSU lore.
I knew Long was important to LSU's rapid growth in the 1930s. I recalled he was obsessed with the football team and the band. I knew his emphasis on building a bigger, better LSU resulted in hiring extraordinary faculty members, like Robert Penn Warren and Cleanth Brooks. I remembered that, because of Long's support, the university had the resources in the mid-1930s to create The Southern Review and LSU Press. I also knew about dramatic events after Long's death, when LSU became embroiled in a scandal so large that President James Monroe Smith went to prison, as did Governor Richard Leche.
But I did not know the entire story. I now understand better the origins of Louisiana's mania for LSU football and why generations of political leaders have sought to establish a cultural affinity with fans by supporting the team and befriending—and sometimes firing—the coaches. More than anything, I discovered that LSU—the school where I teach, from which my wife graduated, and where my daughter and son attended as I wrote this book—would not be the institution it is today, for good or ill, without Long.
JF: In 2 sentences, what is the argument of Kingfish U?
RM: Many people played a crucial role in LSU's creation and development, but no one was more important than Huey Long. Although he did not attend LSU—and even attacked one of his predecessors, Governor John Parker, for his role in establishing the current campus—Long became the school's greatest fan, its leading cheerleader, its most enthusiastic benefactor, and its biggest meddler.
JF: Why do we need to read Kingfish U?
RM: Beyond my interest in Long, I wrote this book because I wanted to learn more about the history of the institution where I teach and which I love for all the ways it has contributed to the richness of Louisiana life. My research reminded me, however, about the dangers of over-politicizing a state university and the damage that political leaders can inflict on a university when they use it for self-aggrandizement or plunder. My research also reminded me of the good that state leaders can do when they decide to create something large and remarkable out of something small and middling. That is the story of LSU, which, during the 1930s, went from mediocrity to near-excellence, and then to near-ruin. I hope this book is a reminder that if Louisiana's leaders desire, they can make LSU great again, and quickly. They can also weaken it, which happened during the severe state budget cuts of 2009-2014.
JF: Why and when did you become an American historian?
RM: I started out as a newspaper reporter, covering Louisiana politics in the early 1980s. After I went to Washington in 1985 to work for U.S. Senator Russell Long and then his successor, Senator John Breaux, I realized that I missed writing about politics. But going back to journalism wasn't a practical option for me at the time. So, I kept writing about what I knew: American politics. I was blessed that Breaux was completely supportive of my book-writing side hustle. I wrote my first three books while serving as his press secretary and, later, as his state director. My first three books were also about what I knew best: the U.S. Senate. You could say that I backed my way into an enormously satisfying career as a political historian.
JF: What is your next project?
RM: I am about to finish the first draft of my next book. The working title is You Are My Sunshine: Jimmie Davis and the Biography of an American Song.
JF: Thanks, Robert!