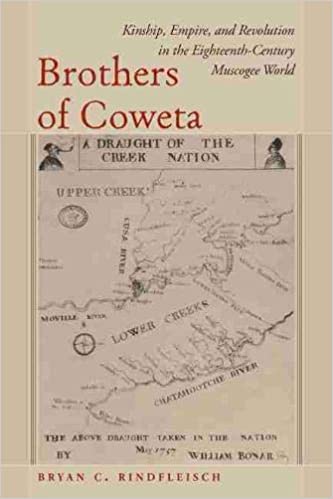 Bryan Rindfleisch is Associate Professor of History at Marquette University. This interview is based on his new book, Brothers of Coweta: Kinship, Empire, and Revolution in the Eighteenth-Century Muscogee World (University of South Carolina Press, 2021).
JF: What led you to write Brothers of Coweta?
BR: Ironically, this book is what I wanted my dissertation to be about, rather than the project that became George Galphin's Intimate Empire: The Creek Indians, Family, and Colonialism in Early America (2019). I just wasn't mature or confident enough to actually write this story yet. Whereas my first book focused on an Ulster Irish deerskin trader in early South Carolina and Georgia during the eighteenth-century – and his kinship connections to European, Indigenous, and African peoples that crisscrossed throughout the transatlantic world – this next book firmly focuses on the eighteenth-century Muscogee (Creek) world. However, similar to my first work, the heart and soul of this book is about family, kinship, and clan, which not only structured the Muscogee world but also shaped their multifaceted interactions with European peoples and empires during the eighteenth century. In short, this is one Muscogee family's story about early America.
JF: In 2 sentences, what is the argument of Brothers of Coweta?
BR: The central argument of the book is that family, kinship, and clan ties anchored the Muscogee world during the eighteenth-century in ways that scholars of Native America / early America have yet to articulate. By focusing on two brothers – Sempoyaffee and Escotchaby of Coweta – and their immediate and extended kin (i.e., the members of their huti), I demonstrate the many ways in which family, kinship, and clan ties dictated the eighteenth-century Muscogee world as well as the challenges and limits of those connections in the face of Euro-American colonialism.
JF: Why do we need to read Brothers of Coweta?
BR: While I wish I could say you need to go read Brothers of Coweta immediately, I'm much more comfortable saying if a reader wanted to learn more about the intersections of early American and Native American history in the eighteenth-century – and how a particular family's story highlights the many themes that define those histories – then this book is for you! This book reads like a biography of Sempoyaffee and Escotchaby along with their immediate and extended kin, the two brothers' rise to prominence within the Muscogee world by the mid eighteenth-century, their negotiations and interactions with the various European groups in southeastern North America, and concluding with their experiences during the American Revolution.
JF: Why and when did you become an American historian?
BR: I was an undergraduate student at the University of Wisconsin – Eau Claire majoring in elementary education when I took my first history course, HIST 240: American Indian History, taught by Dr. Richard St. Germaine (Lac Courte Oreilles Ojibwe). Dr. St. Germaine upended everything that I ever knew or thought about American history at that point in my life, and there was no turning back after that. I soon double-majored in American Indian Studies and History at UW-EC, flirted for a time with Irish revolutionary history, before settling on early American and American Indian history. In short, I knew I wanted to educate others in the same way that Dr. St. Germaine had re-educated me.
JF: What is your next project?
BR: I'm currently working on a book project centered around the intra-Indigenous connections – kinship, cultural, ceremonial, political, economic, linguistic, etc. – between Muscogee and Cherokee peoples during the seventeenth and eighteenth centuries. I'm hoping for this project to reorient early American and Native American scholars' attention to the intra-Indigenous worlds that existed side-by-side, and at times proved more important than, Indigenous-European worlds.
I am also working on a side project that has nothing to do with early American history, and that is combing through the voluminous records related to the Roman Catholic Church's Bureau of Catholic Indian Missions (BCIM) during the late nineteenth and twentieth-centuries, which may potentially turn into another book project at some point.
JF: Thanks, Bryan!