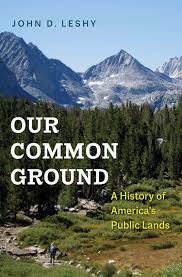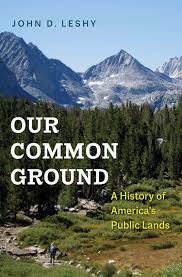 John Leshy is Emeritus Harry D. Sunderland and Distinguished Professor of Real Property Law at UC Hastings College of the Law. This interview is based on his new book, Our Common Ground: A History of America's Public Lands (Yale University Press, 2022).
JF: What led you to ​write Our Common Ground?
JL: Few Americans have any idea that the U.S. government owns about 30% of the nation's land and manages it primarily for open space conservation. When people first learn this, their reaction is usually, "Really? How did that happen?" I wrote Our Common Ground to answer that question. Of course this American institution did not just happen—it was the product of a long series of political decisions by our elected representatives. The core of my book is a political history, explaining how and why those decisions were made.
JF: ​In 2 sentences, what is the argument of Our Common Ground?
JL: For decades, poll after poll has shown that the vast majority of Americans from every region and every political persuasion support America's public lands. They are, indeed, a success story of the American political system, and a welcome one in an era of polarization and widespread doubt that our political system can produce anything good.
JF: Why do we need to read Our Common Ground?
JL: The story of our public lands is important and should be much better known. The book is richly detailed in interesting vignettes about how particular areas of public lands came to be safeguarded and held open to all for recreation, education, and inspiration. It has some not-well-known heroes as well as more famous ones, and an occasional villain.
JF: Why and when did you become an Am​erican historian?
JL: From a very early age, I was fascinated by history and, as the son of an immigrant, by American history in particular. I have had extensive experience dealing with public lands over decades as a government official, professor, advocate, and avid recreationist, so it was perhaps inevitable I would someday marry that experience with my love of history.
JF: What is your next project?
JL: I envision continuing to pursue offshoots from and updates of the book. My aim is to continue to educate the public about the value of our public lands, which so many worked to conserve, and which are such a rich and irreplaceable heritage for us all, poor and rich, from every walk of life. We all have a stake in these lands, which have been a unifying force throughout our history–where Americans have found common ground.
JF: Thanks, John!