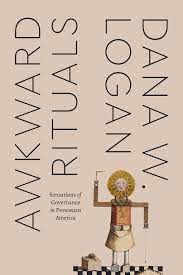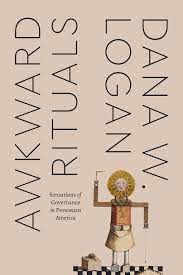 Dana Logan is Assistant Professor of Religious Studies at UNC Greensboro. This interview is based on her new book, Awkward Rituals: Sensations of Governance in Protestant America (University of Chicago Press, 2022).
JF: What led you to write Awkward Rituals?
DL: I wrote this book because I had a burning need to clarify a confusion about northeastern Protestant power in the public sphere in early America. It felt like we were missing how elite Protestants didn't just exert power through legal campaigns or cultural dominance; they also exerted power by defining what it meant to seem civil. The further I got in the project the more I realized that explaining what "seeming civil" meant required talking about how they held their bodies, enacted conventions, and performed in their periodicals. It required, in other words, talking about their rituals that they didn't really see as rituals. I also realized that what I was talking about was "governance," a category that is different than cultural power or governmental law—it's about who gets to boss us around (our bosses, our moms, boards of trustees). This led me into the burgeoning field of the history of the corporation and it turns out corporations (a category we often confuse with commerce but is much more capacious than that category) played a key role in bossing early republican Northeasterners around; and of course, as scholars like Sarah Barringer Gordon show, religious corporations in particular played a primary role in formulating the structure of corporations in American life. As I thought about the work of Joseph Roach, Edward Muir, and Philip Stern I was struck by how the ritual life of corporations is "kingly," or related to the King's Two Bodies. And I wanted to know why we are practicing kingly rituals in a seemingly democratic America.
JF: In 2 sentences, what is the argument of Awkward Rituals?
DL: Northeastern elite Protestants kept practicing the rituals of monarchical presence way after the American Revolution. This not only tells us about Americans' love of hierarchy but also about how rituals work: rituals allow us to practice ideals we would not necessarily espouse in discourse.
JF: Why do we need to read Awkward Rituals?
DL: To make us sensitive to white Protestants saying they love equality but enacting hierarchical rituals.
JF: Why and when did you become an American historian?
DL: I became a historian of American religion because as an undergraduate I was reading Lisa McGirr's Suburban Warriors: The Origins of the New American Right and it had this funny passage about Robert Schuller's Drive-in Church in Southern California built in 1961. That church was designed by Richard Neutra. I come from a hippie New-Age background where people were very worried about the Religious Right, but my parents love modern architecture and modern art. In particular they love Neutra! So how could the Religious Right and my parents love the same architect? I wanted to know if there was an inherent connection between style and ideology. My career has been very much structured by these questions ever since: when is religion a set of stylistics? Do those stylistics mean something different than what we would say about ourselves? And always, despite having not having come from an evangelical community, I am sucked in again and again into the historical question of what connects evangelical history through time and how evangelicals have shaped American culture.
JF: What is your next project?
DL: My next project is a study of church discipline ("watch-care") in antebellum interracial Baptist churches. As someone who was primarily trained in northeastern history of the nineteenth century, I am so struck by how discipline in these churches does not mean what Foucault means by discipline. These are not prisons and asylums and people being trained to tell their own story for the purposes of reformation; these are folks who are punishing and being punished with no sense of reform at all! I think this connects to a crucial component of the history of policing in America.
JF: Thanks, Dana!