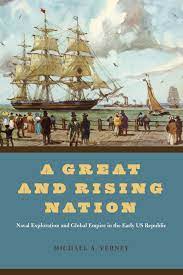 Michael Verney is Assistant Professor of History at Drury University. This interview is based on his new book, A Great and Rising Nation: Naval Exploration and Global Empire in the Early US Republic (University of Chicago Press, 2022).
JF: What led you to ​write A Great and Rising Nation?
MV: The US history that I grew up with was intensely focused on domestic affairs. As I learned more about the nation's past in college and graduate school, I became fascinated with the breadth of Americans' involvement in regions far beyond the United States. While casting about for a dissertation topic, I discovered not only that the antebellum US Navy had dispatched seventeen exploring expeditions to virtually every corner of the world, but that the scholarly literature on these expeditions was miniscule. They immediately struck me as global manifestations of the Age of Manifest Destiny. I also saw an opportunity to make an argument about the federal government's early role in overseas expansion. I wanted to be one of the first serious historians who told that more aggressive, globalized US story.
JF: In 2 sentences, what is the argument of A Great and Rising Nation?
MV: The many global exploring expeditions of the antebellum US Navy demonstrates that the US federal government was deeply invested in global empire far earlier than the Spanish-American-Cuban-Filipino War. A Great and Rising Nation further reveals how the United States borrowed global expansionist strategies from European empires and adapted them to US culture.
JF: Why do we need to read A Great and Rising Nation?​​​
MV: Our current image of the early US federal government as a relatively weak institution largely focused on domestic policy and westward expansion is incorrect. A Great and Rising Nation shows that the federal government was deeply concerned with global expansion and US international standing. The Navy's exploring expeditions are a case in point. The book portrays the early United States as it actually was: an aspiring, rising empire that was highly focused on global and international affairs. The book also makes important contributions to global history and the transnational history of empires. While antebellum US citizens found inspiration from European voyages of discovery, they Americanized them, emphasizing their utilitarian benefits and pursuing concrete imperial objectives that reflected US culture—including things like knowledge, capitalism, middle-class education, evangelical Christianity, proslavery expansion, and US-UK rapprochement. Finally, I wrote the book to be as scholarly and as accessible as possible. My hope is that it will speak not only to scholars, but also to undergraduate students.
JF: Why and when did you become an Am​erican historian?
MV: From an early age, my twin historical passions were ancient Mediterranean history and the US Civil War Era. In college, for example, I basically took courses only on either ancient Roman history or nineteenth-century US history. For a time, ancient history had the upper hand; I even minored in Latin in preparation for graduate school in Roman history. Two things changed my mind: for one, I had exemplary mentors in Heather Cox Richardson and the late Robert S. Cox at the University of Massachusetts Amherst. Both inspired me and nurtured my nascent passion for US history. Another was a profound sense of wanting to narrate and participate in the story of an ongoing, dynamic society. I felt—and still feel—that I could help influence the country in a positive way by writing and teaching about its past.
JF: What is your next project?
MV: The 1850s is often portrayed as a decade of expansionist failures. After the high-water mark of the Mexican-American War, the US squabbled with itself and undercut future expansion, especially in Latin America. If one looks beyond the Western Hemisphere, however, the story shifts. In East Asia, the US Navy embarked on several expeditions that significantly expanded the U.S. commercial empire abroad. My second book project centers on a forgotten U.S. naval expedition to East Asia and the western Pacific. The North Pacific Exploring Expedition of 1853-1855 followed closely on the heels of Commodore Matthew Perry's much more famous mission to Japan in 1852-1854. The Expedition did the hard work that Perry's Treaty of Kanagawa had made possible; through charting, anti-piracy operations, and forcing Japanese authorities to adhere to a broad interpretation of the Treaty, the Expedition helped bolster a US maritime empire in the northwestern Pacific. Taken together, Perry's Japan Expedition and the North Pacific Exploring Expedition demonstrates that the 1850s was one of most successful imperial decades in nineteenth-century US history. As with my first book, this second manuscript will engage deeply with international perspectives, historiographies, and sources.
JF: Thanks, Michael!