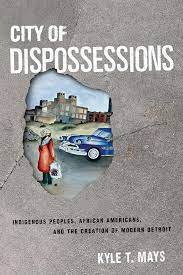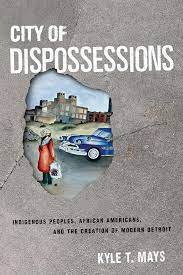 Kyle Mays is Assistant Professor of African American Studies, American Indian Studies, and History at the University of California, Los Angeles. This interview is based on his new book, City of Dispossessions: Indigenous Peoples, African Americans, and the Creation of Modern Detroit (University of Pennsylvania Press, 2022).
JF: What led you to write City of Dispossessions?
KM: My family is from Detroit. There are also hardly any books on contemporary (20th century and later) Indigenous peoples in Detroit. Finally, I wanted to explore the connections between racial capitalism and settler colonialism, and how those can be seen through the construction of modern Detroit. In order to understand the current happenings in the city, we have to see how they developed with the first dispossession of Indigenous peoples–and how that logic persists today.
JF: In 2 sentences, what is the argument of City of Dispossessions?
KM: The book is a cultural, intellectual, and social history that explores how dispossession has shaped modern Detroit. I use family and oral history, and archives, in order to explain how connecting the experiences of Black and Indigenous peoples has shaped Detroit's cultural, social, and political identity.
JF: Why do we need to read City of Dispossessions?
KM: People need to read this book because if you are interested in how various processes of dispossession have happened to Black residents, they'd be fascinated how the symbolic forms of dispossession have continued to shape Detroit since the Frenchmen Cadillac founded it as a settler city.
JF: Why and when did you become an American historian?
KM: I graduated with my Ph.D. in US history from the University of Illinois, Urbana-Champaign in May 2015, under the direction of Frederick E. Hoxie. I became an American historian because history has always been my favorite subject. I think historians have a crucial role to play in society and help members of society see that history is not divorced from the present, and can help us well into the future.
JF: What is your next project?
KM: I am co-writing a book on rethinking the Red Power movement.
JF: Thanks, Kyle!