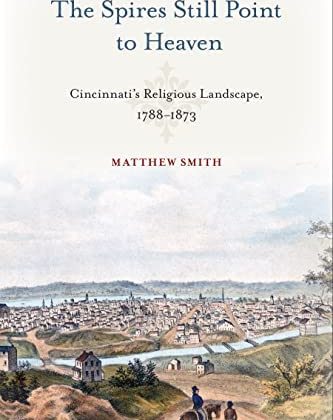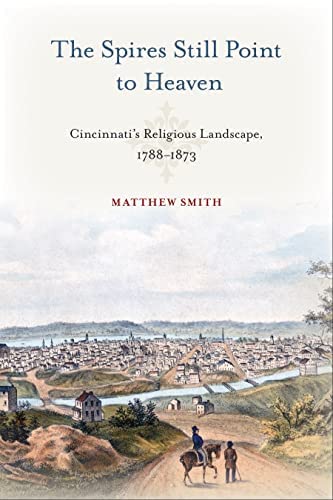 Matthew Smith is Visiting Assistant Professor of History and Regional Director of Public Programming at Miami University of Ohio. This interview is based on his new book, The Spires Still Point to Heaven: Cincinnati's Religious Landscape, 1788–1873 (Temple University Press, 2022).
JF: What led you to write The Spires Still Point to Heaven?
MS: Mark Twain infamously remarked that when the world ended, he wanted to be in Cincinnati, as it was always twenty years behind the times. Although Twain poked fun at the backwater Queen City, he enjoyed much time in its river metropolis heyday. As a riverboat man, he should have known better than to make such a cheap shot at the place! Like Twain, I came to Cincinnati by good fortune, drawn first to Ohio as an immigrant from Scotland, and only later as a scholar drawn to the city's rich history. Extending my luck, I was recruited to Temple University's "Urban Life, Landscape, and Policy" series by the late Zane L. Miller—dean of Cincinnati history—who made it his life's work to nurture urban scholars. Through Zane's editorial encouragement, an initial short piece on the nineteenth century Beecher family grew into a survey of the Queen City's religious landscape, populated by a vivid cast of evangelical preachers, Catholic immigrants, nativist agitators, and utopian reformers. My one regret is that Zane, having died in 2016, did not get to read the end result.
JF: In 2 sentences, what is the argument of The Spires Still Point to Heaven?
MS: Cincinnati's diversity is key to explaining why—and how—the United States figured out a path towards ethnic pluralism, toleration, and religious liberty. By virtue of its unique situation in the Ohio Valley—the heart of American hopes and fears in the nineteenth century—Cincinnati became the leading city of the Midwest, a testing ground for domestic missionary outreach, educational reform, and bold new forms of religious expression.
JF: Why do we need to read The Spires Still Point to Heaven?
MS: Though I'm wary of crude parallels, antebellum Cincinnati speaks to a twenty-first century America riled by immigration anxiety. The path to toleration and liberty was faltering, but overall the story is quite hopeful. Organized religion provided a framework for immigrants—Germans and Irish, Catholics and Jews—to flourish and thrive, even in the face of adversity. On closer look, the story is as much about dialogue as conflict. Much ink has been spilled on the nativist violence of Know-Nothingism, which can't be ignored, but Cincinnati was surprisingly tolerant of religious difference. Many Catholic schools, for example, had almost fifty percent non-Catholic students before the Civil War. Protestant business leaders contributed to church buildings and other infrastructure encouraging immigrants from Catholic Europe. Cincinnati was also the birthplace of Reform Judaism in the United States, a progressive tradition reflecting the pluralistic society of the time.
JF: Why and when did you become an American historian?
MS: My road to American history is inseparable from my becoming an American! Even as a kid, American history and geography fascinated me. I pored over maps of the United States, intoxicated by the variety of Native, European, and other place names. History was always my passion, but I was never exposed to American history in the classroom until college. My undergraduate professor at the University of Stirling, Dr. Colin Nicholson, an authority on colonial Loyalists, got me hooked on the American Revolution. After a brief stint in the Scottish civil service I went back for my master's in history at Edinburgh, writing my thesis on the New England revivalist Jonathan Edwards and his correspondence with William McCullough, Presbyterian minister of Cambuslang, Scotland. My scholarly interest in transatlantic correspondence mirrored my transatlantic relationship in real life. I moved to the United States on a fiancé visa in 2004 having met my future wife at a conference in Edinburgh. I eventually completed my doctoral work at Miami University on the Great Revival of religion in Kentucky (1797-c.1810), my research leading inexorably to the broader religious history of the Ohio Valley.
JF: What is your next project?
MS: To paraphrase Monty Python: something completely different. My next project ventures into oral history, exploring the untapped history of Appalachian migrants in southwestern Ohio. Although my historical focus has been drifting towards the present, the connecting threads are strong, focusing on the communal scale across the span of generations. But I won't say too much in case I jinx the end result!
JF: Thanks, Matthew!