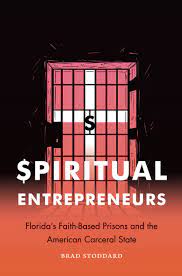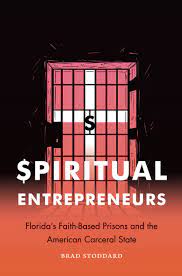 Brad Stoddard is Associate Professor of History at McDaniel College. This interview is based on his new book, Spiritual Entrepreneurs: Florida's Faith-Based Prisons and the Carceral State (University of North Carolina Press, 2021).
JF: What led you to write Spiritual Entrepreneurs?
BS: A combination of several factors led me to this project. First, I was always interested in mass incarceration; however, I started paying more attention to this topic around the time I started grad school. I found it an interesting contradiction that the "land of the free" had the world's highest per-capita population of incarcerated people. Unrelatedly, I read Winni Sullivan's book, Prison Religion, which exposed me to the larger world of faith-based corrections and faith-based correctional programs. This sparked an interest in Florida's faith and character-based correctional institutions, (FCBIs) which became the topic of the book.
JF: In 2 sentences, what is the argument of Spiritual Entrepreneurs?
BS: Spiritual Entrepreneurs uses the specific example of Florida's FCBIs as a case study to explore the larger world of state-sanctioned faith-based socialization. Based on this case study, this book argues that faith-based programming is an extension of neoliberal logics and that it produces neoliberal subjects.
JF: Why do we need to read Spiritual Entrepreneurs?
BS: Spiritual Entrepreneurs provides both a history and ethnography of the world's largest faith-based correctional institutions program. It first explores the history of mass incarceration and the process that resulted in Florida's FCBIs. It then takes readers deep inside FCBIs, where thousands of incarcerated people from dozens of religious backgrounds voluntarily serve portions of their prison sentences in one of several dozen FCBIs. The state of Florida owns and operates these facilities; however, almost all the programs, services, and study groups are run either by volunteers or by inmate facilitators. The book documents how FCBIs are to various degrees religiously diverse; however, members of the New Christian Right (NCR) are the overwhelming majority. This majority influences almost every class and reflects the NCR's theological views on politics, race, gender, sexuality, and so-called culture war issues more broadly. Anyone interested in exploring this world would be interested in this book.
JF: Why and when did you become an American historian?
BS: When I entered U.C. Berkeley as an undergraduate, I intended to study the intersections of ancient Judaism and early Christianity. An intro course in koine Greek, however, made it clear that ancient languages were not my strength. I turned my focus to American religious history where I became particularly interested in the ethnographic study of new and marginal religions in the U.S. These studies allowed me to challenge traditional or dominant histories of American religion as I learned firsthand about interesting and overlooked groups in American history.
JF: What is your next project?
BS: Tentatively titled "High for a Higher Power," my current research project explores the growing trend of religious drug use. Motivated by several factors (primarily Supreme Court decisions, Congressional legislation, and the Psychedelic Renaissance), entheogenic communities (that is, communities that take psychoactive substances for religious or spiritual reasons) now exist in every state as people consume various psychoactive substances including ayahuasca, cannabis, DMT, LSD, peyote, and psilocybin mushrooms, among others. While some of these communities operate in private spaces behind closed doors (or more accurately, in the forests and in other outdoor spaces), many of these communities openly advertise their services and hide in plain sight. These communities are growing daily and could potentially result in what might aptly be described as a revolution in American religiosity. One prominent advocate of entheogenic communities projects that to provide entheogenic sacraments to all interested adults in the nation, the U.S. needs 10,000 entheogenic churches. We're far from that number, but at the pace these communities are growing, one can imagine that we would reach that number in the foreseeable future.
JF: Thanks, Brad!