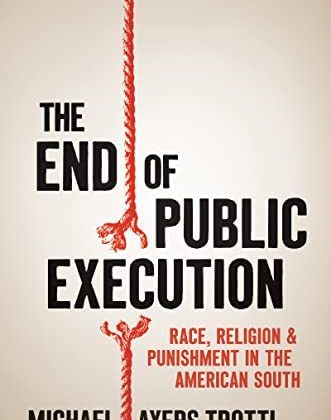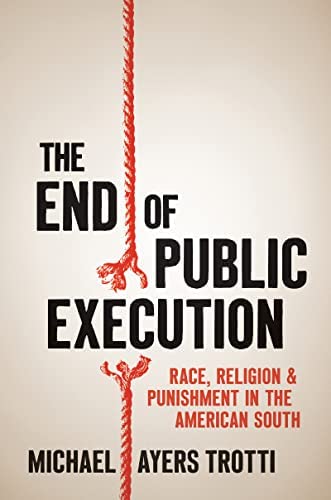 Michael Trotti is Professor of History at Ithaca College. This interview is based on his new book,The End of Public Execution: Race, Religion, and Punishment in the American South (University of North Carolina Press, 2022).
JF: What led you to write The End of Public Execution?
MT: My first book, The Body in the Reservoir, was about murder sensations in the South – how the press went crazy for certain stories of crime, and how those narratives changed over time. The last chapter in that book, understandably, dealt with the gallows: where so many of those stories ended. When writing that chapter, I came to understand that, despite the South executing more people than did other regions of the nation, relatively few studies have centered upon the practice in the South. The closer I looked, the more I became convinced that this was a very rich subject that combined crime, punishment, and race in the region in ways that were quite revealing.
I began this book project, The End of Public Execution, sharing all the assumptions of the field: that I would find that legal public executions were something like what we've found in extralegal lynchings – white crowds and an added humiliation meant to chastise the underclass into behaving better: "look at what happens to you when you misstep!" Instead, as I investigated more than 1300 newspaper reports of executions in the South, I came to understand how fundamentally different these events were from those assumptions: how much more authority African Americans claimed in these moments; how much more important religion was at the gallows.
JF: In 2 sentences, what is the argument of The End of Public Execution?
MT: We have misplaced legal public executions in the history of the South and its violence: intended to cow the underclass, public executions had crowds typically consisting of as many Black people as white, behaving like congregations before a macabre pulpit. This turned the proceedings into public, mixed-race, and mixed-gender celebrations of African American religious authority and devotion, challenging white supremacy and the authority of white state governments in the era of lynching and Jim Crow segregation.
JF: Why do we need to read The End of Public Execution?
MT: It provides a new starting place for understanding the wave of violence of the late-19th century in the South; it also demonstrates the interconnections between the histories of race, justice, and religion in new ways. Whites were in control of the legal system (judges, lawyers, law makers, police = all white), and they could be assured that whomever they wanted to punish would be punished. But whites in this era of Jim Crow wanted their judicial system to do more: to be a part of a system of control to keep blacks in their place. By this measure, executions in public were failing, for they had become more than just black men executed by the state. A public execution meant that a large portion of the community would come together, and they would be led by a black minister. They would listen to a black man claiming that he was saved, whether admitting his crime or claiming his innocence. This sanctification of the sinner at the scaffold, which undercut the (white) state's authority and made strong claims for equality in the eyes of God, was very disturbing to whites. The crowds of thousands made these moments very public indeed, and around the turn of the century, every state in the South eliminated this black authority in capital punishment, moving executions behind walls where witnesses would be white and male, and in that way making the death penalty into Jim Crow punishment.
This set of changes in punishment in this moment reveals much, opening a window onto a world in which: the nature of gender was changing (women attended public executions; they also pushed for changes in law to better protect women from violence), the race relations in the South were in violent flux (changes in law, in politics, in segregation, in extralegal lynchings . . .), and black churches were founded throughout the region (one of the fastest shifts in the post-Civil-War South). This is on top of the ways that the entire criminal code and punishment regime of the South moved from the panoply of punishments of a slave regime to a regime of prisons, chain gangs, and capital punishment. How capital punishment evolved in this era of thoroughgoing change of every sort is deeply revealing of the nature of the white South's fears and their efforts to recreate the complete control they lost in the 1860s.
JF: Why and when did you become an American historian?
MT: As an undergraduate, I was attracted more to global and European history than American history; it was in grad school that I turned to the history of the U.S., first to labor and cultural history (Master's Thesis on working class amusements in Richmond, VA), and then to social and cultural history of crime (murder sensations in the South: my first book). Raised in Richmond, I always felt surrounded by history, and my own family dates back to the nation's earliest days, with at least one forebearer serving in the Revolutionary War. I was blessed with very inspiring teachers – in High School (Richmond Community High), College (VCU), and especially in grad school (UNC-Chapel Hill), and doubly blessed to have a writing group in grad school and another since I arrived in Ithaca which inspired me and helped me to stay focused on my own writing. The history of the United States is not as ancient as others, but it is so very rich, as our nation has been at the heart of most of the developments of the last two centuries, and it has served as something of a crossroads of the world's peoples.
JF: What is your next project?
MT: Both my first book project and my second had something to do with death; my only rule for the next project is that it does not involve death! This year I am moving through a long list of potential projects that I have been accumulating (while working on this book), and I am thinking I will be writing in short form for at least a while, and likely on a variety of subjects: having fun with history research and writing! At present, I am researching American Cash: the impact of changes in our coins, currency, and the supply of them, particularly on how those changes have affected the poor and middle classes. At various points, we have had very difficult problems with the supply of sufficient currency (a persistent problem with tying currency to the [ever-changing] value of metals!), and I am investigating the impact of that in terms of unofficial currency and barter: what filled in the gaps when our government did not supply a sufficiency of coin? What was money to the poor? To rural folk only marginally tied to markets and far from banks? This will at least be useful in my teaching; I will be discovering as I go if there is a way I can contribute in print to this discussion.
JF: Thanks, Michael!