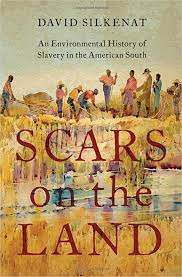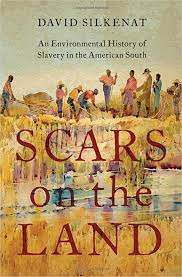 David Silkenat is Senior Lecturer of American History at the University of Edinburgh. This interview is based on his new book, Scars on the Land: An Environmental History of Slavery in the American South (Oxford University Press, 2022).
JF: What led you to write Scars on the Land?
DS: Like most books, Scars on the Land came from lots of places. On an academic level, I wanted to see what happened when the scholarship on slavery in the American South was put in conversation with the scholarship on the environment, fields that I felt could benefit from greater cross-pollination. On a personal and political level, I was researching and writing this book during a global environmental crisis and the Black Lives Matter movement. However, if I had to pick a particular origin story for this book, it was reading Charles Ball's narrative with my students. Ball had a naturalist's eye when it came to describing the environment and linking his experience in slavery to the land, plants, and animals around him.
JF: In 2 sentences, what is the argument of Scars on the Land?
DS: Between 1665 and 1865, slavery transformed the Southern environment, as enslavers saw the landscape as disposable, relocating to more fertile prospects once they had leached the soils, drained the swamps, and cut down the forests. The lives of those held in bondage were fundamentally shaped by the environment: by day, they plucked worms from tobacco leaves, trod barefoot in the mud as they hoed rice fields, and felt the late summer sun on their backs as they picked cotton; by night, they clandestinely took to the woods and swamps to trap opossums and turtles, to visit relatives living on adjacent plantations, and to escape to freedom.
JF: Why do we need to read Scars on the Land?
DS: I hope that readers of Scars on the Land see it as an invitation to think more deeply about racism and environmental justice. The problems that we face today as a nation and as a planet have deep roots, which Scars on the Land endeavors to shed light on. For my fellow historians, I hope they see the book as an invitation for more research — I've only scratched the surface about the possibilities of this topic.
JF: What kinds of sources did you use for this book?
DS: The most important sources were those written by formerly enslaved people. In addition to Charles Ball, I found Solomon Northup, Frederick Douglass, and John Parker to be particularly insightful. I also found that travel accounts written by scientists and naturalists, such as Frederick Law Olmsted, John James Audobon, and Charles Lyell, were extraordinarily valuable.
JF: What is your next project?
DS: I'm working on two projects at the moment. The first is a collective biography of twenty men and women who fought against white supremacist terrorism during Reconstruction. The second is a volume that explores how American history has been depicted in video games.
JF: Thanks, David!