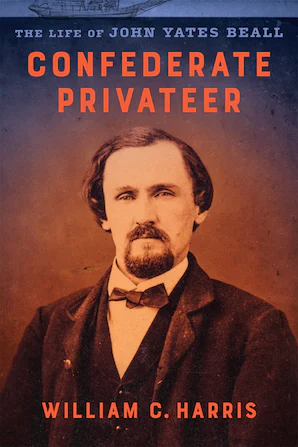 William C. Harris is Professor Emeritus of History at North Carolina State University. This interview is based on his new book, Confederate Privateer: The Life of John Yates Beall (LSU Press, 2023).
JF: What led you to write Confederate Privateer?
WH: In my earlier study and writing about Lincoln and Confederate activities in Canada and along the border, I became familiar with John Yates Beall who conducted irregular warfare against the Union on the Great Lakes in 1864 and earlier in the waterways of the Chesapeake. Douglas Southall Freeman, the eminent biographer and Civil War historian, once wrote that Beall's activity on Lake Erie alone "deserves to rank with the most daring deeds of [rebels] Mosby and Morgan" during the war. Although Beall was on the wrong side of history, I concluded that his well-documented story needed to be told and within the context of commando operations during the Civil War. Although recognized by Union authorities as a commissioned Confederate naval officer, when Captain Beall was captured he was tried by a military commission in New York and sentenced to be hanged. I found interesting–and revealing–the efforts of congressmen, including radical Republican Thaddeus Stevens and others in Washington in seeking a commutation or postponement of the sentence by Lincoln. The president, however, approved the execution, which occurred on February 24, 1865. A few hours before Beall went to the gallows, he had his picture made for posterity; it is included on the front jacket of the book.
JF: In 2 sentences, what is the argument of Confederate Privateer?
WH: The book describes how and why Beall, of a small Virginia planter family near Harpers Ferry in what is now West Virginia, became "the terror of the Chesapeake and Lake Erie" and how his activities related to the overall Confederate strategy of conducting clandestine warfare out of Canada and with the aid of "Copperheads" or peace Democrats in the Midwest. The book provides an extended account of Beall's military trial on the charges of spying and conducting irregular warfare, though he killed no one except earlier in battle. The constitutional issues involved in his conviction and execution are indicated. The efforts to save Beall from the gallows and the questionable roles of the Northeast military department commander John A. Dix and also President Lincoln in carrying out the sentence are described in detail. In an epilogue, the book demonstrates how several Beall associates adjusted to postwar realities and became successful citizens, including Bennet Burley, an adventurous native of Scotland who was an associate of Beall's in his privateering forays. After the war Burley, having escaped arrest, changed his name to Burleigh and became a famous British war correspondent.
JF: Why do we need to read Confederate Privateer?
WH: The book provides an interesting and not well-known account of John Yates Beall, a daring privateer and commando, who operated on the inland waterways of the Chesapeake Bay and the Great Lakes. The events are placed in the context of the late, desperate Confederate effort to take the war north and out of neutral Canada. Readers will find that the account of the arrest, imprisonment, military trial, and execution of Beall–and Lincoln's role in it–had important implications about irregular warfare and the military trials of its perpetrators. In this case the perpetrator was Beall, and immediately after the war his associates.
JF: Why and when did you become an American historian?
WH: After graduating from college with a B.A. in history and serving in the US Air Force, I enrolled in graduate school with the intention of studying Latin American history. During my first year, I took a course on the Civil War and Reconstruction taught by Professor Thomas B. Alexander, a prominent Reconstruction era historian. I was captivated by this dedicated scholar, who spent hours with me and other graduate students in teaching us to be historians. As a result, I wrote my dissertation on Presidential Reconstruction in Mississippi, which, as revised, was published by the LSU Press in 1967. I taught history for five years at Millsaps College in Jackson, Mississippi, received a Younger Scholar's Humanities fellowship for a year, and in 1969 joined the history department faculty at North Carolina State University, where during the 1990s I served for five years as department chair. I retired in 2004 and became emeritus professor of history. However, I continued researching and writing history.
During the 1970s, I studied and wrote a large revisionist work (more than 800 pages) entitled The Day of the Carpetbagger: Republican Reconstruction in Mississippi, which the LSU Press also published (1979). Then I turned to writing a biography of William Woods Holden, a controversial editor and Reconstruction governor of North Carolina who was impeached and removed from office. It was published by the LSU Press, in 1987. The biography of Holden won two awards. While studying Holden, I discovered a failed effort by Lincoln during the war to establish a Union government in eastern North Carolina. This sparked my interest in researching and writing a comprehensive account of Lincoln's attempts to establish loyal governments in the South. In 1997, it was published as With Charity for All: Lincoln and the Restoration of the Union (University Press of Kentucky, 1997). The book received a Lincoln Prize, Second Place, in 1998. I was now hooked on studying Lincoln. My next book, Lincoln's Last Months, was published by the Belknap Press of Harvard University Press in 2004. It was followed by other books on Lincoln, including Lincoln and the Border States: Preserving the Union (2011), which was the co-winner of the Lincoln Prize in 2012). My latest book on Lincoln, published this year (2023), is Lincoln Illuminated and Remembered.
JF: What is your next project?
WH: I am now researching and drafting a biography of General John A. Dix. I became interested in Dix while writing Confederate Privateer: The Life of John Yates Beall. I found that Dix, who had an interesting life and career in addition to his generalship in the Civil War, was in need of a modern biography. The work on Dix has already become a major project, which, at my age, I may never finish.
JF: Thanks, William!