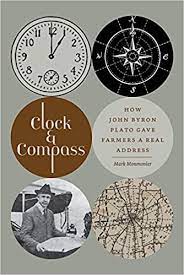 Mark Monmonier is Distinguished Professor Emeritus of Geography and the Environment at Syracuse University. This interview is based on his new book, Clock and Compass: How John Byron Plato Gave Farmers a Real Address (University of Iowa Press, 2022).
JF: What led you to write Clock and Compass?
MM: Editing a million-word encyclopedia on the history of cartography in the twentieth century made me aware that map historians had largely ignored the patents system. To address this, I wrote Patents and Cartographic Inventions: A New Perspective for Map History (Palgrave-Macmillan, 2017), which in turn revealed little awareness of John Byron Plato and his innovative wayfinding system. I enjoy writing for a general audience, and newspaper and genealogical databases as well as info the National Archives helped overcome a broken archival record.
JF: In 2 sentences, what is the argument of Clock and Compass?
MM: After he lost a sale when a buyer could not find his farm, livestock farmer J. B. Plato patented a directory-and-map system for navigating rural roads and published Clock System rural indexes of New York State counties for the dozen years before the Great Depression undermined his business. Plato's firm served a niche market that emerged after World War I, when the motor vehicle made farmers ever more mobile and the RFD address remained useful only for delivering mail.
JF: Why do we need to read Clock and Compass?
MM: Clock and Compass not only highlights the challenge of navigating rural roads in the 1920s and 1930s, before house numbering extended beyond cities and towns, but also tells the fascinating story of a farmer turned map publisher, government mapmaker, environmentalist, and Girl Scout advocate.
JF: Why and when did you become an American historian?
MM: The "why" reflects an evolving concern with the map's role in history as well as an enjoyment of writing; the "when" is more complicated, as I explained in Adventures in Academic Cartography: A Memoir (2014). During the 1970s and 1980s my research focused on computer-assisted cartography and algorithms for map design. In the late 1980s my interest in the societal effects of maps led to more than twenty books on map use and map history, including How to Lie with Maps [1981, 1986, 2018], named one of the "eight essential books for geographers" by Geographical Magazine, the National Geographic of the United Kingdom.
JF: What is your next project?
MM: An exploration of electricity's diverse role in map making and map use, including patented early kiosk maps, late-nineteenth-century weather maps, and the patent troll's exploitation of the simple mall map.
JF: Thanks, Mark!