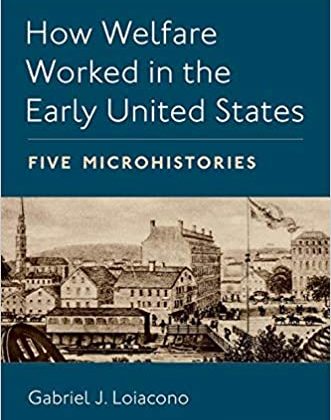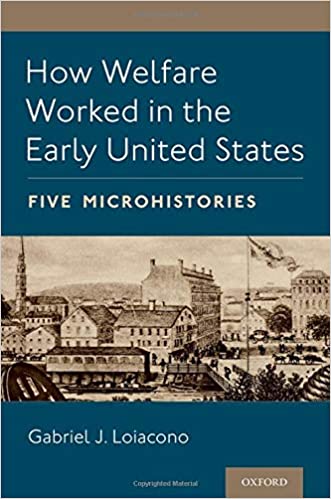 Gabriel Loiacono is Associate Professor of History at the University of Wisconsin–Oshkosh. This interview is based on his new book, How Welfare Worked in the Early United States: Five Microhistories (Oxford University Press, 2021).
JF: What led you to write How Welfare Worked in the Early United States?
GL: When I was a grad student, it was a big surprise to me that welfare was even a thing in the early United States. Since then, I have found that most people – both in and out of academia – are surprised that welfare existed in George Washington's time. Or, they are surprised that welfare was not always like a Charles Dickens novel.
So I wrote this book to make some stories of early American welfare more widely known. My hope is to bring this history to life through five microhistories, which follow an overseer of the poor, a Continental Army veteran, a public health nurse, an unwed mother, and a young man who struggled with paralysis, all of whom lived between the 1750s and the 1850s.
JF: In 2 sentences, what is the argument of How Welfare Worked in the Early United States?
GL: ​After American Independence, welfare in the new country was expensive and extensive, but not very controversial. Welfare saved people from hunger, cold, or lack of healthcare, while forcing others to leave town or leave their children, and giving still others an additional income in exchange for helping their neighbors.
JF: Why do we need to read How Welfare Worked in the Early United States?
GL: ​If we do not understand the kind of social safety net enjoyed by early Americans, along with the ways that American poor laws dictated where you could live, we cannot understand early Americans. Their day-to-day experiences, their expectations, and their mental universes were shaped by their system of caring for the poor.
Moreover, in our debates about welfare today, we often imagine a past in which welfare did not exist. Quite the contrary, welfare – which early Americans called poor relief – was the most expensive thing taxes paid for until about 1830. I don't know that learning this will make our own difficult questions easier to answer. But we can at least have a better idea of how early Americans took care of the poor, and then we can think about which of their ideas we'd like to emulate and which we would not.
JF: Why and when did you become an American historian?
GL: Four teachers I had in high school – Thomas, Soward, Granucci, and Durieux – were all great storytellers. They made me want to know more history and to tell it well. Caroline Cox, then a recent Ph.D. and adjunct at U.C. Berkeley, introduced me to historiography. After trying some different jobs, from law clerk to park ranger, I applied to graduate school in history. My mentors and classmates at Brandeis University made me an actual historian. I've been trying to learn more and tell good, true stories ever since.
JF: What is your next project?
GL: Together with some colleagues, I am working on a journal forum about local government. We want to remind our fellow historians how most early Americans felt "state power." It was not at the federal or state levels, but at the town or county level.
JF: Thanks, Gabriel!