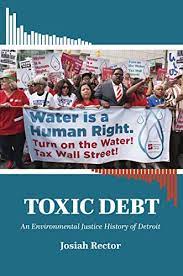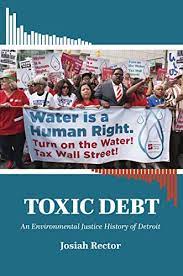 Josiah Rector is Assistant Professor of History at the University of Houston. This interview is based on his new book, Toxic Debt: An Environmental Justice History of Detroit (University of North Carolina Press, 2022).
JF: What led you to ​write Toxic Debt?
JR: I went to graduate school at Wayne State University in Detroit, and I lived in the city from 2010 to 2016. I came to Detroit in the aftermath of the Great Recession, just after the Obama administration bailed out the Detroit automakers, and before the city underwent the largest municipal bankruptcy in U.S. history. This was also a period when the state of Michigan placed Flint, and a few years later Detroit, under Emergency Managers. These are unelected officials appointed by the Governor of Michigan. Under state law, Emergency Managers are authorized to take over municipalities in fiscal crisis and implement extreme measures to cut costs and reduce municipal debt. They can break union contracts, lay off workers, privatize city government functions, and sell off city assets. Emergency Managers appointed by Governor Rick Snyder were directly responsible for the poisoning of Flint's water supply in 2013-2014, due to their criminally negligent handling of a switch from the Detroit water system to the Flint River, and the escalation of a harsh water shut-off policy in the City of Detroit, where families owing as little as $150 in water bills could have their water service disconnected. In the five years before the COVID-19 pandemic, the City of Detroit shut off over 141,000 residential water accounts, meaning that over a quarter-million people had to live without running water in their homes for days, weeks, months, and in some cases years at a time.
I provide all this context to explain how I came to write Toxic Debt. In southeast Michigan in the 2010s, you had what appeared to be a textbook case of environmental racism and environmental injustice: impoverished, majority-African American cities where nearly 100,000 people were exposed to poisoned water (Flint) and over 250,000 people forced to live without running water (Detroit). In graduate school, I read a lot of excellent work on environmental justice, including classic studies like Robert Bullard's Dumping in Dixie. These works generally focus on "fenceline communities," or communities living adjacent to polluting facilities like oil refineries, lead smelters, trash incinerators, and toxic waste dumps. These studies have thoroughly documented two nationwide patterns: 1) that fenceline communities are disproportionately poor people and people of color, and 2) they face elevated risks of cancer, asthma, lead poisoning, and other health problems as a result of emissions by industrial polluters and often lax regulatory enforcement. However, I quickly realized that these sorts of studies could not explain the water disasters in Detroit and Flint, which affected whole cities and were not simply limited to the neighborhoods bordering heavy industry. Also, most environmental justice studies are written by sociologists, anthropologists, and other social scientists rather than historians, and they are primarily focused on the late 20th and early 21st centuries.
To understand what happened in Detroit and Flint, I realized that you needed to look at the long-term causes of fiscal crisis in these cities, and the relationship between debt, austerity, and environmental health disasters. This is inseparable from 1) the loss of auto manufacturing jobs after World War II, and 2) racial discrimination against African Americans, and how it interacted with white flight to the suburbs. Together, these trends hollowed out the tax base of these cities, beginning in the 1950s and 1960s and accelerating in the 1970s and 1980s. That story has already been told brilliantly by urban historians like Thomas J. Sugrue, in his classic book The Origins of the Urban Crisis: Race and Inequality in Postwar Detroit and Andrew Highsmith, in his important recent book Demolition Means Progress: Flint, Michigan, and the Fate of the American Metropolis. However, environmental justice is not a major focus of these studies. In connecting environmental justice studies with urban history, Toxic Debt joins works on other Rust Belt cities by Andrew Hurley, Sylvia Hood Washington, Robert Gioielli, and others. I also strongly recommend two other new books that "green" Detroit history from a different perspective: Brandon Ward's Living Detroit: Environmental Activism in an Age of Urban Crisis and Joseph Cialdella's Motor City Green: A Century of Landscapes and Environmentalism in Detroit. In many ways, these books complement the story I tell in my book, and vice versa.
However, Toxic Debt makes a distinctive contribution, not only to Detroit history, but also to urban history more generally. It is the first book to connect the long-term histories of municipal debt, infrastructure, and urban environmental justice. Rather than the 1940s-1970s periodization that is common in post-World War II urban historiography, my book extends from the late 19th century to the present. By doing so, I am able to show that while deindustrialization and racial discrimination had concentrated poverty and pollution in majority-Black Michigan cities by the 1960s-1970s, neoliberal policies of deregulation, privatization, austerity, and welfare reform in the 1980s-2000s made the problem worse. Indeed, I demonstrate that these neoliberal policies led directly to the water disasters in Detroit and Flint.
JF: In 2 sentences, what is the argument of Toxic Debt?
JR: My central argument is that finance and real estate have been no less implicated in environmental injustice than heavy industry. To understand the causes of environmental injustice in cities, and the sources of resistance to it, we must look beyond the fenceline, and examine the relationship between municipal debt and austerity policies that endanger public health.
JF: Why do we need to read Toxic Debt?​​​
JR: In addition to explaining the long-term causes of the water disasters in 21st century Detroit and Flint, Toxic Debt is the first book to tell the story of environmental activism in Detroit from the late 19th century to the present, including the environmental justice movement. Drawing on dozens of oral history interviews, and extensive archival research, my book offers the fullest available account of the environmental justice movement in the city. If you are interested in the history of Detroit, or more broadly in urban history, environmental history, or environmental justice studies, the book has something to offer for you.
JF: Why and when did you become an Am​erican historian?
JR: I always loved learning about history, although I often hated school as a kid. I never thought I would become a historian. I always wanted to be a novelist, and I actually majored in English literature as an undergrad. I first seriously thought about becoming a historian while taking a class with Ralph Young, author of the great book Dissent: The History of an American Idea, at Temple University in 2003. I wrote a paper on the history of Philadelphia's Germantown neighborhood, and I remember going to the Philadelphia Free Library and poring over old census tract data, which showed how the neighborhood's demographics had changed dramatically over time. I realized that I loved this detective work aspect of history: tracking down documents, sifting through evidence, and slowly piecing together a narrative from the fragments. I also took an intellectually thrilling class on Comparative Slavery with the historian Teshale Tibebu, and I wrote a paper on the Baptist War in Jamaica from 1831-1832. I was utterly fascinated by the primary sources on those events. I realized by my senior year that I should have majored in history, because I was actually more interested in history than literature (as wonderful as literature is). I had (and still have) an insatiable curiosity about the origins of contemporary social problems, particularly in cities, and history satisfied my desire to know more. That is why I ended up doing a Ph.D. in history and becoming a professional historian.
JF: What is your next project?
JR: Right now, I am doing preliminary research for a project on disasters, pollution, and climate change in Greater Houston and the Texas Gulf Coast. I am also considering a book on the history of the "just transition" concept.
JF: Thanks, Josiah!