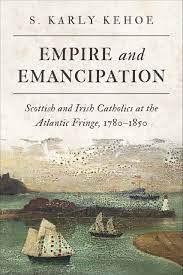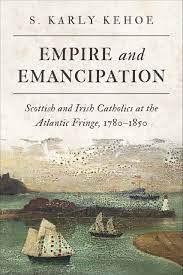 S. Karly Kehoe is Associate Professor of History and Canada Research Chair in Atlantic Canada Communities at Saint Mary's University. This interview is based on her new book, Empire and Emancipation: Scottish and Irish Catholics at the Atlantic Fringe, 1780-1850 (University of Toronto Press, 2022).
JF: What led you to write Empire and Emancipation?
KK: An archive discovery! A good friend of mine was the keeper of the Scottish Catholic Archives in Edinburgh and called to tell me that I might want to have a look at a diary that just came in with other papers from a Benedictine monastery that was closing. I remember making a special trip to Edinburgh (I was living in Glasgow at the time) and spending an entire day reading it. It was written by an Irish Catholic surgeon who had been on officer in the Royal Navy. It sparked so many questions for me – questions about the relationship that Catholics had with the Royal Navy (arguably the military service most emblematic of Britain's imperial reach) but also bigger questions about what the Catholic dimension of the empire-building process looked like. The British Empire is usually perceived as a Protestant endeavour, but I was seeing something different – I was seeing a partnership of multiple constituencies, two of which were Scottish and Irish Catholics.
JF: In 2 sentences, what is the argument of Empire and Emancipation?
KK: Firstly, Empire and Emancipation argues that Catholics were Britons, and that constructions of the British Empire as an Anglo-Saxon and Protestant space limits our ability to understand the full strength and breadth of British imperialism and the process of settler colonialism. Secondly, it argues that the security needs of an expanding empire, the aspirations of an emerging Catholic middle class, and the desire by Rome to expand its influence with the British imperial state were three main factors that motivated and enabled Scottish and Irish Catholics to participate as partners in extending Britain's imperial reach.
JF: Why do we need to read Empire and Emancipation?
KK: This is an important question – and my thoughts are complicated. We need to have conversations, honest and painful ones, about the legacy of colonialism and colonisation – America and Canada both need to have these conversations because we are living with the legacies. Informed conversations, though, require doing more to understand the full extent of the colonial endeavour and the participating groups. Scottish and Irish Catholics, because of a pervasive culture of entrenched anti-Catholicism and their minority status in Britain, are often overlooked and yet in the coastal spaces I've examined, they were dominant and guarded fiercely their colonial privilege as Britons. What's more, there was significant collaboration between the British state and Rome – there was a mutual dependency there as each needed the other to expand their own influence. Understanding this helps us to learn more about just how extensive and complete the process of colonisation was. We need to know this so that we can imagine different futures. History is never confined to the past – it shapes how we are now.
JF: Why and when did you become an American historian?
KK: I'm a historian of the north Atlantic and the British Empire. I chose this path after my undergrad degree when I needed to decide about my future. Ultimately, it became clear to me that I wanted to do a PhD in Scotland so I could understand more about the spaces I inhabited and the people who constructed them. I was never preoccupied with becoming a professor – I was driven by a fondness of research. I suppose if my focus had had been on becoming a professor, I wouldn't have made it. Research is a vocation.
JF: What is your next project?
KK: I'm really excited about it because it builds on some of the big questions I started with Empire and Emancipation. It's a new book project on the legacy of one elite Catholic Jacobite family from the western Highlands of Scotland whose ties to the Caribbean enabled large-scale Scottish Highland Catholic settlement in the Canadian Maritimes. This family, and several people connected with them, went on to play a major role in the expansion of Catholicism in English-speaking Canada (even though they were all originally Gaelic speakers).
JF: Thanks, Karly!