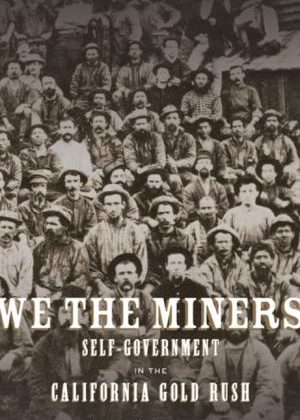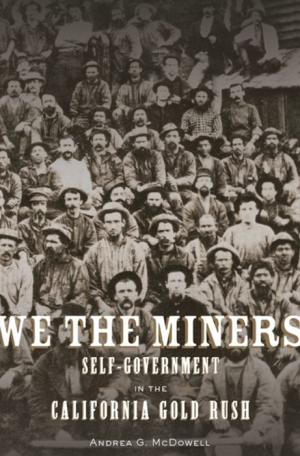 Andrea McDowell is Professor of Law at Seton Hall University School of Law. This interview is based on her new book, We the Miners: Self-Government in the California Gold Rush (Harvard University Press, 2022).
JF: What led you to write We the Miners?
AM: I was first attracted to the subject of law in the California Gold Rush because of the number and quality of the sources. Half a dozen local newspapers sprang up in new towns near the mines and reported the gold rush as it happened. There are also hundreds of eye-witness accounts, mainly by young men who described this strange new world to their family and sweethearts. And it was a very strange world: gold was discovered in a mountain wilderness on America's furthest frontier, a thousand miles from the nearest state. California had no government and no functioning criminal courts until two years after the gold discovery, and the population was constantly on the move. Somehow, the young miners were able to organize and maintain a property regime, carry out large scale mining projects, and hold criminal trials under these circumstances. I was curious how they did it and what kind of legal rules and institutions they created.
JF: In 2 sentences, what is the argument of We the Miners?
AM: The California gold miners were able to organize for the purpose of enacting mining codes, holding trials, and running mining companies because they were all comfortable with parliamentary procedure: they could call a meeting, elect a chairman, propose resolutions, vote on them, and cooperate with amazing efficiency. The other side of the coin was that the miners had the arrogance and self-confidence to compete with the criminal courts when those were finally established, and to massacre the Indians and eject Spanish speaking miners from the diggings.
JF: Why do we need to read We the Miners?
AM: The ability to organize – to hold a meeting, reach a decision by majority vote, and to act on that decision – was characteristically American. Alexis de Tocqueville and other visitors to the United States found it impressive and said that it enabled citizens to carry out civic projects for which Europeans depended on government or prominent men. We have lost this super-power, for good or ill. We are disempowered and that is bad; but we also realize the dangers of majoritarianism to minority groups, such as the Indians and Spanish speakers in the mines. If it had been frontiersmen who broke into the Capitol on January 6, they would not have milled around not knowing what to do next: they would have elected a chairman and passed resolutions in a matter of minutes, and then acted on those resolutions. The self-confidence and competence of the miners, some of whom were completely uneducated, is fascinating and frightening.
JF: Why and when did you become an American historian?
AM: My PhD is in Egyptology and Ancient Greek history and I was an Egyptologist for eight years. My specialty was the community of workmen who built the tombs in the Valley of the Kings, who were highly literate and whose writings are well preserved because their village was in the desert (c. 1300-1069 BC). I wrote about the workmen's legal system, among other things, so when I went to law school in 1995, I already saw the world through the lens of history. I often suspect that the law is what it is for historical reasons and that the way we present it to first year law students, i.e. as a logical and coherent system, is reassuring but not persuasive.
JF: What is your next project?
AM: California is the best documented frontier region and while it was unusual, it was not entirely unique. Other frontier communities also had to deal with crime without the help of jails and courts. So much has been written about vigilantes and vigilance committees that one could reasonably conclude that this was the criminal law of the frontier. I argue, however, that vigilantes were more interested in self-defence than justice; they targeted outsiders who preyed on the settlers by executing a few and scaring off the rest. Members of frontier communities, on the other hand, received California-style trials that aimed to determine guilt or innocence and, if necessary, to impose a fair punishment. So far, I have found plenty of such evidence from mining communities and very little from, say, prairie towns, perhaps because there was little theft and murder in farming regions.
JF: Thanks, Andrea!