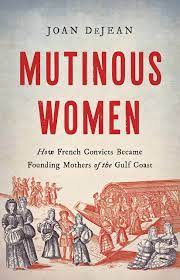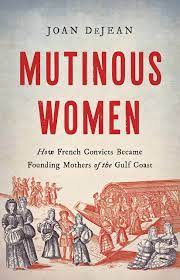 Joan DeJean is Trustee Professor of Romance Languages at the University of Pennsylvania. This interview is based on her new book, Mutinous Women: How French Convicts Became Founding Mothers of the Gulf Coast (Basic Books, 2022).
JF: What led you to write Mutinous Women?
JD: I was aware of the legend of the women referred to as "prostitutes" who had been sent from France to the French colony in the future United States in the early 18th century. When I discovered the arrest records of some of these women and began to realize who they really were, I felt I had to set the record straight and tell the true story of the women who traveled on a ship named "La Mutine," or the Mutinous Woman.
JF: In 2 sentences, what is the argument of Mutinous Women?
JD: The women whose lives I recovered were NOT prostitutes or thieves, or criminals of any kind, but were instead victims of the poverty that gripped France in their day. Those who survived the horrors of deportation to this country built extraordinary new lives for themselves and for the families they created on this side of the Atlantic: they helped found cities like New Orleans; they became property owners; their many children rose to positions of prominence.
JF: Why do we need to read Mutinous Women?
JD: In general, we know so little about the ordinary women – poor working women – who helped found what became the United States: this is a rare chance to learn about some of them and to return ordinary women to their rightful place in the official record. Their story of true courage and resilience should be heard because, by now, these women's descendants live literally all over this country: they and all of us should know what remarkable and admirable women their ancestors were.
JF: Why and when did you become an American historian?
JD: I'm a specialist of France in the late 17th and early 18th centuries – the period when these women were arrested and deported. I've researched and written about many very different aspects of that period – from the building of Paris to the history of marriage. In this case, a story that began in Paris led me across the Atlantic to the early French settlements where the women made new lives. I was born in a French family in southwestern Louisiana, so it was in a sense a homecoming for me.
JF: What kinds of sources did you use for this book?
JD: I consulted archives in numerous French cities and towns, but first and above all in Paris, and later in various French colonial cities, especially Mobile and New Orleans. I used sacramental records; I used notarial records, and above all I used the archives of the Parisian police and the Parisian penal and judicial systems. By putting all of them together, I was able to recreate the big picture of these women: their first lives in France and their second lives on the Gulf Coast and up and down the Mississippi Valley.
JF: Thanks, Joan!